Memories of the Orphanage - Prison of Aegina Interpretation of a difficult heritage and proposals on its museology display
---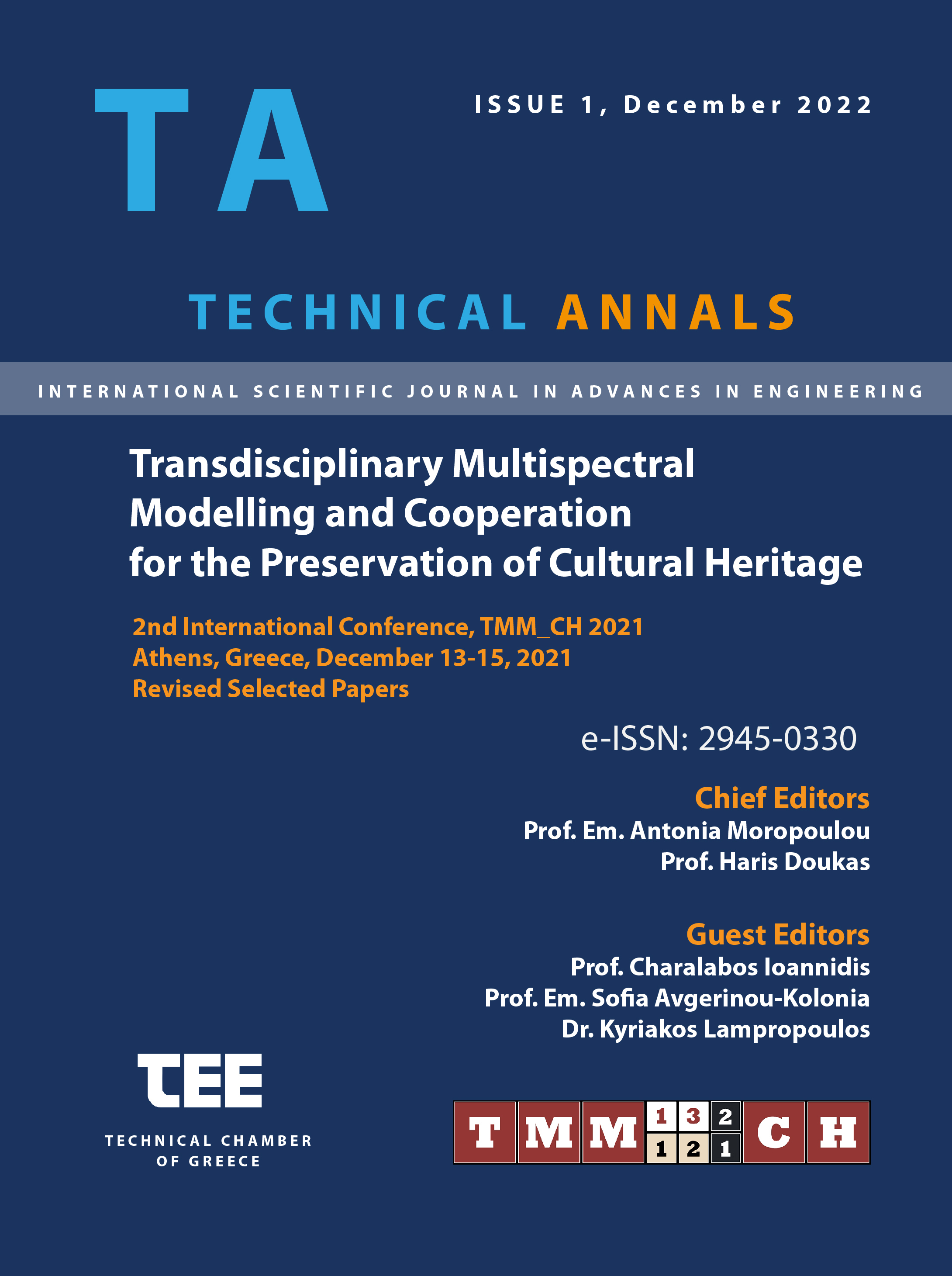 Published: Δεκ 22, 2022
Keywords:
Difficult cultural heritage Museum Prison of Aegina Political prisoners museological proposal
Abstract
In recent decades, there has been a growing worldwide interest in those events that marked the course of world history and that create divisions within a society. In Greece, the 1940s and the threefold Occupation-Resistance-Civil War are such events that give rise to intense controversy. At the same time, the methods of repression that the political dissidents of that period suffered, which were basically persecutions, displacement to distant locations (exile) and internment to maximum-security prisons have been consigned to oblivion.
In Greece, dozens of islands were turned into places of exile and "disciplinary camps", whilst many prisons were created for the state "enemies". In their ma-jority, these sites of memory in Greece have been consigned to oblivion since there is no state support for their promotion.
One of the most typical examples is the Prison of Aegina, which is also known as Kapodistrian Orphanage. The building was constructed by order of Ioannis Kapodistrias to house the orphans of the Revolution of 1821. In 1880, it was inaugurated as a prison for criminal inmates at first, while in 1920 it received the first political prisoners. The building operated as a prison for political prisoners up until 1974, during which time the Left was restored to legality in the country and hence, the persecutions ceased.
In this article, we will study the term "difficult cultural heritage" together with the promotion and conversion of sites of memory to museums. The building of the Aegina Prison will be examined as a case study for its significance and his-torical importance, but also its emblematic architecture.
Article Details
Section
Uni and interdisciplinary approach for the sustainable preservation of Cultural Heritage
This work is licensed under a Creative Commons Attribution-ShareAlike 4.0 International License.
References
Portelli, A. (1991) What Makes Oral History Different?, στο Portelli, A. (Ed.), The Death of Luigi Trastulli and Other Stories: Form and Meaning in Oral History, Suny Press, pp 52.
Burström, M. (2009) Selective Remembrance: Memories of a Second War Refu-gee Camp in Sweden, Norwegian Archaeological Review, 1502-7678, pp 42. doi:10.12681/dac.25913
Masoura, Ε. & Kargopoulos, Φ. (2008) Mnimes tou Polemou kai oi Polemoi tis Mnimis [Memories of War and Wars of Memory], in Van Boeschoten, R., Τ. Verveni-oti, Ε., Voutira, Β., Dalkavoukis (Eds.), Mnimes kai Lithi tou Ellinikou Emfiliou Pole-mou [Memories and Oblivion of the Greek Civil War], Epikentro, Thessaloniki.
Droumpouki, Α., Μ. (2014) Mnimeia tis Lithis, Ichni tou B'Pagkosmiou Polemou stin Ellada kai stin Europi [Monuments to oblivion: traces of the Second World War in Greece and Europe], Polis, Athens.
Kaplan, F., E., S. (2012) Kataskevazontas kai Anaskevazontas Ethnikes Taftotites [Constructing and Reconstructing National Identities], in Macdonald, S. (Ed.), Mouseio kai Mouseiakes Spoudes. Enas Pliris odigos [Museum and Museum Studies. A Com-plete Guide], Piraeus Bank Group Cultural Foundations, Athens.
Pantzou, Ν. (2010) Foreis Travmatikis Istorikis Mnimis: to Mouseio Politikon Ex-oriston Ai Strati stin Athina [Vehicles of Traumatic Historical Memory: the Museum of the Ai Stratis Political Exiles in Athens], Tetradia Mouseiologias [Museology Note-books], issue 7, Kaleidoscope, pp 49-54.
Macdonald, S. (2013) Memory Lands. Heritage and Identity in Europe Today, Routledge. doi:10.4000/temoigner.1013
Nora, P. (1989) Between Memory and History: Les Lieux de Mẻmoire, Represen-tations 26, pp 7-24. doi:10.2307/2928520
Crane, S. (1997) Memory, Distortion and History in the Museum, History and Theory, Vol. 36, No. 4, December 1997, pp 44-63. doi:10.1111/0018-2656.00030
Macdonald, S. (2009) Difficult Heritage. Negotiating the Nazi Past in Nuremberg and Beyond, Routledge.
Macdonald, S. (2009) Unsettling Memories: Intervention and Controversy over Difficult Heritage, in Peralta, E., Anico, M. (Eds.), Heritage and Identity. Museum Meanings, Routledge, pp 93-104.
Liakos, Α. (2007) Pos to parelthon ginetai istoria? [How does the past become history?], Polis, Athens.
Macdonald, S. (2010) I Istoria os Koinoniko Zitima: Erminevontas ti "Diskoli" Klironomia [History as a Social Issue: Interpreting the "Difficult" Heritage"], in Tetra-dia Mouseiologias [Museology Notebooks], issue 7, Kaleidoscope, pp 14-15.
Μichaelidou, Μ. (2002) Mouseio: Poreia kai Prooptikes pros ton 21ο Aiona [Mu-seum: Course and Perspectives towards the 21st Century], in Diepistimonikes Prose-gkiseis sti Mouseiaki Agogi [Interdisciplinary Approaches to Museum Education], Ath-ens.
Black, G. (2010) To Elkistiko Mouseio, Mouseia kai Episkeptes [The Attractive Museum, Museums and Visitors], Piraeus Bank Group Cultural Foundations, Athens.
Hatzinikolaou, T. (2010) Istorika Tekmiria kai Prosopika Viomata: I Proklisi ton Mouseion Sigchronis Istorias [Historical Documents and Personal Experiences: The Challenge of Contemporary History Museums], Tetradia Mouseiologias [Museology Notebooks], issue 7, Kaleidoscope, pp 43-48.
Baerentzen, L., Iatrides, J., Smith, O. L. (1987) Studies in the history of the Greek Civil War, 1945-1949, Museum Tusculanum Press, Copenhagen.
Kizis, G. (2008) Einai Arage i Entaxi ton Mouseion se Istorika Ktiria mia Praxi Aftonoiti?, [Is the Inclusion of Museums in Historical Buildings a Self-Evident Act?], Mouseia se Mnimeia, Mia Proklisi [Museums in Monuments, a Challenge], One Day Conference, April 25, 2002, Ministry of Culture, Byzantine & Christian Museum, Ath-ens, pp 21-33.
Carman, J. & Carman, P. (2001) Beyond Military Archaeology Battlefields as a Research Resource, in Freeman, P. & Pollard, T. (Eds.), Fields of Conflict: progress and prospects in battlefield archaeology, Proceedings of a conference held in the De-partment of Archaeology, University of Glasgow, April 2000, BAR International Se-ries, Oxford, 958, pp 275-281.
Voglis, P. (2002) Becoming A Subject, Political Prisoners During the Greek Civil War, Berghahn Books, New York.
Dimas, P. & Karla, S. (2009) Prostasia Olokliromenis Prostasias gia tin Poli tiw Aiginas [Integrated Protection Proposal for the City of Aegina], Ipies Epemvaseis gia tin Prostasia ton Istorikon Kataskevon, Nees Taseis Sxediasmou [Mild Interventions