Diagnosis, monitoring and prognosis of secondary brain damage in icu patients with traumatic brain injuries
---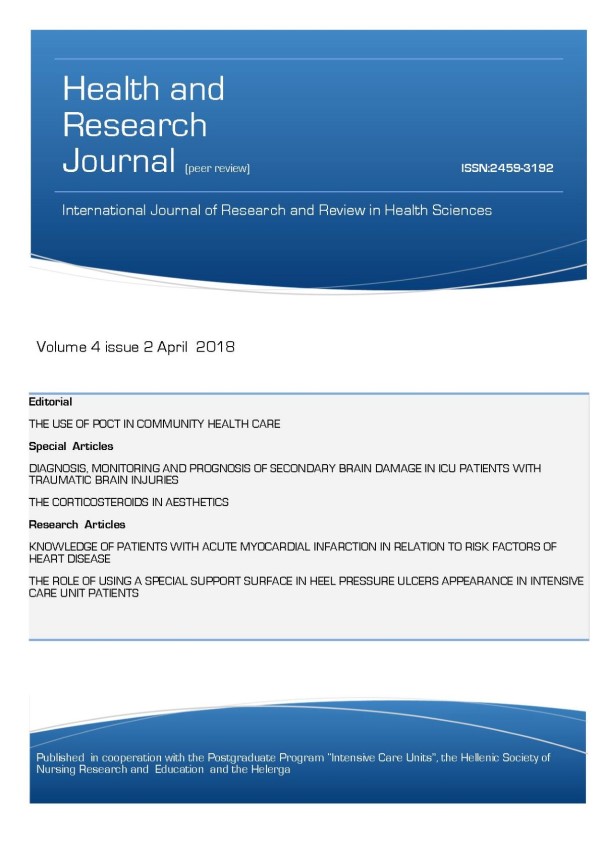 Published: Dec 2, 2018
Keywords:
Traumatic brain injury Glascow Coma Scale Abbreviated Injury Scale secondary brain damage
Abstract
Traumatic brain injury (TBI) is the brain injury that occurs whenever a physical force that impacts the head leads to neuropathology. The types of primary TBI are penentrating TBI or non-penetrating TBI and it can lead to intracerebral contusions, hemorrhages or extra-axial hematomas. Patients with TBI can also have skull fractures or concussions. The injury severity can be classified in many ways but the most established and common used is the Glascow Coma Scale (GCS). However, with the GCS, each of the severity criteria has limitations and might mot be an accurate predictor of TBI severity and outcome when used alone. For this reason it is often used in conjunction with other parameters (Abbreviated Injury Scale - AIS). Secondary Brain Damage is the injury that occurs to the TBI patient not at the time of the accident, but during the following minutes, hours or days. There are many mechanisms that lead to development of cerebral edema, blood-brain barrier disruption, vasospasm, increase in volume of bleeding, contusions and intracranial hypertension. These mechanisms can act either in cellular level or systemic level. The cellular mechanisms that lead to secondary brain damage include necrosis or apoptosis, mitochondrial dysfunction, excitotoxicicty, formation of free radicals, changes in cerebral glucose metabolism and inflammation. The mechanisms at systemic level include hypoxia-cerebral oxygenation, hypo or hypertension, hypo or hyper-capnia, anemia, hyponatremia and hyper or hypoglycemia. The first tool to diagnose severe TBI and secondary brain injury is neurological assessment. Neuroimaging is one of the most important ways for diagnosis. Computed Tomography (CT scan), Magnetic Resonance Imaging (MRI), cerebral angiography, transcranial Doppler, CT perfusion, Xenon CT, MRI diffusion, MRI perfusion, MRI spectrometry and Positron Emission Tomography (PET) are possible ways of imaging that not only help in the diagnosis but give important information that help in choosing the correct management. Moreover, neuromonitoring, helps in the correct management of the patient.
Article Details
How to Cite

Karipiadou, A., Korfias, S., & Papastavrou, E. (2018). Diagnosis, monitoring and prognosis of secondary brain damage in icu patients with traumatic brain injuries. Health & Research Journal, 4(2), 63–75. https://doi.org/10.12681/healthresj.19217
A) OPEN ACCESS POLICY

The journal "Health and Research Journal", follows an open access policy both for submission and accessing of articles.

Specifically the journal:

1. Claims no financial or any other gain from the author or authors of an article, neither for submission to the journal for publication, nor for revision and modification when peer reviewed.

2. Claims no financial or any other gain by articles' authors or by readers of the journal, for reading or downloading any article.

3. Reserves the right for the content and format of the printed article, not to be altered and to be used freely, preserving the form, the logo, the layout and the text as it is, a true copy of the file provided by the journal, with free access. (See also section C. Copyright Policy)

[The aforementioned apply equally for everyone and there is not any differentiation, restriction or other specific condition]

You can also ask more on the subject, from the editorial team of the journal, by sending mail to the journal. 


B) SELF-ARCHIVING POLICY

The journal "Health and Research journal", allows self-archiving of articles by the author or authors, under the following terms.

The journal allows:

1. The free self-archiving from the author, of a pre-printed article, at any stage of preparation it is, without limitations. As pre-printed, we consider the work that the author has not submitted yet to the journal and that certainly has not yet been peer reviewed.

2. The free self-archiving from the author, of the final, pre-printed article, that has been corrected and reviewed from the journal, with the expressed obligation to indicate that the article will be published by the journal "Health and Research Journal" and that it has been reviewed (or it is currently reviewed) by the journal's peer review process.

3. The free self-archiving from the author, of the final, printed article that has been published in the journal ""Health and Research Journal" with the expressed obligation to use only the printed pdf file of the journal (exact copy), that has the same logo, format and layout, as it is shared freely by the journal.

For more information on self-archiving policy, please contact the following link: OASIS (Open Access Scholarly Information Sourcebook)

You can also ask more on the subject, from the editorial team of the journal, by sending mail to journal.


C) COPYRIGHT POLICY

The journal "Health and Research Journal" reserves the rights for copyright of the content of the website and also the copyright of the articles published.

Specifically:

1. Does not allow any reproduction of part or whole of the content of the journal's website, if the original source is not explicitly stated.

2. Does not allow the usage, by third party, of journal's direct links to the pdf files (printed articles), if the original source is not explicitly stated (necessarily the name of the journal and optionally: year, volume, issue, pages).

3. All the members of the editorial board accept and comply with the national and international laws regarding copyrighted material, plagiarism and text-piracy, both for the content of the journal's website, as for the content of the published articles.

You can also ask more on the subject, from the editorial team of the journal, by sending mail to the journal.


D) PLAGIARISM POLICY

The journal "Health and Research Journal", reserves the right for detecting plagiarism, including duplicate publication of the author's own work, in whole or in part without proper citation, either with the use of special software or manually, at any stage before publication. For published articles by the journal, originality may also be checked after specific private complaint.

In case of plagiarism detection:

1. If the percentage of the manuscript's plagiarism is below 26%, the journal will contact and inform the author, asking for further revision and resubmission.

2. If the percentage of the manuscript's plagiarism is over 25%, the journal will contact and inform the author about the rejection of the article, without editorial review. Author is then advised to fully revise the manuscript before its new sumbission.
Downloads
Download data is not yet available.
References
Understanding Brain Injury. What you should Know About brain injury and Recovery. Produced by Shepherd Centre and KPK interactive in collaboration with the American Trauma Society, the Brain Injury Association of America and the Cristopher & Dana Reeve foundation. 2011.
Traumatic Brain Injury, National Institute of Neurological Disorders and Stroke (NINDS), National Institutes of Health. NIH publications No 16-158, September 2015.
Mustafa AG, Al Shboul OA. Pathophysiology of Traumatic Brain Injury. Neurosciences 2013; 18(3): 222-234.
On line: Tulin AA, Nihan O (2012). Intensive Care Management of the Traumatic Brain Injury. Emergency Medicine- An International Perspective. Dr Blaivas M (ed), ISBN: 978-953-51-0333-2, InTech. Available from:
Prins M, Greco T, Alexander D, Giza CC. The pathophysiology of traumatic Brain Injury at a glance. Disease Models & Mechanisms 2013; 6:1307-1315.
Types of Acquired Brain injury. Headway, Brain injury Services and Support, 2011.
Centers for Disease Control and Prevention (2015). Report to Congress on Traumatic Brain Injury in the United States: Epidemiology and Rehabilitation. National Center for Injury Prevention and Control; Division of Unintentional Injury Prevention. Atlanta, GA.
Tagliferri F, Compagnone C, Korsic M, Servadei F, Kraus J. A systemic review of brain injury epidemiology in Europe. Acta Neurochir 2006;148(3):255-68.
Katsaragakis S, Drimousis PG, Toutouzas K, Stefanatou M, Larentzakis A, Theodoraki ME et al. Traumatic brain injury in Greece:report of a countrywide registry. Brain Inj 2010; 24(6):871-876.
Zaloshnja E, Miller T, Langlois JA, Selassie AW. Prevalence of long-term disability from traumatic brain injury in the civilian population of the United States, 2005. J Head Trauma Rehabil 2008;23(6):394-400.
Marshall SA, Bell R, Armonda RA, Savitsky E, Ling GSF. Traumatic Brain Injury, Chapter 8.
epeigousa/arxeia/kef13-emergency-head-injuries.pdf.
Model Systems Knowledge Translation Center. Resources Offered by the MSKTC to support Individuals living with Traumatic Brain Injury. November 2013, edition1.
Nowinski Wieslaw L.,Biomechanics of the brain, chapter 2, Introduction to brain anatomy. Editor Miller K, 2011.
Weisberg LA, Garcia C, R Strub. Essential of Clinical Neurology: Head Trauma. www.psychneuro.tulane.edu/neurolect/
Chieregato A, Fitzgerald M, Piek J, Gentleman D. Traumatic Brain Injury, Organ Specific Problems. An E ISM MultiDisciplinary Distance Learning Programme For Intensive Care Training, 2013.
Ray SK, Dixon CE, Banik NL. Molecular mechanisms in the pathogenesis of traumatic brain injury. Histol Histopathol 2002; 17:1137-1152.
Evidence Based Best Practice Guideline. Traumatic Brain Injury: Diagnosis, Acute Management and Rehabilitation. New Zealand Guidelines Group, July 2006.
Sadaka F, Quinn TM, Lakshmanan R, Palagiri A. Management of traumatic brain injury in the Intensive Care Unit, chapter 7, Mercury Hospital St Louis/St Louis University, Critical Care Medicine/Neurocritical Care, St Louis, USA,
http://dx.doi.org/10.5772/57298
Algattas H., Huang JH. Traumatic Brain Injury Pathophysiology and treatments: Early, Intermediate, and Late Phases Post-Injury. Int J Mol Sci 2014; 15:309-341.
Werner C, Engelhard K. Pathophysiology of Traumatic Brain Injury. Br J Anaesth 2007; 9:4-9.
Barr TL, Latour LL, Lee KY, Schaewe TJ, Luby M, Chang GS et al. Blood-Brain Barrier disruption in humans is independently associated with increased matrix metalloproteinase – 9. Stroke 2010;41:123-128.
Kramer DR, Winer JL, Pease BAM, Amar AP, Mack WJ. Cerebral Vasospasm in Traumatic brain injury. Neurology Research International 2013; Article ID: 415813.
Fehnel CR, Wendell LC, Potter NS, Klinge P, Thomson BB. Severe Cerebral vasospasm after Traumatic Brain Injury. Rhode Island medical journal 2014:45-46.
Marshall SA, Ling GSF, Critical Care Management of Traumatic Brain Injury, Chapter 3, In: Comprehensive Critical Care: Adult.
Murthy TVSP, Bhatia P, Sandhu K, Prabhakar T, Gogna RL. Secondary Brain Injury: Prevention and Intensive Care Management. IJNT 2005;2(1):7-12.
Haddad SH, Arabi YM. Critical care management of severe traumatic brain injury in adults. Scand J Trauma Resus 2012; 20:12.
Girling K. Management of head injury in the intensive-care unit. Continuing Education in Anaesthesia, Critical Care & Pain 2004;4(2):52-56.
Dinsmore J. Traumatic brain injury: an evidence-based review of management. Continuing
Education in Anaesthesia, Critical Care & Pain, 2013.
Deisenhammer F, Bartos A, Egg R, Gilhus N.E, Giovannoni G, Rauer S et al. Routine Cerebrospinal Fluid (CSF) analysis, chapter 1, In: European Handbook of Neurological management, Volume 1, 2nd edition, ed Gilhus NE, Barnes MP, Brainin M, 2011.
Zetterberg H, Smith DH, Blennow K. Biomarkers of mild traumatic brain injury in cerebrospinal fluid and blood. Nat Rev Neurol 2013;9:201-210.
Νευροπαραμέτρηση και Νευροπροστασία στην Βαρεία Οξεία Εγκεφαλική Βλάβη». Νευροχειρουργική Κλινική Πανεπιστημίου Αθηνών, Ενημερωτικό Δελτίο-Νευροχειρουργικές Εξελίξεις, Τεύχος 5ο, Δεκέμβριος 2003.
Guidelines for the critical care management of severe head injury, University Mississippi Medical center, Section of Neurotrauma, Department of Neurosurgery, 2008.
Greenberg M. Handbook of neurosurgery. Tampa, Fla.: Greenberg Graphics; 2010. (CHAPTER 24 Head trauma, p.626-685), 5th edition, 2001, Thieme New York.
Cowley NJ, da Silva EJ. Prevention of secondary brain injury following head trauma. Trauma 2008; 10: 35-42.
Armstrong LG. ICU management of traumatic brain injury, Washington Regional Medical Center, ppt.
Hukkelhoven CW, Steyerberg EW, Habbema JD, Farace E, Marmarou A, Murray GD et al. Predicting outcome after traumatic brain injury: development and validation of a prognostic score based on admission characteristics. J Neurotrauma 2005; 22(10):1025-1039.
Tasaki O, Shiozaki T, Hamasaki T, Kajino K, Nakae H, Tanaka H et al. Prognostic indicators and outcome prediction model for severe traumatic brain injury. J Trauma 2009; 66(2):304-308.
Perel P, Edwards P, Wentz R, Roberts I. Systematic review of prognostic models in traumatic brain injury. BMC Medical Informatics and Decision Making 2006; 6:38.
Severe Traumatic Brain injury Management. Guidelines by the Department of Surgical Education, Orlando Regional Medical Center, 2016.
Korfias S, Papadimitriou A, Stranjalis G, Bakoula C, Daskalakis G, Antsaklis A, Sakas DE. Serum Biochemical Markers of Brain Injury. Mini Reviews in Medicinal Chemistr, 2009;9(2): 227-234.
Korfias S, Stranjalis G, Psachoulia C, Papadimitriou A, Daskalakis G, Antsaklis A, Sakas DE. Serum S-100B Protein as a Biochemical Marker of Brain Injury: A Review of Current Concepts. Current Medicinal Chemistry 2006;13(30): 3719-3731.
Korfias S, Stranjalis G, Boviatsis E, Psachoulia C, Jullien G, Gregson B, Mendelow, AD, Sakas DE. Serum S-100B protein: monitoring in patients with severe traumatic brain injury. Intensive