Decolonizing Greek archaeology: indigenous archaeologies, modernist archaeology and the post-colonial critique
---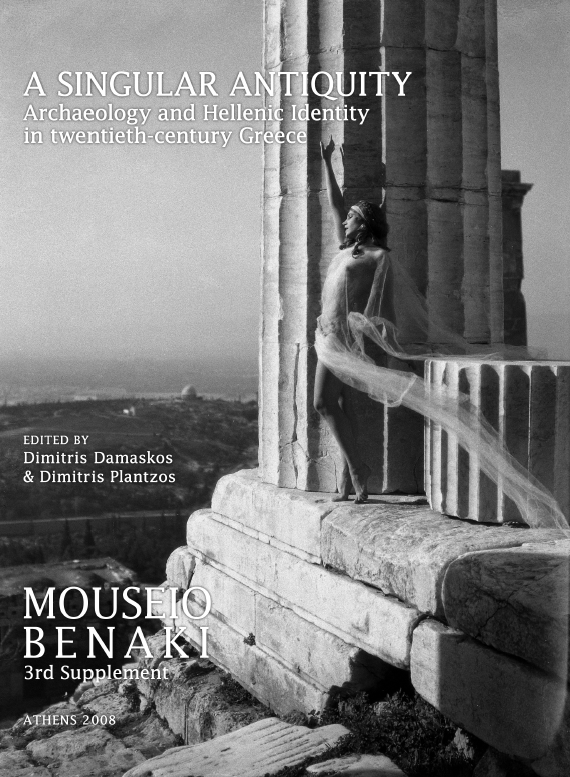 Δημοσιευμένα: Jan 1, 2008
Περίληψη
No abstract available
Λεπτομέρειες άρθρου
Πώς να δημιουργήσετε Αναφορές

Hamilakis, Y. (2008). Decolonizing Greek archaeology: indigenous archaeologies, modernist archaeology and the post-colonial critique. Μουσείο Μπενάκη, 273–284. https://doi.org/10.12681/benaki.18044
Ενότητα
Greek Archaeology: Paradigms and ideologies
Αυτή η εργασία είναι αδειοδοτημένη υπό το CC Αναφορά Δημιουργού – Μη Εμπορική Χρήση – Παρόμοια Διανομή 4.0.
Οι συγγραφείς των άρθρων που δημοσιεύονται στο 
Μουσείο Μπενάκη
 διατηρούν τα δικαιώματα πνευματικής ιδιοκτησίας επί των άρθρων τους, δίνοντας στο περιοδικό το δικαίωμα της πρώτης δημοσίευσης. Άρθρα που δημοσιεύονται στα Μουσείο Μπενάκη
 μπορούν να χρησιμοποιούνται ελεύθερα, χωρίς δικαίωμα τροποποίησης (δημιουργία παράγωγου έργου) με αναφορά στον/στη συγγραφέα και στην πρώτη δημοσίευση για μη κερδοσκοπικούς σκοπούς. Το Μουσείο Μπενάκη διατηρεί το δικαίωμα να δημοσιεύει, να αναπαραγάγει, να παρουσιάζει στο κοινό, να διανέμει και χρησιμοποιεί άρθρα που δημοσιεύονται στο περιοδικό Μουσείο Μπενάκη
 σε οποιοδήποτε μέσο και μορφή είτε μεμονωμένα είτε ως μέρη συλλογικών έργων, για όλο τον χρόνο διάρκειας προστασίας της πνευματικής ιδιοκτησίας και για όλες τις χώρες του κόσμου. Αυτό περιλαμβάνει ενδεικτικά και όχι αποκλειστικά το δικαίωμα δημοσίευσης των άρθρων σε τεύχη του περιοδικού Μουσείο Μπενάκη
, αναπαραγωγής και διανομής μεμονωμένων αντιγράφων των άρθρων, αναπαραγωγής ολόκληρων των άρθρων σε άλλη έκδοση του Μουσείου Μπενάκη, καθώς και αναπαραγωγής και διανομής των άρθρων ή περίληψης αυτών με χρήση πληροφορικού συστήματος αποθετηρίου.
Λήψεις
Τα δεδομένα λήψης δεν είναι ακόμη διαθέσιμα.
Αναφορές
Al-Saji A. 2004: The memory of another past: Bergson, Deleuze and a new theory of time, Continental Philosophy Review 37, 203-39.
Bennett T. 1988: The exhibitionary complex, New Formations 4, 73-102.
Bergson H. 1991: Matter and Memory (New York).
Calotychos V. 2003: Modern Greece: a Cultural Poetics (Oxford and New York).
Chandler R. 1971: Travels in Asia Minor 1764-1765 (edited and abridged by E. Clay with an appreciation of William Pars by A. Wilton; London).
Chatterjee P. 1986: Nationalist Thought and the Colonial World:a Derivative Discourse (London).
Clarke D.E. 1814: Travels in Various Countries of Europe Asia and Africa. Part II: Greece, Egypt and the Holy Land, section ii (London).
Cockerell S.P. (ed.) 1903: Travels in Southern Europe and the Levant, 1810-1817. The Journal of C.R. Cockerell, R.A. (London).
Deleuze G. 1991: Bergsonism (New York).
Dodwell E. 1819: Classical and Topographical Tour through Greece, during the years 1801, 1805, and 1806 (London).
Gosden C. 2004: Archaeology and Colonialism: Cultural Contact from 5000 BC to the Present (Cambridge).
Gourgouris S. 1996: Dream Nation: Enlightenment, Colonization and the Institution of Modern Greece (Stanford).
Fasolt C. 2004: The Limits of History (Chicago).
Fleming K.E. 1999: The Muslim Bonaparte: Diplomacy and Orientalism in Ali Pasha's Greece (Princeton).
Fleming K.E. 2000: Orientalism, the Balkans and Balkan historiography, American Historical Review 105, 1218-33.
Gell A. 1998: Art and Agency: an Anthropological Theory (Oxford).
Gennadios I. 1930: Ο Λόρδος Έλγιν και οι προ αυτού ανά την Ελλάδα και τας Αθήνας ιδίως αρχαιολογήσαντες επιδρομείς: 1440-1837 (Athens).
Hamilakis Y. 2001: Monumental visions: Bonfils, classical antiquity, and nineteenth-century Athenian society, History of Photography 25, 5-12.
Hamilakis Y. 2007a: The Nation and its Ruins: Antiquity, Archaeology and National Imagination in Greece (Oxford).
Hamilakis Y. 2007b: From ethics to politics, in: Hamilakis Y. & Duke P. (eds), Archaeology and Capitalism: from Ethics to Politics (Walnut Creek, CA) 15-43.
Hamilakis Y. (in preparation): The Social Lives of Ruins. the Stanford Lectures, delivered at Trinity College Dublin in March 2006 (Cambridge).
Hamilakis Y. & Duke P. (eds) 2007: Archaeology and Capitalism: from Ethics to Politics (Walnut Creek, CA).
Herzfeld M. 2002: The absent presence: discourses of crypto-colonialism, The South Atlantic Quarterly 101, 899-926.
Hirsch E. & Stewart C. (eds) 2005: Ethnographies of Historicity (special issue of the journal History and Anthropology 16(3); London).
Hobhouse J.C. 1813: A Journey through Albania and other Provinces of Turkey in Europe and Asia to Constantinople, during the Years 1809 and 1810, 1-2 (London).
Ingold T. 2000: The Perception of the Environment: Essays in Livelihood, Dwelling and Skill (London).
Kakridis I.Th. 1989: Οι Αρχαίοι Έλληνες στη νεοελληνική λαϊκή παράδοση(Athens).
Kokkou A. 1977: Η μέριμνα για τις αρχαιότητες στην Ελλάδα και τα πρώτα μουσεία (Athens).
Marindin G.E. (ed.) 1914: The Letters of John B.S. Morritt of Rokeby: Descriptive of Journeys in Europe and Asia Minor in the Years 1794-1796 (London).
Ouzman S. 2006: Why 'conserve'? Situating Southern African rock art in the here and now, in: Agnew N. & Bridgland J. (eds), Of the Past for the Future: Integrating Archaeology and Conservation (Los Angeles).
Papalexandrou A. 2003: Memory tattered and torn: spolia in the heartland of Byzantine Hellenism, in: van Dyke R.M. & Alcock S.E. (eds), Archaeologies of Memory (Oxford) 56-80.
Peckham R.S. 2004: Internal colonialism: nation and region in nineteenth-century Greece, in: Todorova M. (ed.), Balkan Identities: Nation and Memory (London) 15-43.
Rowlands M. 2004: The materiality of sacred power, in: DeMarrais E. et al. (eds), Rethinking Materiality: the Engagement of Mind with the Material World (Cambridge) 197-203.
Sease C. 1998: Codes of Ethics for conservation, International Journal of Cultural Property 7, 98–115.
Simopoulos K. 1993: Η λεηλασία και η καταστροφή των ελληνικών αρχαιοτήτων (Athens).
Smith C. & Wobst M. (eds) 2005: Indigenous Archaeologies: Decolonizing Theory and Practice (London).
Tapsell P. 1997: The flight of Pareraututu: an investigation of Taonga from a tribal perspective, Journal of the Polynessian Society 106, 323-74.
Thomas J. 2004a: Archaeology and Modernity (London).
Thomas J. 2004b: Archaeology's place in modernity, Modernism/modernity 11(1), 17-34.
Tolias G. 1996: Ο πυρετός των μαρμάρων (Athens).
Tziovas D. 2001: Beyond the Acropolis: rethinking Neohellenism, Journal of Modern Greek Studies 19, 189-220.
Trigger B. 1984: Alternative archaeologies: nationalist, colonialist, imperialist, Man (N.S.) 19, 355-70.
Watkins J. 2000: Indigenous Archaeology: American Indians, Values, and Scientific Practice (Walnut Creek, CA).
Velianitis I.Th. 1993: Η Φιλόμουσος Εταιρεία των Αθηνών (Athens).