About the Journal
---
Focus and Scope
The Journal BIOETHICA is an online edition of the Hellenic National Bioethics Commission, which covers the whole thematic area of contemporary bioethics, e.g. the doctor/patient relationship, end-of-life decisions, ethical issues in human reproduction, clinical research, genetic and biological research, gene therapy, biobanks, neuroscience, nanotechnology, genetic engineering, management of biological wealth, ethics in scientific research, treatment of animals, transhumanism, patents on biology and biotechnology.
The papers published in the Journal are neither published nor under consideration for publication by any other journal, national or international.
Aims and Scope
The aim of the Journal is to provide information and facilitate the exchange of knowledge and of views among scientists from different fields, with a practical or theoretical interest for issues concerning Bioethics.
Peer Review Process
Papers submitted to BIOETHICA are peer-reviewed in a double-blind evaluation process; each paper is being assessed by two reviewers. In case of conflicting reviewer comments the final decision rests with a third reviewer appointed by the Editorial Board. Anonymity is maintained between the authors and the reviewers.
Length of the review procedure
The standard length of time for the review procedure is eight weeks, beginning from the date on which the Editor acknowledges the submission of the manuscript.
Publication Frequency
BIOETHICA is being published twice annually.
Open Access Policy
This journal provides immediate open access to its content on the principle that making research freely available to the public contributes to global knowledge exchange. We encourage authors to deposit their articles, as well as data underlying the publications, in institutional and/or other appropriate subject repositories.
Sponsors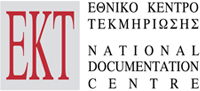 The National Documentation Centre (www.ekt.gr) is a national infrastructure. Since 1980, it actively engages in the collection, organization and dissemination of scientific and technological information in Greece and internationally. EKT's strategic priority is the aggregation, organized online dissemination and preservation of quality-assured scholarly and educational content in a single research infrastructure.
EKT's vision is "Access to Knowledge". To this end it implements Open Access policies in research, supports the transfer and dissemination of scientific knowledge, collaborates with research, education and cultural institutions for the aggregation, organization and dissemination of digital content and provides innovative services in scientific information.
EKT provides reliable ePublishing services as part of its scholarly content aggregation and dissemination activities . Its integrated online ePublishing environment is developed with open-source interoperable technology. This affords the incorporation of EKT's infrastructures into the continuously developing international infrastructure environment.
EKT's ePublishing services (http://epublishing.ekt.gr/) are directed to public and extended public institution publishers of accredited scholarly journals. They include, most significantly, the organization, documentation and organized dissemination of metadata and content of scholarly journals, the training and consulting services on issues such as intellectual property, the standardization of editorial processes according to internationally accepted standards, the inclusion of content and metadata in international content indexers and harvesters via interoperable systems.
Journal History
The Hellenic National Bioethics Commission decided to create an electronic journal for Bioethics, the first journal of this kind in the Greek scientific community. 
A fifteen-year experience showed us that, despite the ever-growing interest which is already expressed by organizing conferences, seminars, graduate programs, and ethics committees at universities and research centers of our country, a point of dialogue and reflection solely on Bioethics is still missing. 
When the idea for the journal first came up, the reactions were encouraging and in some cases enthusiastic. Clearly, thanks to the efforts of those who are sensitive on the issue concerning the relationship between science, society researchers and academic teachers from all over Greece, Bioethics is now considered as a mature subject for systematic research and teaching in Greece, as in other countries. Let the journal be a stimulus in this perspective for our academic and research institutes. 
Hoping to meet the expectations of this ambitious project, we invite not only senior, but especially young scientists to send their contributions to the journal.