Should there be two genders? The case of intersex people
---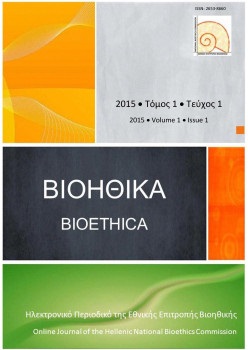 Published: Feb 22, 2015
Keywords:
intersex gender ethics bioethics
Abstract
Gender refers to all those social, cultural, and psychological traits which are linked to males and females through particular social contexts. Sex makes us male or female and gender makes us masculine or feminine. However, this relatively simple distinction masks a number of problems associated with its usage. It implies that all people can be conveniently placed into unambiguous "either–or" categories.
Intersex people are born with characteristics that are in between male and female. Consequently, they often go through a lot of suffering because intersex infants are sometimes subjected to unnecessary medical or surgical treatment that is cosmetic rather that vital for health in order to fit in the gender binary model. Although at least one in every thousand people is born intersex, many countries do not acknowledge their existence. Their rights are also ignored because they don't fit into standard social and medical models.
In this article, I will examine the negative effects of this gender binary distinction and justify my arguments by using the example of intersex people.
Article Details
How to Cite

Pikramenou (Νικολέτα Πικραμένου) N. (2015). Should there be two genders? The case of intersex people. Bioethica, 1(1), 25–31. https://doi.org/10.12681/bioeth.19563
Section
Original Articles
Authors who publish with this journal agree to the following terms:
· Authors retain copyright and grant the journal right of first publication with the work simultaneously licensed under a Creative Commons Attribution Non-Commercial License that allows others to share the work with an acknowledgement of the work's authorship and initial publication in this journal.
· Authors are able to enter into separate, additional contractual arrangements for the non-exclusive distribution of the journal's published version of the work (e.g. post it to an institutional repository or publish it in a book), with an acknowledgement of its initial publication in this journal.
We encourage authors to deposit their articles, as well as data underlying the publications, in institutional and/or other appropriate subject repositories.
 BIOETHICA permits and encourages authors to archive the final publication pdf  in institutional (e.g. the repository of the National Hellenic Research Foundation) or other appropriate subject repositories (e.g. SSOAR repository for social sciences),  in compliance with institutional and/or funder open access policies, after publication in the BIOETHICA. Authors must provide bibliographic details that credit publication in the journal, as well as related funding details (when applicable).
Lists of institutional and other subject-based academic open access repositories can be found listed by country at the registry http://opendoar.org/countrylist.php   

If your institution does not possess a repository you may deposit a copy of your paper at no cost with www.zenodo.org , the repository supported for open access research in the EU by the European Commission, through the project OpenAIRE (www.openaire.eu )
Downloads
Download data is not yet available.
References
Butler Judith, "Undoing Gender", Routledge New York and London, 2004, pp. 17-40.
Fausto-Sterling Anne, ''Sexing the Body: gender politics and the construction of sexuality", New York: Basic Books, 2000, pp. 45-115.
Lear Jonathan, "Unnecessary surgery on intersex infants: Problems of theory become problems in practice", Master's Thesis in Applied Ethics, Centre for Applied Ethics, Linkopings University, 2007, pp. 53-55.
Mhuirthile Ni Tania, ''Legal Recognitions of Preferred Gender Identity in Ireland: An analysis of Proposed Legislation'', 2013, Chapter 5, p. 133.
Ridgeway Cecilia and Correll Shelley, ''Limiting inequality through interaction: the End(s) of Gender'', Symposium, Stanford University, 2000, pp. 110-119.
Chase Cheryl, "Hermaphrodites with attitude: Mapping the emergence of intersex political activism", Journal of Lesbian and Gay studies, Vol.4 No.2, 1998, pp.189-211.
Rosario Vermon A., "An Interview with Cheryl Chase", Journal of Gay& Lesbian Psychotherapy Vol. 10 No 2, 2006, p. 93-104.
Switzer Latesha, "Can Surgery For Intersex Babies be Justified?", The York Scholar Vol.2, 2005, pp. 67-74.
Wilson Gina, ''Equal Rights for Intersex People'', The Equal Rights Review, vol.10, 2013, pp.133-136.
Agius Silvan, Tobler Christa, "Trans and intersex people, Discrimination on the grounds of sex, gender identity and gender expression", European Commission report, 2011, p.1-108.
Australian Human Rights Commission, "Surgery on intersex infants and human rights", 2009, pp.1-10.