CRISPR/Cas9: The new genome editing technology that opened the Aeolus' bag of winds (?)
---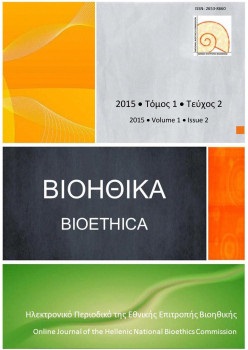 Published: Nov 22, 2015
Keywords:
bioethics ethics genome editing gene editing CRISPR/Cas9
Article Details
How to Cite

Μολλάκη (Vassiliki Mollaki) Β. (2015). CRISPR/Cas9: The new genome editing technology that opened the Aeolus' bag of winds (?). Bioethica, 1(2), 2–3. https://doi.org/10.12681/bioeth.19626
Authors who publish with this journal agree to the following terms:
· Authors retain copyright and grant the journal right of first publication with the work simultaneously licensed under a Creative Commons Attribution Non-Commercial License that allows others to share the work with an acknowledgement of the work's authorship and initial publication in this journal.
· Authors are able to enter into separate, additional contractual arrangements for the non-exclusive distribution of the journal's published version of the work (e.g. post it to an institutional repository or publish it in a book), with an acknowledgement of its initial publication in this journal.
We encourage authors to deposit their articles, as well as data underlying the publications, in institutional and/or other appropriate subject repositories.
 BIOETHICA permits and encourages authors to archive the final publication pdf  in institutional (e.g. the repository of the National Hellenic Research Foundation) or other appropriate subject repositories (e.g. SSOAR repository for social sciences),  in compliance with institutional and/or funder open access policies, after publication in the BIOETHICA. Authors must provide bibliographic details that credit publication in the journal, as well as related funding details (when applicable).
Lists of institutional and other subject-based academic open access repositories can be found listed by country at the registry http://opendoar.org/countrylist.php   

If your institution does not possess a repository you may deposit a copy of your paper at no cost with www.zenodo.org , the repository supported for open access research in the EU by the European Commission, through the project OpenAIRE (www.openaire.eu )
Downloads
Download data is not yet available.
References
Liang P, Xu Y, Zhang X, Ding C, Huang R, Zhang Z, Lv J, Xie X, Chen Y, Li Y, Sun Y, Bai Y, Songyang Z, Ma W, Zhou C, Huang J. CRISPR/Cas9-mediated gene editing in human tripronuclear zygotes. Protein Cell. 2015 May;6(5):363-72.
Jinek M, Jiang F, Taylor DW, Sternberg SH, Kaya E, Ma E, Anders C, Hauer M, Zhou K, Lin S, Kaplan M, Iavarone AT, Charpentier E, Nogales E, Doudna JA. Structures of Cas9 endonucleases reveal RNA-mediated conformational activation. Science. 2014 Mar 14;343(6176):1247997.
Kim YG, Cha J, Chandrasegaran S. Hybrid restriction enzymes: zinc finger fusions to Fok I cleavage domain. Proc Natl Acad Sci U S A 1996;93:1156–60.
Christian M, Cermak T, Doyle EL, Schmidt C, Zhang F, Hummel A, Bogdanove AJ, Voytas DF. Targeting DNA double-strand breaks with TALeffector nucleases. Genetics. 2010 Oct;186(2):757-61.
Baltimore D, Berg P, Botchan M, Carroll D, Charo RA, Church G, Corn JE, Daley GQ, Doudna JA, Fenner M, Greely HT, Jinek M, Martin GS, Penhoet E, Puck J, Sternberg SH, Weissman JS, Yamamoto KR. Biotechnology. A prudent path forward for genomic engineering and germline gene modification. Science. 2015 Apr 3;348(6230):36-8.