The legal framework of post mortem fertilization in Greece and Sweden
---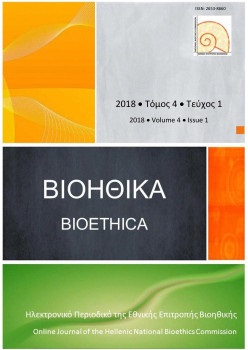 Abstract
Post-mortem fertilization is one of the most controversial methods of M.AR., the implementation of which raises a number of legal, religious, moral and social concerns. Therefore the study of the issue deserves particular attention, as the legislator is faced with unprecedented challenges. This method became possible due to cryopreservation of gametes and fertilized eggs.
Several arguments have been presented both for and against this particular form of reproductive technique. Under Greek law, post-mortem fertilization is permissible provided that specific strict requirements are met according to the regulatory framework. Failure to comply with legal requirements entails civil, criminal and administrative consequences.
On the contrary, the Swedish legislator has chosen to ban post-mortem fertilization, since the basic requirement to perform M.A.R. applications is that the donors of the genetic material to be alive. This restriction even excludes the use of cryoperserved fertilized eggs. However, in Sweden a debate has been developed on whether post-mortem fertilization should be allowed if the use of the method of reproductive care has begun before the death of the father or the mother. In any case, it is necessary to fully clarify all issues that arise in order to ensure legal certainty and children born through this technique are fully protected by enjoying the rights that the other children born either naturally or by using some other form of M.A.R. enjoy.
Article Details
How to Cite

Κηπουρίδου (Kalliopi Kipouridou) Κ., & Μιλαπήδου (Maria Milapidou) Μ. (2018). The legal framework of post mortem fertilization in Greece and Sweden. Bioethica, 4(1), 55–67. https://doi.org/10.12681/bioeth.19698
Section
Original Articles
Authors who publish with this journal agree to the following terms:
· Authors retain copyright and grant the journal right of first publication with the work simultaneously licensed under a Creative Commons Attribution Non-Commercial License that allows others to share the work with an acknowledgement of the work's authorship and initial publication in this journal.
· Authors are able to enter into separate, additional contractual arrangements for the non-exclusive distribution of the journal's published version of the work (e.g. post it to an institutional repository or publish it in a book), with an acknowledgement of its initial publication in this journal.
We encourage authors to deposit their articles, as well as data underlying the publications, in institutional and/or other appropriate subject repositories.
 BIOETHICA permits and encourages authors to archive the final publication pdf  in institutional (e.g. the repository of the National Hellenic Research Foundation) or other appropriate subject repositories (e.g. SSOAR repository for social sciences),  in compliance with institutional and/or funder open access policies, after publication in the BIOETHICA. Authors must provide bibliographic details that credit publication in the journal, as well as related funding details (when applicable).
Lists of institutional and other subject-based academic open access repositories can be found listed by country at the registry http://opendoar.org/countrylist.php   

If your institution does not possess a repository you may deposit a copy of your paper at no cost with www.zenodo.org , the repository supported for open access research in the EU by the European Commission, through the project OpenAIRE (www.openaire.eu )
Downloads
Download data is not yet available.