The homosexuals' right to procreation in Greece
---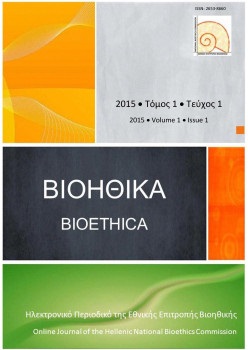 Published: Feb 22, 2015
Keywords:
homosexuals' right to procreation
Abstract
During the last decades there has been a change of attitude regarding the recognition of homosexual rights that is also reflected on their claims for recognition of their right to access to Medically Assisted Reproduction (MAR) or adoption.
Although the Greek legislator has shown some signs of progressiveness by adopting laws that ensure the homosexuals' rights, they have chosen not to include the homosexual couples in the l. 3719/2008 regarding civil partnership.
In Greece, discussions concerning the integration of homosexuals in the civil partnership had already commenced during the vote of the relevant law. This discussion has revived after the conviction of our country by the ECHR in the case of Vallianatos and Others vs Greece.
For the time being, however, the legal situation in Greece, as far as the homosexuals' access to MAR or adoption is concerned, entails the following conclusions. Firstly, although the legal right to procreation is established in article 5 §1 of the Constitution, reality differs for homosexuals and especially for homosexual couples in Greece, which do not have access to MAR methods. It is quite common, in practice, for one of the members of a lesbian couple with fertility problems to visit a doctor as a single woman and gain access to MAR methods. On the contrary, homosexual men do not have any chance of having access to MAR methods either as single men or as a couple.
Regarding the homosexuals' access to adoption, Articles 1452 et seq. Civil Code make no specific reference either to the adopters' sex or to their sexual orientation. So, in principle, it is possible for a single homosexual person to adopt a child. However, homosexual couples do not have the chance to be monitored by the social service in charge. According to articles 1545 et seq. Civil Code the same person's adoption by more people at the same time is not possible unless they are married. Given the fact that in Greece same-sex marriage is not permitted, there is no possibility for a child's adoption by a homosexual couple.
In view of the above, there is a clear need for modernization of Family Law regarding the protection of the homosexuals' rights as an attempt to cope up with contemporary social facts.
Article Details
How to Cite

Κηπουρίδου (Kalliopi Kipouridou) Κ., & Μηλαπίδου (Maria Milapidou) Μ. (2015). The homosexuals' right to procreation in Greece. Bioethica, 1(1), 32–45. https://doi.org/10.12681/bioeth.19785
Section
Original Articles
Authors who publish with this journal agree to the following terms:
· Authors retain copyright and grant the journal right of first publication with the work simultaneously licensed under a Creative Commons Attribution Non-Commercial License that allows others to share the work with an acknowledgement of the work's authorship and initial publication in this journal.
· Authors are able to enter into separate, additional contractual arrangements for the non-exclusive distribution of the journal's published version of the work (e.g. post it to an institutional repository or publish it in a book), with an acknowledgement of its initial publication in this journal.
We encourage authors to deposit their articles, as well as data underlying the publications, in institutional and/or other appropriate subject repositories.
 BIOETHICA permits and encourages authors to archive the final publication pdf  in institutional (e.g. the repository of the National Hellenic Research Foundation) or other appropriate subject repositories (e.g. SSOAR repository for social sciences),  in compliance with institutional and/or funder open access policies, after publication in the BIOETHICA. Authors must provide bibliographic details that credit publication in the journal, as well as related funding details (when applicable).
Lists of institutional and other subject-based academic open access repositories can be found listed by country at the registry http://opendoar.org/countrylist.php   

If your institution does not possess a repository you may deposit a copy of your paper at no cost with www.zenodo.org , the repository supported for open access research in the EU by the European Commission, through the project OpenAIRE (www.openaire.eu )
Downloads
Download data is not yet available.