Ὁ νέος κατάλογος τῶν χειρογράφων τῆς ἐν Πάτμῳ Ἱερᾶς Μονῆς Ἰωάννου τοῦ Θεολόγου (Μέθοδος καὶ προβλήματα)
---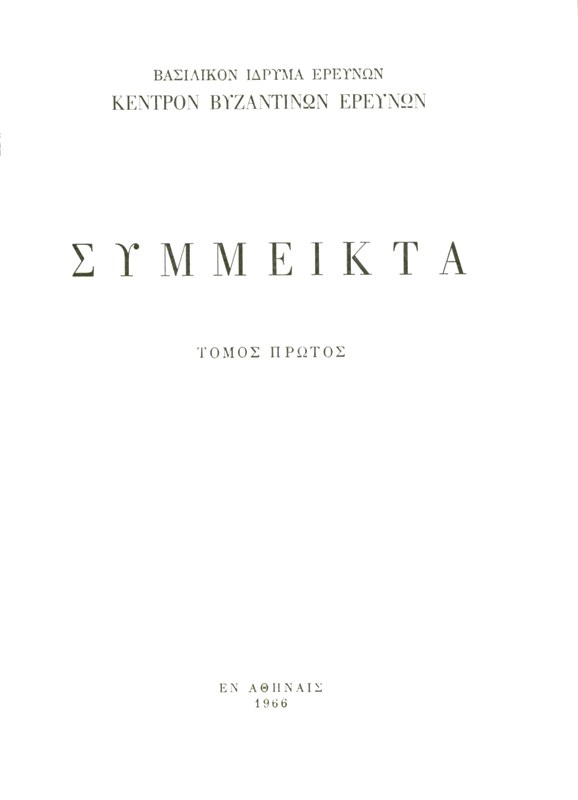 Published: Sep 29, 1966
Keywords:
Βιβλιοθήκη Πάτμου βυζαντινά χειρόγραφα μονή Ιωάννου Θεολόγου Πάτμου Γρηγόριος Θεολόγος Γρηγόριος Νανζιανζηνός Ι. Σακκελίων Ι. Φλωρίδης Δ. Καλλίμαχος
Abstract
A. D. Kominis
Le nouveau catalogue des manuscrits du monastère de Saint-Jean, à Patmos (Méthode et problèmes)
Parmi les travaux en cours du Centre de Recherches Byzantines, il faut signaler la préparation d'un nouveau catalogue des manuscrits de Patmos. L'auteur expose brièvement les raisons qui ont imposé la rédaction de ce catalogue, la méthode qu'il a suivie et les problèmes qu'il envisage. Par la suite, il donne, à titre de specimen, la description du manuscrit N° 33, qui contient des œuvres de Grégoire de Nazianze.
Article Details
How to Cite

ΚΟΜΙΝΗΣ Α. Δ. (1966). Ὁ νέος κατάλογος τῶν χειρογράφων τῆς ἐν Πάτμῳ Ἱερᾶς Μονῆς Ἰωάννου τοῦ Θεολόγου (Μέθοδος καὶ προβλήματα). Byzantina Symmeikta, 1, 17–34. https://doi.org/10.12681/byzsym.551
This work is licensed under a Creative Commons Attribution-NonCommercial-ShareAlike 4.0 International License.
Copyright: The copyright for articles in this journal is retained by the author(s), with first publication rights granted to the journal. By virtue of their appearance in this open access journal, articles are free to use (with the exception of the non-granted right to make derivative works) with proper attribution for non-commercial uses (licence Creative Commons 4.0). NHRF retains the worldwide right to reproduce, display, distribute, and use articles published in BYZANTINA SYMMEIKTA in all formats and media, either separately or as part of collective works for the full term of copyright. This includes but is not limited to the right to publish articles in an issue of the Journal, copy and distribute individual reprints of the articles, authorize reproduction of articles in their entirety in another NHRF publication, and authorize reproduction and distribution of articles or abstracts thereof by means of computerized retrieval systems.
Downloads
Download data is not yet available.