Σακκελίωνος παραλειπόμενα (Συμβολὴ πρώτη)
---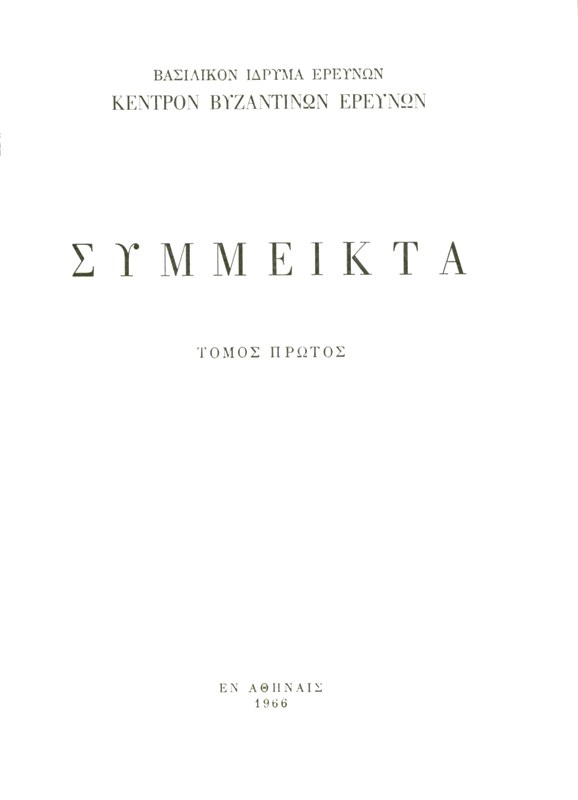 Published: Sep 29, 1966
Keywords:
Βιβλιοθήκη Πάτμου βυζαντινά χειρόγραφα μονή Ιωάννη Θεολόγου Πάτμου Ι. Σακκελίων κωδικολογία Λειμών αποφθέγματα Πατέρων μοναστικός βίος
Abstract
A. D. Kominis
Les Paralipomènes de Sakkelion (Première contribution)
      L'auteur prépare un nouveau catalogue des manuscrits de Patmos. Au cours de ce travail il a noté plusieurs détails importants qui ne figurent pas dans celui, déjà ancien, de Sakkelion.  Étant donné que la publication du nouveau catalogue (contenant la description d'environ mille manuscrits) tardera à paraître en entier, l'auteur présente, dans cet article, un premier apport de données nouvelles. Il se limite aux trente premiers manuscrits du catalogue de Sakkelion (mss N° 1-30). Les Paralipomènes consistent en fragments d'évangéliaires, textes hymnographiques ou textes de Pères de l'Église (homélies de Saint-Basile etc.), Apophthegmata Patrum, l'ensemble presque du Pré Spirituel et autres textes, noms divers, dates, notes marginales etc.
Article Details
How to Cite

ΚΟΜΙΝΗΣ Α. Δ. (1966). Σακκελίωνος παραλειπόμενα (Συμβολὴ πρώτη). Byzantina Symmeikta, 1, 35–75. https://doi.org/10.12681/byzsym.552
Copyright: The copyright for articles in this journal is retained by the author(s), with first publication rights granted to the journal. By virtue of their appearance in this open access journal, articles are free to use (with the exception of the non-granted right to make derivative works) with proper attribution for non-commercial uses (licence Creative Commons 4.0). NHRF retains the worldwide right to reproduce, display, distribute, and use articles published in BYZANTINA SYMMEIKTA in all formats and media, either separately or as part of collective works for the full term of copyright. This includes but is not limited to the right to publish articles in an issue of the Journal, copy and distribute individual reprints of the articles, authorize reproduction of articles in their entirety in another NHRF publication, and authorize reproduction and distribution of articles or abstracts thereof by means of computerized retrieval systems.
Downloads
Download data is not yet available.