Θρησκευτικές αδελφότητες λαϊκών στα Ιόνια νησιά
---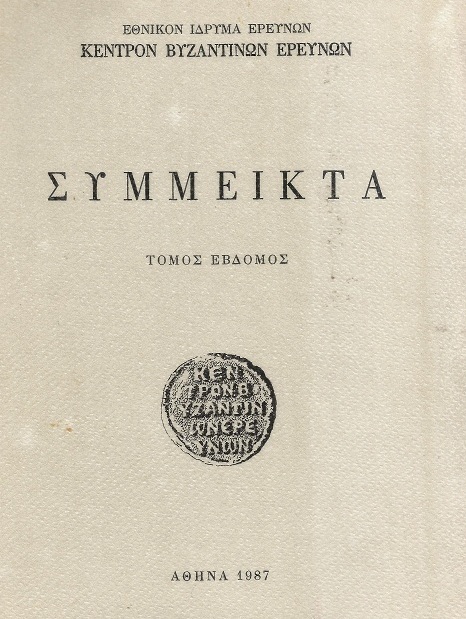 Published: Sep 29, 1987
Keywords:
Θρησκευτικές αδελφότητες Λιτανείες Ιόνια νησιά
Abstract
N. G. Moschonas
 Confréries laïques pieuses aux Iles Ioniennes
Dans cette étude est examiné l'institution des confréries laïques tant de métier (corporations) que purement pieuses, qui apparaît et se développe aux îles Ioniennes pendant le période de la domination vénitienne.
Bien que ce type de corporation ne soit pas inconnu en Grèce byzantine, le modèle des confréries laïques, telles qu'elles apparaissent aux îles Ioniennes, doit être recherché parmi les corporations et les confréries laïques pieuses vénitiennes, qui s'inscrivent dans le cadre d'un plus vaste mouvement spirituel européen du moyen âge tardif.
Article Details
How to Cite

ΜΟΣΧΟΝΑΣ Ν. Γ. (1987). Θρησκευτικές αδελφότητες λαϊκών στα Ιόνια νησιά. Byzantina Symmeikta, 7, 193–204. https://doi.org/10.12681/byzsym.716
Copyright: The copyright for articles in this journal is retained by the author(s), with first publication rights granted to the journal. By virtue of their appearance in this open access journal, articles are free to use (with the exception of the non-granted right to make derivative works) with proper attribution for non-commercial uses (licence Creative Commons 4.0). NHRF retains the worldwide right to reproduce, display, distribute, and use articles published in BYZANTINA SYMMEIKTA in all formats and media, either separately or as part of collective works for the full term of copyright. This includes but is not limited to the right to publish articles in an issue of the Journal, copy and distribute individual reprints of the articles, authorize reproduction of articles in their entirety in another NHRF publication, and authorize reproduction and distribution of articles or abstracts thereof by means of computerized retrieval systems.
Downloads
Download data is not yet available.