Comparison of coleopteran fauna in olive orchards under different production systems in the Messara's valley, on Crete island, Greece
---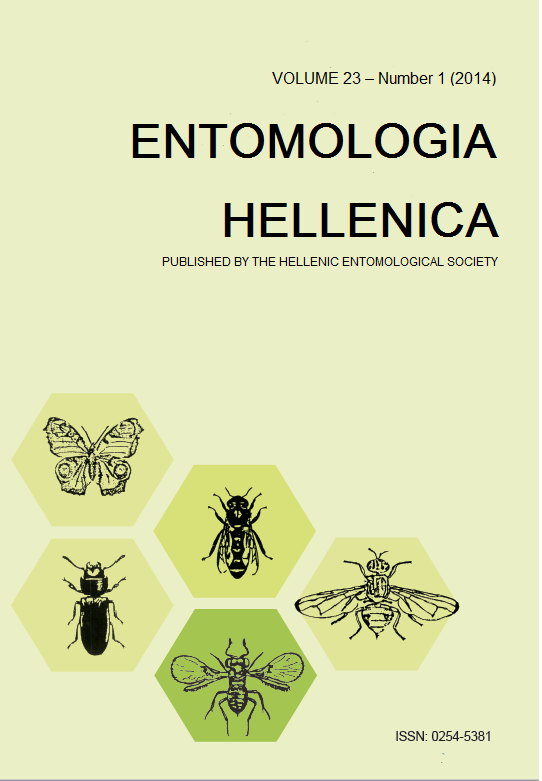 Published: Nov 8, 2014
Keywords:
Olive orchards coleopteran families biodiversity pitfall traps Staphylinidae
Abstract
In this study the results of the captured Coleoptera in pitfall traps in nine olive orchards in the valley of Messara, on Crete Island, were compared. The liquid used for killing and preservation in the pitfall traps, was propylene glycol. The nine olive orchards were distributed in four areas in the valley. In each area there were at least two olive orchards under different agricultural  management system, organic and conventional. The experiments were conducted from October 2004 to April 2005. The number of captured Coleoptera specimens was 4,937. The specimens were identified to the family level. Coleoptera from 25 families were found, but the analysis was focused at eleven of them, the richest in specimens. These were: Anthicidae, Carabidae, Chrysomelidae, Curculionidae, Histeridae, Leiodidae, Scarabaeidae, Silphidae, Silvanidae, Staphylinidae and Tenebrionidae. Staphylinidae were the most abundant in all olive orchards independently of the agricultural management (production system). In the other families instead of differences amongst the different systems of agricultural management, more prominent were the differences amongst areas.
Article Details
How to Cite

Tzokas, I., Liantraki, Z., & Kollaros, D. (2014). Comparison of coleopteran fauna in olive orchards under different production systems in the Messara's valley, on Crete island, Greece. ENTOMOLOGIA HELLENICA, 23(1), 10–17. https://doi.org/10.12681/eh.11530
Authors who publish with this journal agree to the following terms:
Authors retain copyright and grant the journal right of first publication with the work simultaneously licensed under a Creative Commons 4.0 license.
Authors are able to enter into separate, additional contractual arrangements for the non-exclusive distribution of the journal's published version of the work (e.g. post it to an institutional repository or publish it in a book), with an acknowledgement of its initial publication in this journal. Authors are permitted and encouraged to post their work online (preferably in institutional repositories or on their website) prior to and during the submission process, as it can lead to productive exchanges, as well as earlier and greater citation of published work.
Downloads
Download data is not yet available.
References
Brunke, A.J., C.A. Bahlai, M.K. Sears, and R.H. Hallett. 2009. Generalist predators (Coleoptera: Carabidae, Staphylinidae) associated with millipede populations in sweet potato and carrot fields and implications for millipede management. Environ. Entomol. 38:1106-1116.
Cotes, B., M. Campos, F. Pascual, P.A. García, and F. Ruano. 2009a. Comparing taxonomic levels of epigeal insects under different farming systems in Andalusian olive agroecosystems. Appl. Soil Ecol. 44: 228–236.
Cotes, B., J. Castro, M. Cárdenas and M. Campos. 2009b. Responses of epigeal beetles to the removal of weed cover crops in organic olive orchards. B. Insectol. 62: 47-52.
Gibbs, J.P. and E.J. Stanton. 2001. Habitat fragmentation and arthropod community change: carrion beetles, phoretic mites, and flies. Ecol. Appl. 11: 79–85.
Hadjicharalampous, E., K.L. Kalburtji and A.P. Mamolos. 2002. Soil Arthropods (Coleoptera, Isopoda) in organic and conventional agroecosystems. Environ. Manag. 29: 683-690.
Murray, T.J., K.J.M. Dickinson and B.I.P. Barrat. 2006. Associations between weevils (Coleoptera: Cucrculionidae) and plants, and conservation values in two tussock grasslands, Otago, New Zealand. Biodivers. Conserv. 15: 109-123.
Teixeira, C.C.L., M. Hoffmann and G. Silva-Filho. 2009. Community of soil fauna Coleoptera in the remnants of lowland Atlantic Forest in state of Rio de Janeiro, Brazil. Biota Neotrop., 9: 91-95.