Dialectical relations of Neohellenic Enlightenment with Ionian music production and education
---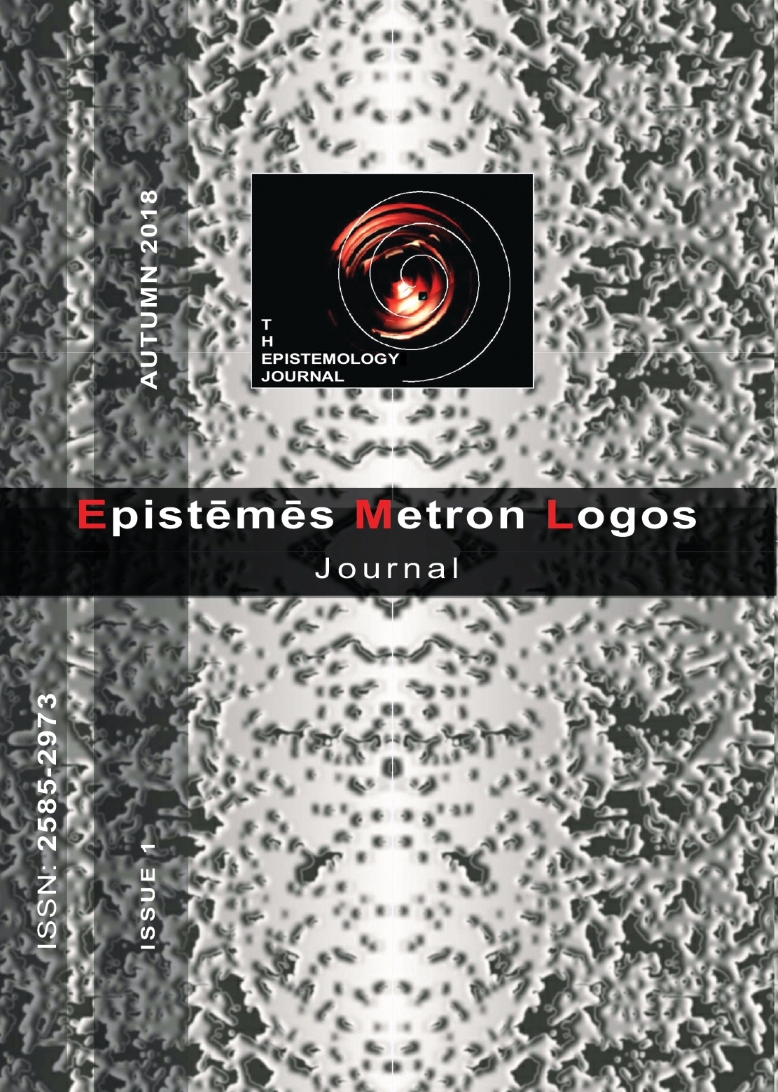 Published: Dec 5, 2018
Keywords:
French European Greek Enlightenment Music Education Ionian Islands
Abstract
The French and European idea of Enlightenment inspired in a way the "Modern Greek Enlightenment" in a strange and peculiar reflection of the original idea of a man free from superstitions, prejudices and fears. The whole idea visited Greece due to spiritual people who have usually experienced this climate. In this "Greek version", the Ionian Islands were found at this critical point in Europe's history among different trends and versions of the main idea.
This period of European Enlightenment is connected to Baroque and then the Classical music. Greece has never actually synchronized with the source of this music, however, in the Ionian Islands, there is an almost immediate transmutation of new musical ideas in the music composition and education.
Article Details
How to Cite

Περιστέρης Φ. (2018). Dialectical relations of Neohellenic Enlightenment with Ionian music production and education. Epistēmēs Metron Logos, (1), 13–23. https://doi.org/10.12681/eml.19178
Section
Publishing partner
This work is licensed under a Creative Commons Attribution-NonCommercial 4.0 International License.
Authors who publish with this journal agree to the following terms:
Authors retain copyright and grant the journal right of first publication with the work simultaneously licensed under a Creative Commons Attribution Non-Commercial License that allows others to share the work with an acknowledgement of the work's authorship and initial publication in this journal.
Authors are able to enter into separate, additional contractual arrangements for the non-exclusive distribution of the journal's published version of the work (e.g. post it to an institutional repository or publish it in a book), with an acknowledgement of its initial publication in this journal.
Authors are permitted and encouraged to post their work online (preferably in institutional repositories or on their website) prior to and during the submission process, as it can lead to productive exchanges, as well as earlier and greater citation of published work.
Downloads
Download data is not yet available.
References
Adorno, T., (1997) Aesthetic theory, University of Minnesota Press.
Adorno, T., (2012) Η φιλοσοφία της νέας μουσικής, Μτφρ. Τ. Σιέτη – Ολ.
Κοσμά. Ψυχοπαίδη - Φράγκου, Αθήνα: Νήσος.
Foucault, M., (1988). Τι είναι ο Διαφωτισμός, Μτφρ. Σ. Ροζάνη, Αθήνα:
Hobsbawm E. J., (2000). Η Εποχή των Επαναστάσεων, 1789-1848, Αθήνα:
Δεληγιαννόπουλος, Σπύρος: Το Ελληνικό Στοιχείο στην Επτανησιακή Μουσική
Σχολή, Ιονικά Ανάλεκτα, Αθήνα: 2014.
Δημαράς, Κ. Θ. (1977). Το σχήμα του Διαφωτισμού, Νεοελληνικός
Διαφωτισμός, Αθήνα: Ερμής, Βιβλιοπωλείον της Εστίας.
Καλογερόπουλος, Τ., (1998). Λεξικό της Ελληνικής Μουσικής, Αθήνα:
Καρδάμης, Κ., (2008). Νικόλαος Χαλικιόπουλος Μάντζαρος «Ενότητα Μέσα
στην Πολλαπλότητα», Κέρκυρα: Εταιρεία Κερκυραϊκών Σπουδών.
Καρδάμης, Κ., (χ.χ). Birth of Greek opera (Η γέννηση της ελληνικής όπερας) -
Αρχείο Μουσείο Σολωμού & Επιφανών Ζακυνθίων
Κιτρομηλίδης, Π. Μ. (1996). Nεοελληνικός Διαφωτισμός. Oι πολιτικές και
κοινωνικές ιδέες.Mετάφραση Στέλλα Nικολούδη, Aθήνα: MIET.
Κουρκουμέλης – Κοθρής, Ν., (2002). Η Εκπαίδευση στην Κέρκυρα κατά τη
διάρκεια της Βρετανικής Προστασίας (1816 – 1864), Αθήνα: Σύλλογος προς Διάδοσιν των Ελληνικών Γραμμάτων.
Λεωτσάκος, Γ., (1992). Οι χαμένες ελληνικές όπερες ή ο αφανισμός του
μουσικού μας πολιτισμού, Αθήνα: Έρευνες.
Μοτσενίγος, Σ.,(1958). Νεοελληνική Μουσική. Συμβολή εις την Ιστορίαν
Ξεπαπαδάκου, Αυρ.,(2013). Παύλος Καρρέρ, Αθήνα: Fagotto Music.
Ρωμανού, K., κ.ά., (2004). Η μουσική βιβλιοθήκη της Φιλαρμονικής Εταιρίας
Κερκύρας, Αθήνα: Εκδόσεις Κουλτούρα.
Ταμπάκη, Άννα. (2004). Περί νεοελληνικού Διαφωτισμού. Pεύματα ιδεών και
δίαυλοι επικοινωνίας με τη δυτική σκέψη, Aθήνα: Ergo.