Textual Ornamental Palimpsest and interactive narrative. A Close Reading inside the public sphere.
---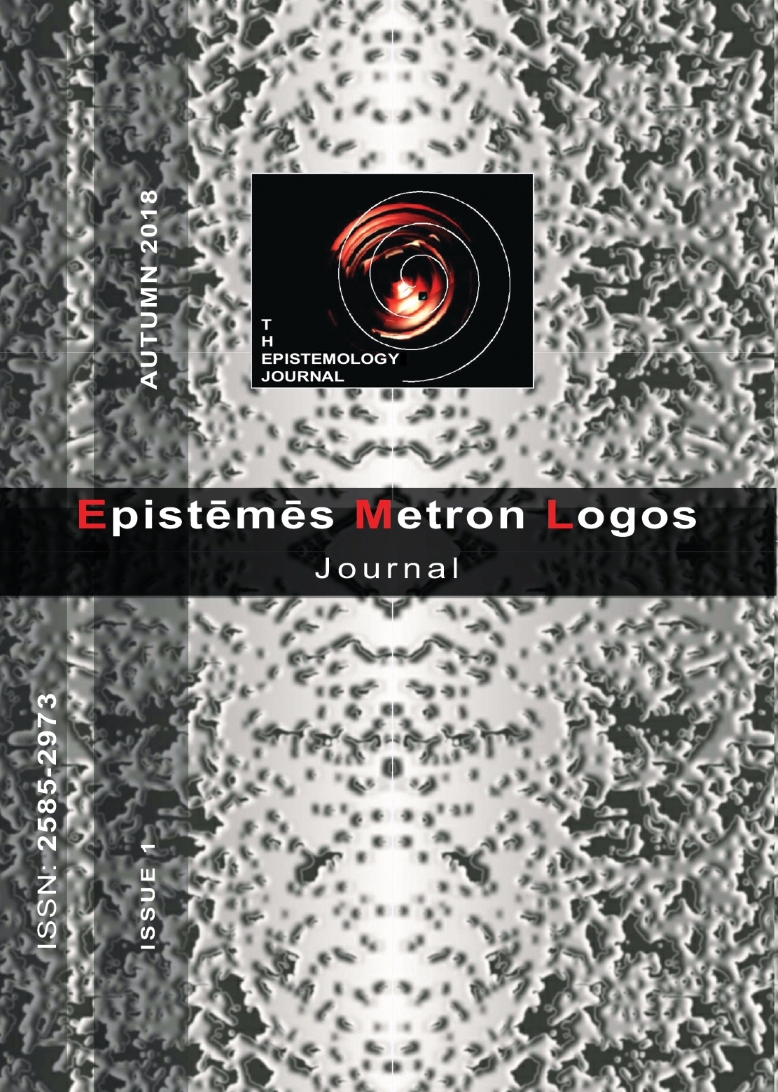 Published: Dec 5, 2018
Keywords:
Ornamental palimpsest interactive narrative public sphere kosmos
Abstract
Urban ornamentation serve as the canvas for expressing the readmission of ideological and emotional – aesthetics realms in «Public Sphere». The Greek word «diakosmos» stands for ornament; from an etymological standpoint diakosmos describes the relationship between different realms (cosmos) of existence and the journey across. Artists and public are interconnected with the up-to-date idea of «flaneur» and play this game by their own aesthetic creations in the city field through the «diakosmos»  by an interactive narrative.
Article Details
How to Cite

Μερμίγκη Δ. (2018). Textual Ornamental Palimpsest and interactive narrative. A Close Reading inside the public sphere. Epistēmēs Metron Logos, (1), 90–97. https://doi.org/10.12681/eml.19248
Section
Publishing partner
This work is licensed under a Creative Commons Attribution-NonCommercial 4.0 International License.
Authors who publish with this journal agree to the following terms:
Authors retain copyright and grant the journal right of first publication with the work simultaneously licensed under a Creative Commons Attribution Non-Commercial License that allows others to share the work with an acknowledgement of the work's authorship and initial publication in this journal.
Authors are able to enter into separate, additional contractual arrangements for the non-exclusive distribution of the journal's published version of the work (e.g. post it to an institutional repository or publish it in a book), with an acknowledgement of its initial publication in this journal.
Authors are permitted and encouraged to post their work online (preferably in institutional repositories or on their website) prior to and during the submission process, as it can lead to productive exchanges, as well as earlier and greater citation of published work.
Downloads
Download data is not yet available.
References
Adorno Τ. (2006). Αρνητική Διαλεκτική, Μτφρ., επιμ. Λ., Αθήνα: Αλεξάνδρεια.
Benjamin, W. Das Passagen-Werk. Gesammelte Schriften, vol. V (1982). Frankfurt / M., (1991). (English edition 1996).
Benjamin W. (2007). Charles Baudelaire: Lyric Poet in the Era of High Capitalism, Paris: Petite Bibliothèque Payot.
Boyer, C. (1994). The city of collective memory. Its historical imagery and architectural entertainments, London - Cambridge.
Deborah, S., (2007). Πόλεις και αστικοί πολιτισμοί, Μτφρ. Ι. Πεντάζου, πρόλ., επιμέλ. Γ. Γιαννιτσιώτης, Αθήνα: Κριτική.
Debord, G., etc. (1999). Internationale Situationniste. Το ξεπέρασμα της τέχνης. Ανθολογία κειμένων της καταστασιακής διεθνούς, Mτφρ. Γ. Ιωαννίδης, Αθήνα: Υψιλον.
Habermas, J. (1962).The Structural Transformation of the Public Sphere, Τransl. T. Burger, Cambridge, Massachusetts: MIT Press.
Genette, G. (1997). Palimpsests-Literature in the Second Degree, (trans. C.Newman, C. Doubinsky), Lincoln, London.
Mermigki, D. (a). Ornament and Pygmalion. The aesthetic - sensorial phenomenon of ormament: semantic transformations, Aition, vol. 3, 2015, pp.128-133
- (b). Οrnament and Moral in Ν. Kazantzaki΄s literary work, in conference proceedings First National Conference Aesthetics and Moral: Technological Educational Institute of Athens, Technopolis Athens, (12/06 / - 14/06/2015).
Mermigki, D., e.t.c. (2012). On mnemonic alterity of mseum space. Research in Architecture 2 Design - Space - Culture NTUA, School of Architecture. Collective volume. Athens: Alexandria, p. 236 - 239.
Peristeris, F. Theodor Adorno - A complete philosophical triptych - Aesthetic through the art of sounds. Athens: Aition, quarterly magazine, issue 4, 2016.
Ράπτη, Γ. (2001), Αρνητική Αισθητική – προς μια νέα ορθολογικότητα, Τ. 41Β/2001 -2002, Αθήνα: Χρονικά Αισθητικής, σελ. 667-678.
Foucault, M. (1966). Les mots et les choses, Une archéologie des sciences humaines, Paris introduction.
- (1983). This is Not a Pipe (ed. and trans. J. Harkness), Los Angeles and London Berkeley.
- (1984), Des Espaces Autres, Heterotopias. Architecture, Movement, Continuité, 5, pp.46-49.