Framework for the geosites selection according to the International Union of Geological Sciences (IUGS), and the European Association for the Conservation of Geological - Geomorphological heritage (ProGEO). 2nd phase: opening of a discussion in the country, publishing and more or less finalizing the country framework
---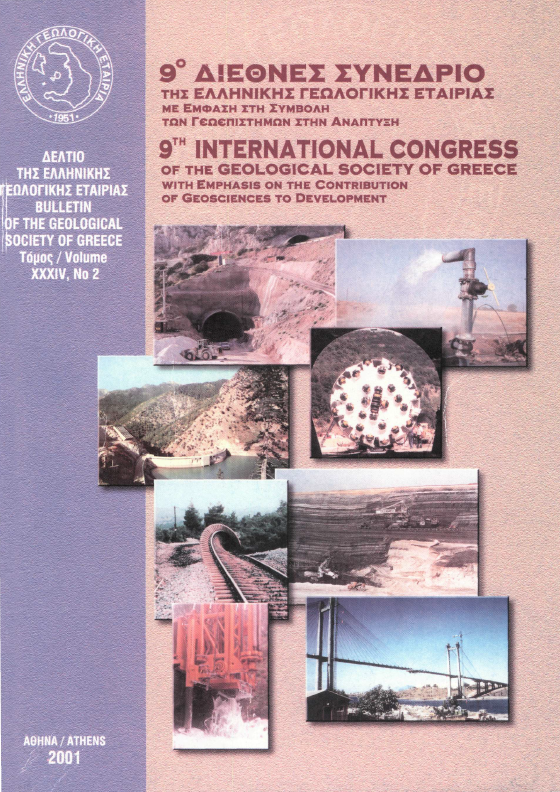 Published: Aug 1, 2018
Keywords:
Geosites framework IUGS ProGEO geological heritage conservation geotopes geodiversity geosites list
Abstract
This contribution constitutes the second phase of the Geosites project of IUGS. This phase started with an open discussion in the greek geoscientific community for the improvement of the geosites framework created during the first phase of the project. The first phase is described in another paper of the present Congress.
The criterion for the selection of the geoscientists to send them an information package for this first open discussion was their previous involvement with geological heritage conservation, geotopes protection and management issues. The fruit of the cooperation of the first group, that is, the improved and completed geosites framework together with some geosites as examples of the framework categories, is included in this paper. The format of the framework has changed in this paper (compared with the one of the paper for first phase, of the present congress) in order to make it shorter. The whole framework, categories, geosites-examples, are written in English language as well, because English is the common language of the Geosites programme.
The categories refer to both continental and submarine geosites. This product is not closed and static but on the contrary it is open, dynamic and under development. It will obtain gradually and systematically, with the involvement and cooperation of all the more specialists, completeness and a representativity equivalent to the geodiversity of Greece. In this way it will be represented adequately in the European and the world geosites list.
Article Details
How to Cite

ΘΕΟΔΟΣΙΟΥ-ΔΡΑΝΔΑΚΗ E., ΠΑΠΑΔΟΠΟΥΛΟΥ-ΒΡΥΝΙΩΤΗ Κ., & ΜΑΡΚΟΠΟΥΛΟΥ-ΔΙΑΚΑΝΤΩΝΗ Α. (2018). Framework for the geosites selection according to the International Union of Geological Sciences (IUGS), and the European Association for the Conservation of Geological - Geomorphological heritage (ProGEO). 2nd phase: opening of a discussion in the country, publishing and more or less finalizing the country framework. Bulletin of the Geological Society of Greece, 34(2), 803–810. https://doi.org/10.12681/bgsg.17703
This work is licensed under a Creative Commons Attribution-NonCommercial 4.0 International License.
Authors who publish with this journal agree to the following terms:
Authors retain copyright and grant the journal right of first publication with the work simultaneously licensed under a Creative Commons Attribution Non-Commercial License that allows others to share the work with an acknowledgement of the work's authorship and initial publication in this journal.
Authors are able to enter into separate, additional contractual arrangements for the non-exclusive distribution of the journal's published version of the work (e.g. post it to an institutional repository or publish it in a book), with an acknowledgement of its initial publication in this journal. Authors are permitted and encouraged to post their work online (preferably in institutional repositories or on their website) prior to and during the submission process, as it can lead to productive exchanges, as well as earlier and greater citation of published work.
Downloads
Download data is not yet available.
References
ΒΑΒΛΙΑΚΗΣ, Ε. 1981: Μελέτη των επιφανειών διάβρωσης καρστικών παγετωδών και περιπαγετωδών μορφών του όρους Μενοίκιου στην Αν. Μακεδονία από γεωμορφολογικής και μορφογενετικής πλευράς. Διδ. Διατρ. σ. 192 Παν/μιο Θεσσαλονίκης.
BONIS, DE L. & KOUFOS, G. D., 1993: The face and the mandible of Ouranopithecus macedoniensis. Description of new specimens and comparisons. -Journal of Human Evolution, 24: 469-491, New York.
BONIS, L DE., KOUFOS, G. D. & SEN, S., 1997: A giraffid skull and mandible from the middle Miocene of the island of Chios (Aegean sea, Greece). Palaeontology, 40: 121-133.
BONIS, DE L., KOUFOS, G.D. AND SEN, S., 1997: The sanitheres (Mammalia, Suoidea) from the middle Miocene of Chios island, Aegean sea, Greece. Revue Palaeobiologique, 16(1): 259-270.
BONIS, DE L., KOUFOS, G.D. & SEN, S., 1998 : Ruminants (Bovidae and Tragulidae) from the middle Miocene (MN 5) of the island of Chios, Aegean sea (Greece. N. Jb. Geol. Palaeont. Ah., 210:399-420.
BONIS, DE L., KOUFOS, G.D., 1999: The Miocene large mammal succession in Greece. In còHominoid Evolution and climatic change in Europe, vol. I o6The evolution of the Neogene terrestrial ecosystems in Europe J. Agusti, L. Rook & P. Andrews (eds), pp. 205-237, Cambridge Univ. Press.
ZAMANH, A. 1979: Συμβολή εις την ερμηνείαν της δημιουργίας και της εξελίξεως των Γεωμορφών των Μετεώρων. An.geol. P. Hei Τ.ΧΧΧ/Ι Σ. 281-290 Αθήνα.
ΘΕΟΔΟΣΙΟΥ-ΔΡΑΝΔΑΚΗ, ΕΙΡ. 2001: Γεωλογικό πλαίσιο για την επιλογή γεωτόπων σύμφωνα με τις προδιαγραφές της Διεθνούς Ενωσης Γεωεπιστημών (IUGS) και της Ευρωπαϊκής Εταιρείας για τη διατήρηση της γεωλογικής-γεωμορφολογικής κληρονομιάς (PROGEO), Πρώτη Φάση: ετοιμασία ενός πρώτου πλαισίου σε επίπεδο χώρας. Ιδιο συνέδριο.
KOUFOS, G.D., 1992: A mandible of Ouranopithecus macedoniensis from new late Miocene locality of Macedonia (Greece).-American Journal of Physical Anthropology, New York, 91, 225-234.
KOUFOS, G.D., SYRIDES, G. E., KOSTOPOULOS, D. S., KOLIADIMOU, Κ. K, SILVESTROU, J.A., SEITANIDIS, G. C, & VLACHOU, T., 1997:. New excavations in the Neogene mammalian localities of Mytilini, Samos Island, Greece. Geodiversitas, 19(4): 877-885.
KOUFOS, G.D.. BONIS DE L. & SEN, S.,1995: Lophocyon paraskevaidisi a new viverrid (Carnivora, Mammalia from the middle Miocene of Chios island (Greece). Geobios, 28(4): 511-523, Lyon.
KOUFOS, G. D., 1995: The first female maxilla of the hominoid Ouranopithecus macedoniensis from the late Miocene of Macedonia, Greece. Journal of Human Evolution, 29:385-399.
KONDOPOULOU, D., BONIS, DE L., KOUFOS, G.D. & SEN., S. (1993): Palaeomagnetic and biostratigraphic data from the middle Miocene vertebrate locality of Thymiana (Chios island, Greece). - Proc. 2nd Congr. Geophys. Soc.Greece , 626-635.
ΜΑΡΙΟΛΑΚΟΣ, H, 1999: Συμβολή των γεωτόπων στην ιστορία και την περιβαλλοντική ευαισθητοποίηση. Πρακτικά Τριημέρου για τη διατήρηση της γεωλογικής-γεωμορφολογικής κληρονομιάς, στο πλαίσιο των Σεμιναρίων της Ερμούπολης, 1996, Αθήνα 1999, εκδ. Ειρ. Δρανδάκη.
ΜΑΡΚΟΠΟΥΛΟΥ-ΔΙΑΚΑΝΤΩΝΗ, Α., ΝΤΟΥΡΟΥΠΗ, Α. & ΚΩΣΤΑ, 1.1998: Τα θυσανόποδα (Cirripedia) των πλειοκαινικών αποθε'σεων της Ραφήνας Αττικής. Συστηματική-Παλαιοοικολογία. Bull. Geol. Soc. Gr., XXXII/2, 73-83, Patras.
ΜΕΡΜΥΓΚΗ, Α., ΜΑΡΚΟΠΟΥΛΟΥ- ΔΙΑΚΑΝΤΩΝΗ, Α. & ΖΑΜΠΕΤΑΚΗ- ΛΕΚΚΑ, Α. 2001: Νέα παλαιοντολογικά και στρωματογραφικά δεδομένα επί της ανωκρητιδικής επίκλυσης στη ζώνη Ανατολικής Ελλάδας (Μαρμέικο, Πτώον όρος, Βορειοανατολική Βοιωτία). Κατατέθ. στο 9ο Συν .της Ελλ. Γεωλ. Ετ., Αθήνα.
ΠΑΠΑΔΟΠΟΥΛΟΥ, Κ. 1990: Γεωμορφολογική μελέτη της περιοχής Κωπάίδας(Βοιωτίας). Διδ. Διατρ. σ.147 Γεωλογικό Τμήμα Παν/μίου Αθηνών.
PAPADOPOULOU, Κ. 1996: «Comparative observations ίη Karst Formations of Parnass and Arcadia mountains (Greece): Theoretical and Applied Karstology, voI9, 63-68. Editura Academiei Romane, Bucuresti.
ΠΑΠΑΔΟΠΟΥΛΟΥ-ΒΡΥΝΙΩΤΗ, Κ., 2000: Γεωμορφολογία, Μυθολογία και αρχαίος πολιτισμός στην περιοχή Κωπάίδας. Συμπόσιο Γεωτουριστικά-Γεωπολιτιστικά μονοπάτια και Γεωμυθότοποι, Αθήνα.
ΠΕΡΙΣΟΡΑΤΗΣ, Κ., ΖΑΧΑΡΑΚΗ, Π., ΜΙΧΑΗΛΙΔΗΣ, ΣΤ., ΖΗΜΙΑΝΙΤΗΣ, Ε., 1995: Χάρτης επιφανειακών ιζημάτων Αιγαίου Πελάγους, Φύλλο Σαντορίνη, Κλ. 1:200.000, εκδ. ΙΓΜΕ
RIEDL, Η., 1993: Die Karstreliefgenerationen Griechenlands und das Problem Anthropographische Störungen. «Die Hohle» 42 S. 57- 70 Wien.
RIEDL, Η, ΜΑΡΙΟΛΑΚΟΣ, Η, ΠΑΠΑΝΙΚΟΛΑΟΥ, Δ, ΣΑΜΠΩ B, 1982: Η εξέλιξη των παλαιών μορφολογικών επιφανειών των Κυκλάδων. Αη. Geol. P. Hei Τ.χχχΙ Σ. 191-250 Αθήνα.
ΣΟΥΚΗΣ, Κ, ΚΟΥΦΟΣΩΤΉΡΗ, Ε., & ΣΤΟΥΡΝΑΡΑΣ Γ., 1998: Ιδιαίτερα γεωμορφολογικά χαρακτηριστικά της Τήνου (Κυκλάδες, σφαιροειδείς μορφές διάβρωσης των γρανιτών και tafoni. Πρακτικά υπό έκδοση 3ου Διεθνούς Συμποσίου Μουσείου Φυσικής Ιστορίας Απολιθωμένου Δάσους Λέσβου για τη διαχείριση προστατευόμενων περιοχών και μνημείων της φύσης.
ΣΥΜΕΩΝΙΔΗ, Ν. & ΘΕΟΔΩΡΟΥ, Γ. 1997: Γνωριμία με τους τελευταίους Ελέφαντες, που έζησαν σε Ευρωπαϊκό έδαφος, τους νάνους ελέφαντες της Τήλου. Intern. Ecol. Congr. Peace, Environment, Culture and Tourism, 26, Τήλος.
SYMEONIDES, N..& THEODOROU, G. 1997: The story of the last European elephants. Intern. Ecol. Congr. Peace, Environment, Culture and Tourism, 27, Τήλος.
THEODOROU, G., ATHANASSIOU, Α., ROUSSIAKIS, S. & ILIOPOULOS, G., 1998: Preliminary results on the recent excavations of the Kerassia locality (Euboea). Inter.- Coll./ R.C.M.N.S, Abstr.,66, Patras.
WIMBLEDON, W.A.P., ISCHENCO, Α., GERASIMENCO, N., ALEXANDROWICZ, Z., VINOCUROV, V., LISCAK, P., VOZAR, J., VOZAROVE, Α., BEZAK, V., KOHUT, M., POLAK, M., MELLO, J., POTFAJ, M., GROSS, P., ELECKO, M., NAGY, Α., BARATH, L, LAPO, Α., VDOVETS, M., KLINCHAROV, S., MARJANAC, L., MIJOVIC, D., DIMITRIJEVIC, M., GAVRILOVIC, D.,
THEODOSSIOU-DRANDAKI, I., SERJANI, Α., TODOROV, T., NAKOV, R., ZAGORCHEV, I., PEREZ-GONZALEZ, Α., BENVENUTI, M., BONI, M., BRANCUCCI, G., BORTOLAMI, G., BURLANDO, M., COSTANTINI, E., D' ANDREA, M., GISOTTI, G., GUADO, G., MARCHETTI, M., MASSOLI-NOVELLI, R., PANIZZA, M., PAVIA, G., POLI, G., ZARLENGA, F., SATKUNAS, J., MIKULENAS, V., SUOMINEN, V., KANANOJA, T., LEHTINEN, M., GONGGRIJP, G., LOOK, E., GRUBE, Α., JOHANSSON, C, KARIS, L., PARKES, M., RAUDSEP, R., ANDERSEN, S., CLEAL, C, BEVINS, R., (1998): a first attempt at a geosites framework for Europe- an IUGS initiative to support recognition of World Heritage and European Geodiversity, Geologica Balcanica 28. 3-4.Sofia 1998, Special Issue "Geological heritage of Europe"pp 5-47.