CALCAREOUS NANNOFOSSIL BIOSTRATIGRAPHY OF THE BASAL PART OF VIGLA SHALE MEMBER (IONIAN ZONE) IN ITHAKI ISLAND; PRELIMINARY RESULTS
---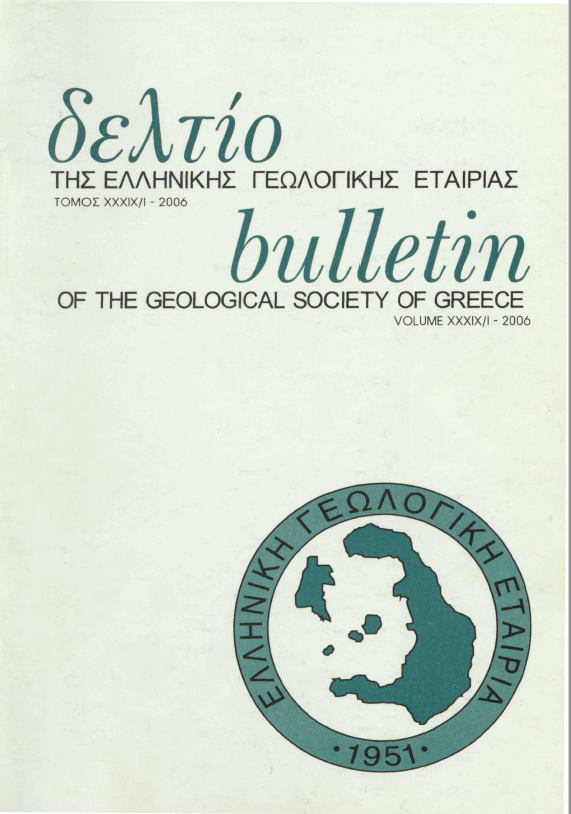 Abstract
The calcareous nannofossil biostratigraphy, performed at the basal part of the Vigla Shale Member (Frygano section, Ithakl Island), permits its biostratigraphic correlation with the uppermost part of BC21 biozone (Bown et al., 1998) and the upper part of NC7 biozone (Roth, 1978), which chronostratigraphically point to Late Aptian. This result reinforces the hypothesis that the deposition of Vigla Shales is isochronous in the Ionian zone.
Article Details
How to Cite

Triantaphyllou, M. V., Karakitsios, V., & Mantzouka, D. (2006). CALCAREOUS NANNOFOSSIL BIOSTRATIGRAPHY OF THE BASAL PART OF VIGLA SHALE MEMBER (IONIAN ZONE) IN ITHAKI ISLAND; PRELIMINARY RESULTS. Bulletin of the Geological Society of Greece, 39(1), 126–132. https://doi.org/10.12681/bgsg.18450
Section
Palaeontology, Stratigraphy and Sedimentology
This work is licensed under a Creative Commons Attribution-NonCommercial 4.0 International License.
Authors who publish with this journal agree to the following terms:
Authors retain copyright and grant the journal right of first publication with the work simultaneously licensed under a Creative Commons Attribution Non-Commercial License that allows others to share the work with an acknowledgement of the work's authorship and initial publication in this journal.
Authors are able to enter into separate, additional contractual arrangements for the non-exclusive distribution of the journal's published version of the work (e.g. post it to an institutional repository or publish it in a book), with an acknowledgement of its initial publication in this journal. Authors are permitted and encouraged to post their work online (preferably in institutional repositories or on their website) prior to and during the submission process, as it can lead to productive exchanges, as well as earlier and greater citation of published work.
Downloads
Download data is not yet available.
References
Bown, P.R., Rutledge, D.G., Crux, J A , & Gallagher, LT., 1998. Lower Cretaceous. In: Calcareous nannofossil biostratigraphy (Ed. Bown, P.R.), pp. 86-131, British Micropaleontological Society Series, Chapman & Hall/Kluwer Academic Publishers, London.
IGME, 1991. Ithaki-Atokos geological map. Institute of Geology and Mineral Exploration, Athens.
IGRS-IFP, 1966. Etude géologique de l'Epire (Grece nord-occidentale). Ed. Technip, 306 pp., Paris.
Karakitsios, V., Danelian, T., & de Wever, P., 1988. Datations par les radiolaires des calcaires a filaments, schistes a posidonies supérieurs et calcaires de Vigla (Zone Ionienne, Epire, Grece) du Callovien au Tithonique terminal. CR. hebd. Seanc. Acad. Sci. Paris, 306, 2, 367-372, Paris.
Karakitsios, V., 1992. Ouverture et inversion tectonique du basin Ionien (Epire, Grece). Ann. Geo/. Pays Hell., 35 (1): 185-318.
Karakitsios, V., & Koletti, L.,1992. Critical revision of the age of the basal Vigla limestones (Ionian zone, western Greece), based on nannoplankton and calpionellids, with paleogeographical consequences. Knihovnicka ZPN, 14a(1), 165-177.
Karakitsios, V., 1995. The Influence of Preexisting Structure and Halokinesis on Organic Matter Preservation and Thrust System Evolution in the Ionian Basin, Northwest Greece. AAPG Bulletin, 79, (7): 960-980.
Karakitsios, V., Tsikos H., Van Breugel, Y., Bakopoulos, I., Koletti, L, 2004. Cretaceous oceanic anoxic events in western continental Greece. Bull. Geol.Soc.Greece, XXXVI: 846-855.
Perch-Nielsen, K., 1985. Mesozoic calcareous nannofossils. In: Plankton Stratigraphy (Eds Bolli, H. M., Saunders, J. Β. & Perch-Nielsen, Κ.), pp. 329-426, Cambridge University Press, Cambridge.
Roth, P., H., 1978. Cretaceous nannoplankton biostratigraphy and oceanography of the Atlantic ocean. Initial Reports of Deep Sea Drilling Project, 44, 731-760.
Sotiropoulos, S., Kamberis, E., Triantaphyllou, M., & Doutsos, T., 2003, Thrust sequences in the central part of the External Hellenides. Geol. Mag., 140 (6):661-668.