Besieged sovereignty: The pandemic and the triple relation between state, international organizations and integral society
---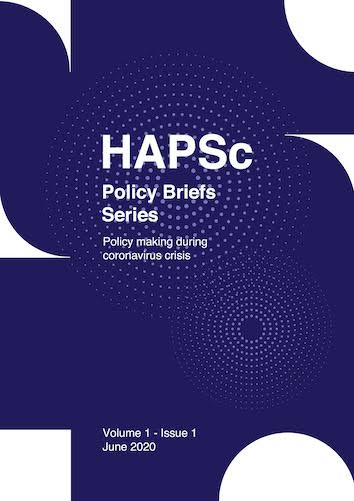 Δημοσιευμένα: Jun 30, 2020
Λέξεις-κλειδιά:
COVID-19 pandemic coronavirus state sovereignty solidarity international organizations social cohesion international relations integral society unilateral plurilateral state of emergency
Περίληψη
The theory of sovereignty has been challenged by the limits established by the international field and tensions, a likely subordination of the internal right to the global community that is governed by rules and principles and not simply by the exercise of power. The pandemic from COVID-19 has provided an opening in the theoretical field of fragmentation of the theory regarding state sovereignty. A new way to materialize sovereignty that, when put into practice, can assume the functions of global governance exercised by an international organization. This ability of exercising state sovereignty, named besieged sovereignty in this document, has the initial goal of justifying the use of this new concept that emerged from a state of global exception, in addition to presenting, briefly, the approach to the validity of legal norms. Two hypotheses will be presented for the field of this research: can there be unilateral and/or plurilateral intervention in state sovereignty in case there is a declaration of a state of emergency, of exception, in the global field?  Can there be an authorization of the United Nations Charter for direct intervention on behalf of individual or collective self-defense, in the case of an armed attack upon the nation that represents imminent risk of transmission and spread of the pandemic? We will argue that besieged sovereignty represents a serious risk to state sovereignty and that the international community needs to be actively engaged in ensuring that governments observe the standards and quickly return to normal so that there is no "legitimate use of force "and unilateral or plurilateral interventions, since the sovereign will be the one who is capable, over the abnormality, in order to suspend the legal order in whole or in part and with the purpose of restoring normality.
Λεπτομέρειες άρθρου
Πώς να δημιουργήσετε Αναφορές

Gouvêa, C. B., & Castelo Branco, P. H. V. B. (2020). Besieged sovereignty: The pandemic and the triple relation between state, international organizations and integral society. HAPSc Policy Briefs Series, 1(1), 171–176. https://doi.org/10.12681/hapscpbs.24963
Οι συγγραφείς των άρθρων που δημοσιεύονται στο περιοδικό διατηρούν τα δικαιώματα πνευματικής ιδιοκτησίας επί των άρθρων τους, δίνοντας στο περιοδικό το δικαίωμα της πρώτης δημοσίευσης. Άρθρα που δημοσιεύονται στο περιοδικό διατίθενται με άδεια Creative Commons 4.0 και σύμφωνα με την άδεια μπορούν να χρησιμοποιούνται ελεύθερα, με αναφορά στο/στη συγγραφέα και στην πρώτη δημοσίευση με δικαίωμα τροποποίησης μόνον με παρόμοια διανομή (αν αναμείξετε, τροποποιήσετε, ή δημιουργήσετε πάνω στο υλικό, πρέπει να διανείμετε τις δικές σας συνεισφορές υπό την ίδια άδεια όπως και το πρωτότυπο).
Λήψεις
Τα δεδομένα λήψης δεν είναι ακόμη διαθέσιμα.
Αναφορές
Aristotle (1954). The Nichomaen ethics. London: Oxford University Press.
Castelo Branco, P. H. V. B. (2013). Die unvollendete Säkularisierung. Politik und Recht im Denken Carl Schmitts. 1. ed. Stuttgart: Franz Steiner Verlag.
Schmitt, C. (1985). Political Theology. Fique chapters on the concept of sovereignty. Translated by Georg Schwab, Massachusetts: MIT Press.