The European Union Obligation: Member States must not Neglect the Consequences of Covid 19 to the Disadvantaged Asylum Seekers and Refugees
---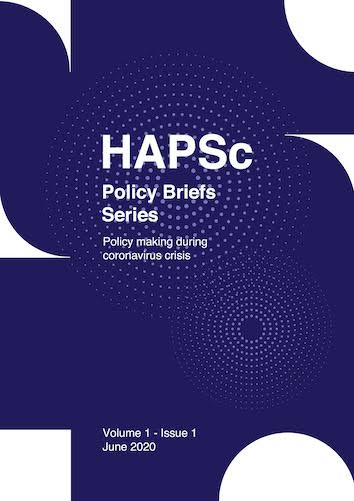 Δημοσιευμένα: Jun 30, 2020
Λέξεις-κλειδιά:
European Policies migration European Union pandemic coronavirus covid-19 refugees asylum
Περίληψη
In early March 2020 the health crisis warnings of corona virus also known as Covid 19 emerged in the European Union (EU). It dominated political dialogues prompting a sense of urgency, fear, and disruption among people. Suddenly there was a halt to the continuous controversial discussions on migration, asylum seekers and refugee challenges across the EU Member States and beyond. The message from the health experts and governments among the EU Member States was clear. Stay home, wash your hands constantly, maintain physical distance, and keep the children away from vulnerable grandparents. However, these seemingly extreme health guidelines engendered great anxiety for the disadvantaged people living in crowded refugee camps across the EU and beyond. It became very clear that the requirement of physical distancing has become a privilege only available for the populations that have the capacity.
Research shows that overcrowding and lack of sanitation in refugee camps continue to be problematic across the EU Member States. Somehow, it seemed unfair for the Member States governments to emphasise on the importance of constant wash of hands and social distance among its citizens, whilst ignoring the horrific living conditions of those displaced and stranded in the internal and external borders of the EU. Additionally, there are claims that Covid 19 has not fully manifested in the EU refugee camps, however with lack of information on corona virus testing in the camps it is difficult to legitimately evaluate the situation. This brief assesses the EU Covid 19 response in relation to the area of Asylum. Also serves as a reminder for the EU policy makers not to forget the migration discourse during coronavirus crisis. Particularly, for the asylum seekers and refugees as their presence will continue to impact major dimensions of the EU communities such as political, economy, and social, well beyond Covid 19.
Λεπτομέρειες άρθρου
Πώς να δημιουργήσετε Αναφορές

Kelly, S. B. (2020). The European Union Obligation: Member States must not Neglect the Consequences of Covid 19 to the Disadvantaged Asylum Seekers and Refugees. HAPSc Policy Briefs Series, 1(1), 209–218. https://doi.org/10.12681/hapscpbs.24968
Οι συγγραφείς των άρθρων που δημοσιεύονται στο περιοδικό διατηρούν τα δικαιώματα πνευματικής ιδιοκτησίας επί των άρθρων τους, δίνοντας στο περιοδικό το δικαίωμα της πρώτης δημοσίευσης. Άρθρα που δημοσιεύονται στο περιοδικό διατίθενται με άδεια Creative Commons 4.0 και σύμφωνα με την άδεια μπορούν να χρησιμοποιούνται ελεύθερα, με αναφορά στο/στη συγγραφέα και στην πρώτη δημοσίευση με δικαίωμα τροποποίησης μόνον με παρόμοια διανομή (αν αναμείξετε, τροποποιήσετε, ή δημιουργήσετε πάνω στο υλικό, πρέπει να διανείμετε τις δικές σας συνεισφορές υπό την ίδια άδεια όπως και το πρωτότυπο).
Λήψεις
Τα δεδομένα λήψης δεν είναι ακόμη διαθέσιμα.