Empowering Democracy Through Internetization
---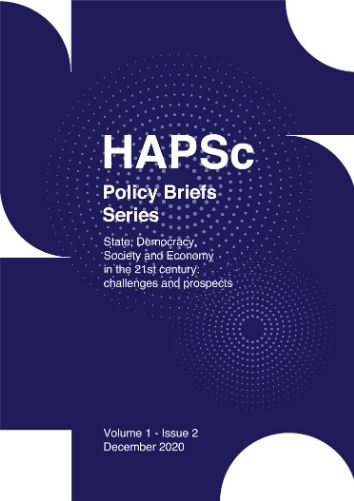 Δημοσιευμένα: Dec 29, 2020
Λέξεις-κλειδιά:
democracy internetization public policy electronic democracy cybersecurity civics education
Περίληψη
This policy brief explores the challenges and opportunities congruent with the advent of internetization on the democratic landscape. Internetization is a new word that I have coined to describe our contemporary empowerment through global outreach and electronic connectivity.  There is no denying that the 21st century has precipitated profound structural change and empowered democracy through digital capacity and electronic connectivity. This paper analyzes the impact of internetization on e-democracy, social media, civics education, non-governmental organizations and global outreach. It also addresses the consequences of internetization on cybersecurity threats, election tampering and the contemporary challenges associated with electronic voting. This policy brief concludes with a set of recommendations embracing a new governance architecture, adapting the machinery of governance to electronic capacity and a strategic list of public policy initiatives directed to enhance the role of internetization on the democratic landscape.
Λεπτομέρειες άρθρου
Πώς να δημιουργήσετε Αναφορές

Passaris, C. E. (2020). Empowering Democracy Through Internetization. HAPSc Policy Briefs Series, 1(2), 59–66. https://doi.org/10.12681/hapscpbs.26449
Οι συγγραφείς των άρθρων που δημοσιεύονται στο περιοδικό διατηρούν τα δικαιώματα πνευματικής ιδιοκτησίας επί των άρθρων τους, δίνοντας στο περιοδικό το δικαίωμα της πρώτης δημοσίευσης. Άρθρα που δημοσιεύονται στο περιοδικό διατίθενται με άδεια Creative Commons 4.0 και σύμφωνα με την άδεια μπορούν να χρησιμοποιούνται ελεύθερα, με αναφορά στο/στη συγγραφέα και στην πρώτη δημοσίευση με δικαίωμα τροποποίησης μόνον με παρόμοια διανομή (αν αναμείξετε, τροποποιήσετε, ή δημιουργήσετε πάνω στο υλικό, πρέπει να διανείμετε τις δικές σας συνεισφορές υπό την ίδια άδεια όπως και το πρωτότυπο).
Λήψεις
Τα δεδομένα λήψης δεν είναι ακόμη διαθέσιμα.
Αναφορές
Passaris, C. (2014). "Internetization and the New Global Economy of the 21st Century", ed. M. Khosvow-Pour, Encyclopedia of Information Science and Technology, Hershey, (USA): IGI Global, 3197-3205.
Passaris, C. (2019). "The Economics of Internetization", ed M. Khosvow-Pour, Advanced Methodologies and Technologies in Network Architecture, Mobile Computing, and Data Analytics. Hershey (USA): IGI Global, 1714-1729.