Responsible Citizens against an Irresponsible State: The Case of Greece amidst the COVID-19 Pandemic
---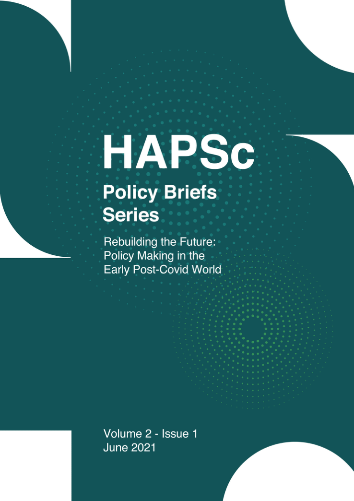 Δημοσιευμένα: Jun 30, 2021
Λέξεις-κλειδιά:
responsibility responsible citizens irresponsible state political elites COVID-19 neoliberalism empathy Greece
Περίληψη
How is it possible for citizens to act responsibly if they live in an irresponsible state? This is the key question that this paper revolves around in the context of the COVID-19 pandemic in Greece. Individual responsibility is the dominant 'mantra' of post-modernity and is widely spread by the neoliberal dogma. The individual has to take care of him/herself in any possible way to avoid risks without depending so much on the benevolent state, which, in the developed world, takes the form of a welfare state. Thus, a new type of citizen appears, the "responsible citizen". The oxymoron, however, in the Greek case is that the state and particularly the political elites maintain bad practices of the past without being able to overcome the country's path-dependency structures by acting responsibly. The concept of "empathy" is undoubtedly the missing link in this intriguing puzzle of good governance. Will the Greek political elites be able to recognize and embrace empathy in practice?
Λεπτομέρειες άρθρου
Πώς να δημιουργήσετε Αναφορές

Alexopoulou, S., & Pavli, A. (2021). Responsible Citizens against an Irresponsible State: The Case of Greece amidst the COVID-19 Pandemic. HAPSc Policy Briefs Series, 2(1), 9–16. https://doi.org/10.12681/hapscpbs.27646
Οι συγγραφείς των άρθρων που δημοσιεύονται στο περιοδικό διατηρούν τα δικαιώματα πνευματικής ιδιοκτησίας επί των άρθρων τους, δίνοντας στο περιοδικό το δικαίωμα της πρώτης δημοσίευσης. Άρθρα που δημοσιεύονται στο περιοδικό διατίθενται με άδεια Creative Commons 4.0 και σύμφωνα με την άδεια μπορούν να χρησιμοποιούνται ελεύθερα, με αναφορά στο/στη συγγραφέα και στην πρώτη δημοσίευση με δικαίωμα τροποποίησης μόνον με παρόμοια διανομή (αν αναμείξετε, τροποποιήσετε, ή δημιουργήσετε πάνω στο υλικό, πρέπει να διανείμετε τις δικές σας συνεισφορές υπό την ίδια άδεια όπως και το πρωτότυπο).
Λήψεις
Τα δεδομένα λήψης δεν είναι ακόμη διαθέσιμα.