Youth Unemployment and EU: A Love-Hate Relationship
---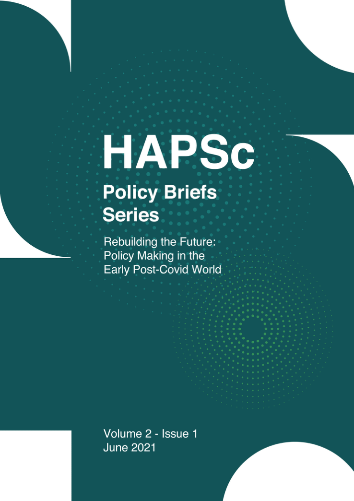 Δημοσιευμένα: Jun 30, 2021
Περίληψη
Youth unemployment remains a key concern for the European Union's member-states, especially the weakest, for at least 10 years. Although the European Union has taken initiatives in the past, young citizens throughout the European Union are still facing the serious problem of unemployment every day. And statistical findings do not look promising of a better or more steady future, even though EU is aiming to invest even more money in the field of youth employment. Therefore, the dynamic of youth unemployment is having a major socioeconomic consequence. This is the reason why realistic measures and initiatives need to be taken in order to avoid the repeat of 2008. Youth unemployment in the European Union as well as the measures and the initiatives that have been taken both during the Economic Crisis and the COVID-19 pandemic are being analysed in the current policy brief.
Λεπτομέρειες άρθρου
Πώς να δημιουργήσετε Αναφορές

Varvaressos-Drosos, T. (2021). Youth Unemployment and EU: A Love-Hate Relationship. HAPSc Policy Briefs Series, 2(1), 63–69. https://doi.org/10.12681/hapscpbs.27659
Οι συγγραφείς των άρθρων που δημοσιεύονται στο περιοδικό διατηρούν τα δικαιώματα πνευματικής ιδιοκτησίας επί των άρθρων τους, δίνοντας στο περιοδικό το δικαίωμα της πρώτης δημοσίευσης. Άρθρα που δημοσιεύονται στο περιοδικό διατίθενται με άδεια Creative Commons 4.0 και σύμφωνα με την άδεια μπορούν να χρησιμοποιούνται ελεύθερα, με αναφορά στο/στη συγγραφέα και στην πρώτη δημοσίευση με δικαίωμα τροποποίησης μόνον με παρόμοια διανομή (αν αναμείξετε, τροποποιήσετε, ή δημιουργήσετε πάνω στο υλικό, πρέπει να διανείμετε τις δικές σας συνεισφορές υπό την ίδια άδεια όπως και το πρωτότυπο).
Λήψεις
Τα δεδομένα λήψης δεν είναι ακόμη διαθέσιμα.
Αναφορές
Allen, D. (2010). The structural funds and cohesion policy: Extending the bargain to meet new challenges. In: Wallace, H., Pollack, M., Young, A. (Eds.), Policy-making in the European Union. Oxford, UK: Oxford University Press, pp. 229-252.
Council of Europe (2005). Education Pack "All Different – All Equal" – "Ideas, resources, methods and activities for informal intercultural education with young people and adults" (revised edition). Council of Europe.
Hernanz, V. & Jimeno, J. F. (2017). Youth Unemployment in the EU. CESifo Forum. München: ifo Institut - Leibniz-Institut für Wirtschaftsforschung an der Universität München. Available at: www.econstor.eu/bitstream/10419/166711/1/cesifo-forum-v18-y2017-i2-p03-10.pdf (Accessed: 18/05/2021).