COVID-19 and its Impact on Labour Migration: The Case of Asia
---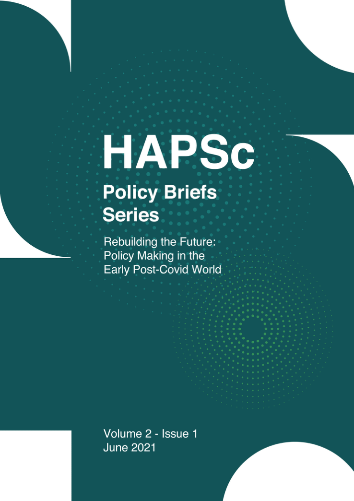 Δημοσιευμένα: Jun 30, 2021
Περίληψη
Globalized economy relies on labour migration. In the current effort to rebuild the future in an early post-COVID world, the impact of this health crisis had on the international migration workers should be studied. For more than a year now, professionals of different skill levels have been obliged to either return to their home country or to stay trapped in their destination country unemployed or with little access to social security or the ability for self-protection by potential virus infection. The impact was huge both for the origin and the destination countries. One of the most important effects was on international remittances. Some initiatives were taken to manage this situation. This policy brief aims to enlighten new areas on which extra effort should be made regarding labour migration.
Λεπτομέρειες άρθρου
Πώς να δημιουργήσετε Αναφορές

Karaleka, A. N. (2021). COVID-19 and its Impact on Labour Migration: The Case of Asia. HAPSc Policy Briefs Series, 2(1), 109–117. https://doi.org/10.12681/hapscpbs.27666
Οι συγγραφείς των άρθρων που δημοσιεύονται στο περιοδικό διατηρούν τα δικαιώματα πνευματικής ιδιοκτησίας επί των άρθρων τους, δίνοντας στο περιοδικό το δικαίωμα της πρώτης δημοσίευσης. Άρθρα που δημοσιεύονται στο περιοδικό διατίθενται με άδεια Creative Commons 4.0 και σύμφωνα με την άδεια μπορούν να χρησιμοποιούνται ελεύθερα, με αναφορά στο/στη συγγραφέα και στην πρώτη δημοσίευση με δικαίωμα τροποποίησης μόνον με παρόμοια διανομή (αν αναμείξετε, τροποποιήσετε, ή δημιουργήσετε πάνω στο υλικό, πρέπει να διανείμετε τις δικές σας συνεισφορές υπό την ίδια άδεια όπως και το πρωτότυπο).
Λήψεις
Τα δεδομένα λήψης δεν είναι ακόμη διαθέσιμα.
Αναφορές
Asian Development Bank Institute, Organization for Economic Co-operation and Development, and International Labour Organization (2021). Labor Migration in Asia: Impacts of the COVID-19 Crisis and the Post-Pandemic Future.
Foley, L. & Piper, N. (2021). Returning home empty handed: Examining how COVID-19 exacerbates the non-payment of temporary migrant workers' wages. Global Social Policy, 14680181211012958.
International Labour Organization (2019). Preparing for the Future of Work: National Policy Responses in ASEAN + 6.
International Labour Organization (2020). Protecting migrant workers during the COVID-19 pandemic Recommendations for Policy-makers and Constituents. Policy Brief, International Labour Migration.
International Organization for Migration (2020). World Migration Report 2020. IOM.
Irudaya Rajan, S., Sivakumar, P. & Srinivasan, A. (2020). The COVID-19 Pandemic and Internal Labour Migration in India: A "Crisis of Mobility". The Indian Journal of Labour Economics, 63: 1021–1039.
Rahman M.M., Yong T.T., Ullah A.K.M.A. (2014). Migrant Remittances in South Asia: An Introduction. In: Rahman M.M., Yong T.T., Ullah A.K.M.A. (eds.), Migrant Remittances in South Asia. International Political Economy Series. Palgrave Macmillan, London, pp. 1-30.
Ranjan, R. (2020). Impact of COVID-19 on Migrant Labourers of India and China. Critical Sociology, 089692052097507.
Saddiqi, Z. A. (2021). The impact of COVID-19 on labour migration governance, recruitment practices and migrant workers Rapid assessment Pakistan, March–November 2020. International Labour Organization.
Sasikumar, S. K. (1995). International Labor Migration Statistics in India. Asian and Pacific Migration Journal, 4(4): 555–563.