Policy on Public Assemblies in Times of Crisis: Recommendations Concerning the Strategy of Militant Democracy
---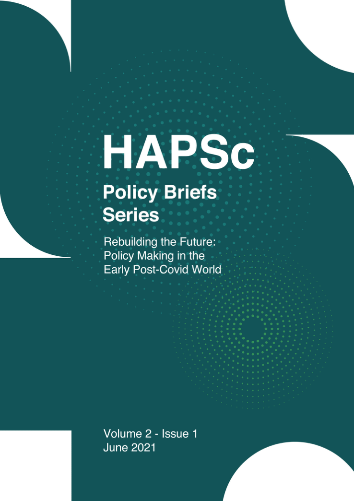 Published: Jun 30, 2021
Keywords:
freedom of public gatherings militant democracy coronavirus pandemic decision-making Poland contentious politics contentious performances protests
Abstract
The main purpose of the article is to present the activities undertaken by decision-making centres and public administration entities in Poland in relation to protests against the restriction of abortion law. These protests took place during the second wave of the pandemic and continue. It all started with the judgment of the Constitutional Court, which decided to restrict abortion law in Poland, so far there was a so-called abortion compromise, which allowed abortions to be carried out in three specific cases. The verdict met with resistance from a large part of society and triggered protests that turned into large-scale public gatherings, despite the coronavirus pandemic. During this period assemblies were reduced or banned completely, which may be one symptom of using by the government the strategy of militant democracy. The study's focus is primarily on the activities taken by decision-making centers with regard to protesters. The analysis makes it possible to explain the ways and causes of protests and public gatherings held despite the restrictions introduced to prevent the spread of the virus. On this basis, it introduces recommendations to the government to restore stability in the state and end the protests.
Article Details
How to Cite

Rezmer-Płotka, K. (2021). Policy on Public Assemblies in Times of Crisis: Recommendations Concerning the Strategy of Militant Democracy. HAPSc Policy Briefs Series, 2(1), 128–133. https://doi.org/10.12681/hapscpbs.27668
Authors retain copyright and grant the journal right of first publication with the work simultaneously licensed under a Creative Commons Attribution License that allows others to share the work with an acknowledgement of the work's authorship and initial publication in this journal.
Downloads
Download data is not yet available.
References
Loewenstein, K. (1937a). Militant Democracy and Fundamental Rights I. The American Political Science Review, 3(31): 417-432.
Loewenstein, K. (1937b). Militant Democracy and Fundamental Rights II. The American Political Science Review, 4(31): 638-658.
Molier, G., Rijpkema, B. (2018). Germany's New Militant Democracy Regime: National Democratic Party II and the German Federal Constitutional Courts's 'Potentaility' Criterion for Party Bans: Bundesverfassungsgericht, Hudgment of 17 January 2017, 2 BvB 1/13, National Democratic Party II". European Constitutional Law Review, 2 (14/2018).
Sejm.gov. (2016). Druk nr 784. Obywatelski projekt ustawy o zmianie ustawy z dnia 7 stycznia 1993 r. o planowaniu rodziny, ochronie płodu ludzkiego i warunkach dopuszczalności przerywania ciąży oraz ustawy z dnia 6 czerwca 1997 r. – Kodeks karny. Available at:
https://www.sejm.gov.pl/Sejm8.nsf/druk.xsp?nr=784
(Accessed: 20/11/2020).