Preservation of the ASEAN Regionalism: Responding to the Belt Road Initiative as the New 'Carrot or Stick' Policies
---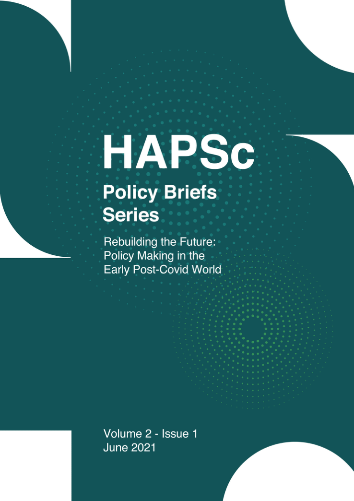 Δημοσιευμένα: Jun 30, 2021
Περίληψη
The increasing China's geopolitical and economic influence through BRI has impacted the global development landscape. The rising implementation of BRI in Eurasia, Africa, and Asia-Pacific has surrounded Europe and its Western counterparts into a new durability test against their regionalism. ASEAN as the unique strategic region in the emerging Asia Pacific is now being challenged with the presence of BRI and how can it impact the regional political and cooperation architecture. The carrot or stick approach that has been used by many scholars to perceive western Marshall Plan seemed to be reignited reflecting from China's trade war with Australia and the other countries. This article discusses the way ASEAN could navigate its regionalism amid the rising China's influence in post-RCEP adoption. Learning from Africa, ASEAN should be able to preserve its way and institutionalization of its regime in order to last amid the increased China's political economy influence in Southeast Asia through BRI. The implementation of BRI has also been impacting ASEAN efforts on South China Sea and Myanmar Crisis, which will open the question on how to play ASEAN way into its best role in Asia Pacific as the rising power.
Λεπτομέρειες άρθρου
Πώς να δημιουργήσετε Αναφορές

Jose, H. S. (2021). Preservation of the ASEAN Regionalism: Responding to the Belt Road Initiative as the New 'Carrot or Stick' Policies. HAPSc Policy Briefs Series, 2(1), 143–150. https://doi.org/10.12681/hapscpbs.27670
Οι συγγραφείς των άρθρων που δημοσιεύονται στο περιοδικό διατηρούν τα δικαιώματα πνευματικής ιδιοκτησίας επί των άρθρων τους, δίνοντας στο περιοδικό το δικαίωμα της πρώτης δημοσίευσης. Άρθρα που δημοσιεύονται στο περιοδικό διατίθενται με άδεια Creative Commons 4.0 και σύμφωνα με την άδεια μπορούν να χρησιμοποιούνται ελεύθερα, με αναφορά στο/στη συγγραφέα και στην πρώτη δημοσίευση με δικαίωμα τροποποίησης μόνον με παρόμοια διανομή (αν αναμείξετε, τροποποιήσετε, ή δημιουργήσετε πάνω στο υλικό, πρέπει να διανείμετε τις δικές σας συνεισφορές υπό την ίδια άδεια όπως και το πρωτότυπο).
Λήψεις
Τα δεδομένα λήψης δεν είναι ακόμη διαθέσιμα.
Αναφορές
Akcay, E. Y. & Kanat, S. (2017). Carrot and Stick Approach in International Relations: An Evaluation Throughout Turkey's Accession Negotiations with the European Union. Journal of Süleyman Demirel University Institute of Social Sciences, 4(29): 415-435.
Bhagawati, J. (2016). Japan's Grand Strategy to Coutner China: An Analysis of the "Partnership for Quality Infrastructure. New Delhi: Institute of Chinese Studies.
Chia, S. (2016). ASEAN Economic Integration and Physical Connectivity. Asian Economic Papers, 15(2): 198-215.
Dianjaya, A. R. (2019). The Politics of Chinese Investment in Africa Under Belt and Road Initiative (BRI) Project. Nation State: Journal of International Studies, 2(2): 123-133.
Fels, E. (2017). Shifting Power in Asia-Pacific? The Rise of China, Sino-US Competition, and Regional Middle Power Alliance. Cham: Springer International Publishing.
Garlick, J. (2020). The Regional Impacts of China's Belt and Road Initiative. Journal of Current Chinese Affairs, 49(1): 3-13.
Hameiri, S., & Jones, L. (2016). Rising powers and state transformation: The case of China. European Journal of International Relations, 27(1): 72-98.
Hameiri, S., & Jones, L. (2019). Reframing the rising powers debate: state transformation and foreign policy. Third World Quarterly, 40(8): 1397-1414.
Hoque, M. & Tama, R. (2020). China's Belt and Road Initiative: Global Politics and Implication. European Scientific Journal, 16(31): 279-299.
Jarso, G. (2018). The Beijing consensus versus the Washington consensus: The dilemma of Chinese engagement in Africa. African Journal of Political Science and International Relations, 12(1): 1-9.
Johnson, L. (2018). The Belt and Road Initiative: What is in it for China? Asia and Pacific Policy Studies: 1-19.
Kavalski, E. (2009). Do as I do: The Global Politics of China's Regionalization. Dalam E. Kavalski, China and the Global Politics of Regionalization (hal. 1-16). Farnham: Ashgate.
Kennedy, S. (2010). The Myth of the Beijing Consensus. Journal of Contemporary China, 65(1): 461-477.
Korwa, J. R. (2019). Kebangkitan China melalui Belt and Road Initiative dan (Re)konstruksi Hubungan Internasional dalam Sistem Westphalia (China's rise through BRI and the (Re)construction of International Relations within the Westphalian System). Jurnal Hubungan Internasional, 8(1): 1-10.
Mingming, W. (2012). All Under Heaven (Tianxia) Cosmological Perspective and Political Ontologies in Pre-Modern China. Journal of Ethnographic Theory, 2(1): 337-383.
Scott, D. (2019). Indonesia Grapples with the Indo-Pacific: Outreach, Strategic Discourse, and Diplomacy. Journal of Current Southeast Asian Affairs, 38(2): 194-217.
Shelton, J. & Kebemba, C. (2012). WIN-WIN PARTNERSHIP? China, South Africa and the Extractive Industries. Johannesburg: South Africa Resource Watch.
Siahaan, S. Y. & Risman, H. (2020). Strengthening ASEAN Centrality Within the Indo-Pacific Region. People, International Journal of Social Sciences, 6(1): 254-266.
Thayer, C. L. (2006). American Empire: A Debate. New York: Taylor and Francis Group.
Vangeli, A. (2019). Diffusion of ideas in the era of the Belt and Road: Insights from China–CEE think tank cooperation. Asia Europe Journal, 17: 421-436.
Zhexin, Z. (2018). The Belt and Road Initiative: China's New Geopolitical Strategy? China Quarterly of International Strategic Studies, 4(3): 327-343.