Chinese Industrial Policy: A Challenge for the European Union amid the Global Pandemic
---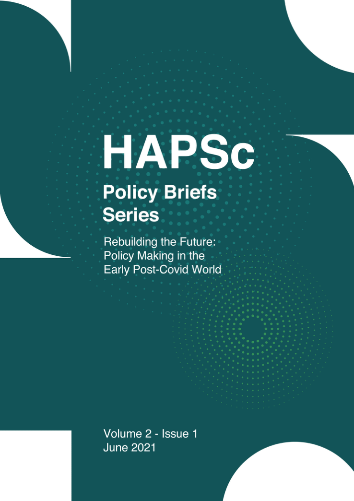 Δημοσιευμένα: Jun 30, 2021
Περίληψη
The COVID-19 pandemic, which triggered lockdowns in Europe and around the world, had a major effect on European Union (EU) industries. Multiple supply chains in a variety of industries were disrupted, especially at the start of the crisis, and particularly in internationalized and complex value chains. Unparalleled policy responses have been undertaken in Europe and the world to mitigate the impact of this economic shock and help recovery. However, the pandemic has also created a wide spectrum of opportunities in many sectors of the global economy, as consumers and businesses have changed radically their behavior. Under this context, superpowers such as the People's Republic of China have taken constructive steps to facilitate the digital transformation of their industry leaving behind United States and the European Union. The purpose of this policy brief is the provision of an overview of China's national strategic plan titled "Made in China 2025" and its fundamental pillars as well as the development of policy recommendations regarding strengthening European Union's industrial policy amid the global pandemic.
Λεπτομέρειες άρθρου
Πώς να δημιουργήσετε Αναφορές

Petidis, P. (2021). Chinese Industrial Policy: A Challenge for the European Union amid the Global Pandemic. HAPSc Policy Briefs Series, 2(1), 151–157. https://doi.org/10.12681/hapscpbs.27671
Οι συγγραφείς των άρθρων που δημοσιεύονται στο περιοδικό διατηρούν τα δικαιώματα πνευματικής ιδιοκτησίας επί των άρθρων τους, δίνοντας στο περιοδικό το δικαίωμα της πρώτης δημοσίευσης. Άρθρα που δημοσιεύονται στο περιοδικό διατίθενται με άδεια Creative Commons 4.0 και σύμφωνα με την άδεια μπορούν να χρησιμοποιούνται ελεύθερα, με αναφορά στο/στη συγγραφέα και στην πρώτη δημοσίευση με δικαίωμα τροποποίησης μόνον με παρόμοια διανομή (αν αναμείξετε, τροποποιήσετε, ή δημιουργήσετε πάνω στο υλικό, πρέπει να διανείμετε τις δικές σας συνεισφορές υπό την ίδια άδεια όπως και το πρωτότυπο).
Λήψεις
Τα δεδομένα λήψης δεν είναι ακόμη διαθέσιμα.