Diplomatic Tensions in the Eastern Mediterranean: Developments in 2021 and Prospects
---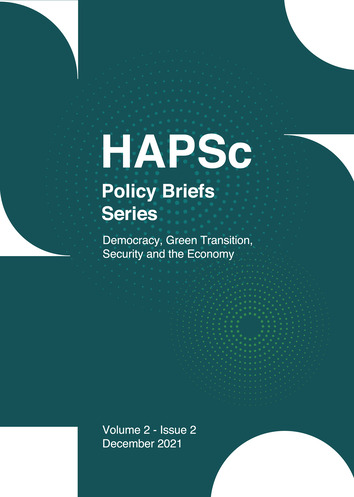 Published: Dec 29, 2021
Keywords:
Eastern Mediterranean defense trilateral summits diplomacy
Abstract
Is the Eastern Mediterranean emerging as a new geopolitical region? During 2021, the region of the Eastern Mediterranean occupied the international news and its scholars. This policy brief attempts to provide a concise and comprehensive analysis of the main events, which took place and marked with particular energy the diplomatic route for the defense, security and cooperation of the states in the region. The present analysis draw conclusions about the future of the region, especially in regard to Turkey's difficult position, culminating in the apparent imperative for the completion of the E.U.'s EEZ.
Article Details
How to Cite

Tsoukala, O. (2021). Diplomatic Tensions in the Eastern Mediterranean: Developments in 2021 and Prospects. HAPSc Policy Briefs Series, 2(2), 157–171. https://doi.org/10.12681/hapscpbs.29503
This work is licensed under a Creative Commons Attribution 4.0 International License.
Authors retain copyright and grant the journal right of first publication with the work simultaneously licensed under a Creative Commons Attribution License that allows others to share the work with an acknowledgement of the work's authorship and initial publication in this journal.
Downloads
Download data is not yet available.