Following the Example of Israel and Lebanon: Resolving Maritime Border Disputes in the Eastern Mediterranean
---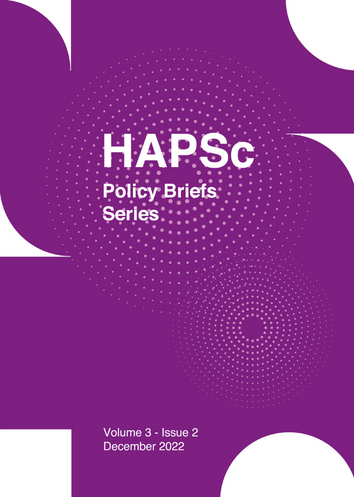 Published: Dec 29, 2022
Keywords:
Israel Lebanon EEZ natural gas energy diplomacy Eastern Mediterranean
Abstract
The recent US-brokered agreement to delimit Lebanon's EEZ with Israel has created a new diplomatic and energy reality in the dynamically developing eastern Mediterranean region. This policy brief analyzes the new agreement both in terms of relations between the two states and the diplomatic and energy realities it creates in the region. Considering the political reality that Israel and Lebanon have so far seen as states without diplomatic relations, this policy brief concludes with a series of policy proposals to make the agreement an opportunity for de-escalation and a space of cooperation for the states involved, especially in the quest for energy security.
Article Details
How to Cite

Tsoukala, O. (2022). Following the Example of Israel and Lebanon: Resolving Maritime Border Disputes in the Eastern Mediterranean. HAPSc Policy Briefs Series, 3(2), 133–144. https://doi.org/10.12681/hapscpbs.33793
This work is licensed under a Creative Commons Attribution 4.0 International License.
Authors retain copyright and grant the journal right of first publication with the work simultaneously licensed under a Creative Commons Attribution License that allows others to share the work with an acknowledgement of the work's authorship and initial publication in this journal.
Downloads
Download data is not yet available.