1968, 1989, 2011: reconsidering social movements, 'moments of change' and theoretical framing over time
---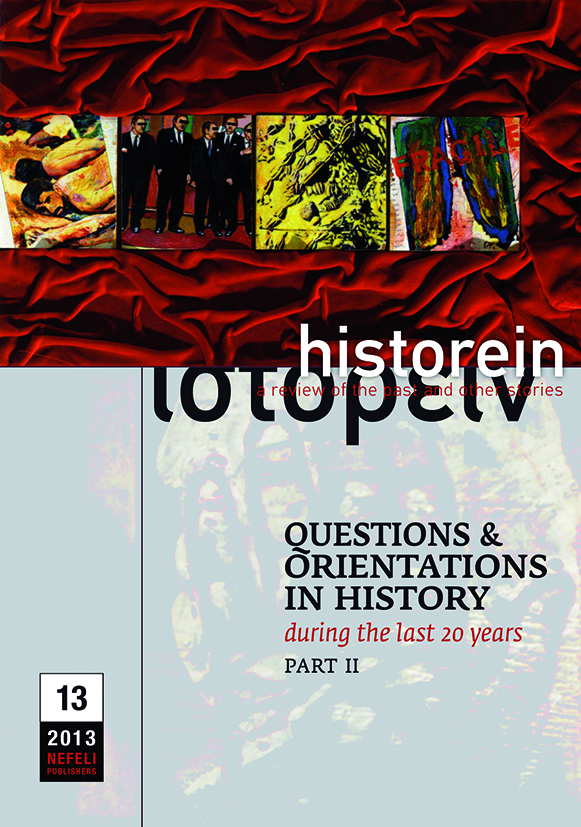 Published: Mar 22, 2013
Keywords:
social movements framing moments of change
Abstract
This article focuses on three separate "moments of change" - 1968, 1989 and 2011 – in order to trace the changes in the way in which social movements were theoretically framed on a research level ever since the 1960s. Rather than focusing on the real or imaginary connections that activists often create with the contestatory past – or the rejection thereof – it demonstrates the ways in which those moments were theorised and the genealogies that were forged by specialists, who more often than not were implicated in the events themselves. In this respect, it argues that 1968 was the starting date that defined to a greater or lesser extent how we still view and experience collective mobilisations.
Article Details
How to Cite

Kornetis, K. (2013). 1968, 1989, 2011: reconsidering social movements, 'moments of change' and theoretical framing over time. Historein, 13, 57–70. https://doi.org/10.12681/historein.164
This work is licensed under a Creative Commons Attribution-NonCommercial-ShareAlike 4.0 International License.
The copyright for articles in this journal is retained by the author(s), with first publication rights granted to the journal. By virtue of their appearance in this open access journal, articles are free to use (with the exception of the non-granted right to make derivative works) with proper attribution for non-commercial uses (licence
Creative Commons 4.0
). EKT/NHRF retains the worldwide right to reproduce, display, distribute, and use articles published in
Historein
in all formats and media, either separately or as part of collective works for the full term of copyright. This includes but is not limited to the right to publish articles in an issue of the Journal, copy and distribute individual reprints of the articles, authorize reproduction of articles in their entirety in another EKT/NHRF publication, and authorize reproduction and distribution of articles or abstracts thereof by means of computerized retrieval systems.
Downloads
Download data is not yet available.