Les revues littéraires dans l'entre-deux-guerres entre France et Grèce. Réseaux, transferts culturels et traduction
---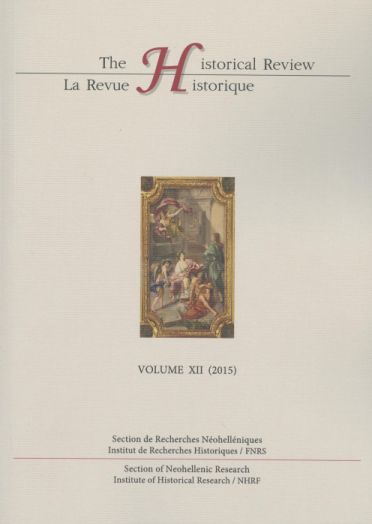 Abstract
Pendant l'entre-deux-guerres, certaines revues littéraires grecques adoptent une
attitude hellénocentriste, tandis que d'autres s'ouvrent au contraire largement à l'étranger.
Cette ouverture se manifeste bien sûr par la publication d'oeuvres en traduction, mais
aussi par un intérêt grandissant pour les revues étrangères, et en particulier françaises,
qui se marque par l'emprunt d'articles et surtout par la création de rubriques spécialisées.
Le but de ce travail est de mettre en lumière l'existence de relations privilégiées entre
revues grecques et revues françaises comme vecteurs de transferts culturels –qu'il s'agisse
de la reprise de modèles éditoriaux ou de la circulation de textes, d'idées ou même de
collaborateurs–, d'évaluer la part que la traduction prend dans l'établissement de ces
relations et enfin de déterminer si on peut ou non parler dans ces cas de "réseau de
revues", comme cela a été fait dans d'autres contextes européens.
Article Details
How to Cite

Arnoux-Farnoux, L. (2015). Les revues littéraires dans l'entre-deux-guerres entre France et Grèce. Réseaux, transferts culturels et traduction. The Historical Review/La Revue Historique, 12, 125–142. https://doi.org/10.12681/hr.8804
The copyright for articles in this journal is retained by the author(s), with first publication rights granted to the journal. By virtue of their appearance in this open access journal, articles are free to use with proper attribution in educational and other non-commercial sectors. The Historical Review/La Revue Historique retains the right to publish papers that appear in the journal in collective volumes published by the Institute for Neohellenic Research/National Hellenic Research Foundation.
Sample acknowledgement: Reprinted with permission from the author. Original publication in the The Historical Review/La Revue Historique www.historicalreview.org
This work is licensed under a Creative Commons Attribution-NonCommercial-ShareAlike 4.0 Greece License. To view a copy of this license, visit http://creativecommons.org/licenses/by-nc-sa/4.0/ or send a letter to Creative Commons, 543 Howard Street, 5th Floor, San Francisco, California, 94105, USA
Downloads
Download data is not yet available.