Radical technologies: Blockchain as an organizational movement
---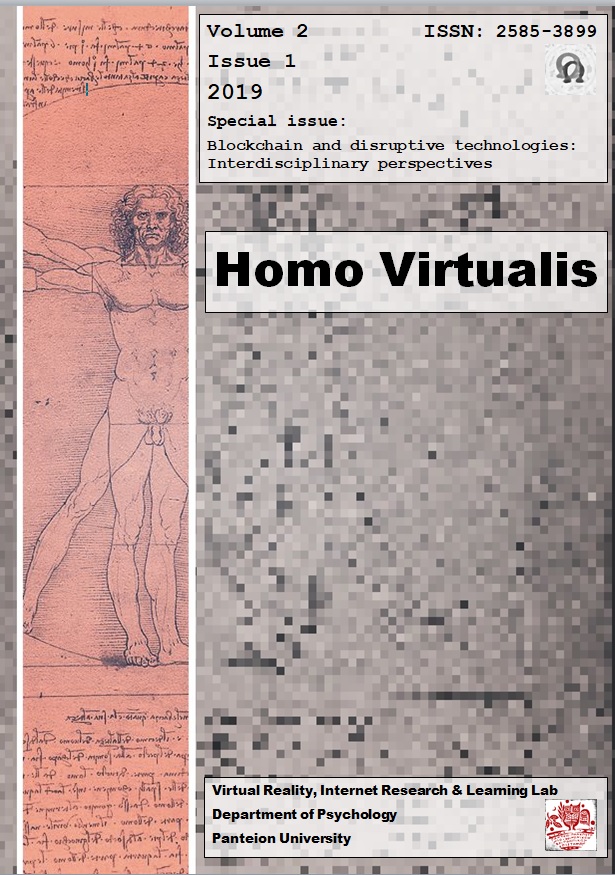 Published: Mar 27, 2019
Keywords:
blockchain organizational movement decentralized technologies social contract radicalization cyberpsychology
Abstract
The emergence of blockchain technology has created a debate regarding technologies' socio-cultural symbolism. Prevailing as alternative or complementary to internet technology, blockchain's decentralized radical architecture reflects organizational change, enhancement of degrees of freedom, for individual identities and communities, new schemes of distributed trust and privacy, transformation of power relations and social reality perception. The current paper aims to contribute to the ongoing debate, from an organizational and socio-psychological perspective, discussing the key elements of a socially grounded technology, like any other technological product within the history of humanity. Through an evolutionary lens, blockchain technology is examined as a decentralized grassroots organizational movement at birth, influencing and, at the same time, be influenced, by science, culture, as well as by other aspects of individual and collective networked life, apart from the economy. Social sciences and cyber sciences are in a crossroad where society and technology integrate creating a mixed socio-technological or techno-social reality. Therefore, it is of high importance for them, to address the new epistemological challenges by developing new methodologies and tools, independently from any utopian or dystopian predictions.
Article Details
How to Cite

Koletsi, M. (2019). Radical technologies: Blockchain as an organizational movement. Homo Virtualis, 2(1), 25–33. https://doi.org/10.12681/homvir.20191
Authors who publish with this journal agree to the following terms:
· Authors retain copyright and grant the journal right of first publication with the work simultaneously licensed under a Creative Commons Attribution License that allows others to share the work with an acknowledgement of the work's authorship and initial publication in this journal.
· Authors are able to enter into separate, additional contractual arrangements for the non-exclusive distribution of the journal's published version of the work (e.g. post it to an institutional repository or publish it in a book), with an acknowledgement of its initial publication in this journal.
· Authors are permitted and encouraged to post their work online (preferably in institutional repositories or on their website) prior to and during the submission process, as it can lead to productive exchanges, as well as earlier and greater citation of published work.
Downloads
Download data is not yet available.