Distribution and abundance of ticks infesting livestock population along Karakorum highway from Mansehra to Gilgit, Pakistan
---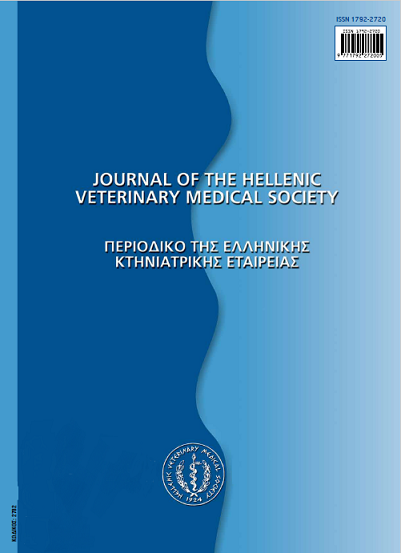 Published: Jan 29, 2018
Keywords:
Ticks Khyber Pakhtunkhwa Gilgit- Baltistan Pakistan Hyalomma anatolicum Rhipicephalus microplus
Abstract
Ticks and tick-borne infections pose major economic threats to the livestock industry throughout the world. The present study reports the point prevalence of ticks in the free range livestock population of the plain and hilly areas of Khyber Pakhtunkhwa (Mansehra, Haripur, Shangala, Kohistan), and Gilgit Baltistan (Diamer, Gilgit, Astor) along the Karakoram highway. Through convenient and snowball sampling techniques, a total of 813 animals, consisting of 232 sheep, 163 cattle, 365 goats and 53 buffaloes were screened for their tick burden. During the study, the two tick species identified were Hyalomma anatolicum and Rhipicephalus microplus. The overall prevalence of tick infestation among the screened livestock was 75.03%, with the highest distribution in sheep (81.47%) followed, in order, by cattle (77.91%), goats (72.05%) and buffalo (58.49%). The district-wise prevalence of ticks was the highest in Haripur (85.58), followed, in order, by Gilgit (83.10%), Mansehra (81.14%), Batagram (81.05%), Shangala (77.78%), Kohistan (75.38%), Diamer (72.28%) and Astor (32.22%). The prevalence of ticks was found to be higher (85.67%) in younger livestock than adults (66.44%), and in females (80.33%) than males (66.44%). The present study provides the first report of the tick distribution in higher altitudes of northern Pakistan and confirms the presence of Hyalomma and Rhipicephalus ticks in the plains, as well as the hilly geoclimates of Pakistan. Furthermore, the data on risk factors allows us to make recommendations to restructure the existing husbandry system of northern areas of Pakistan with the aim of reducing the tick burden on livestock.
Article Details
How to Cite

SAJID, M. S., IQBAL, Z., SHAMIM, A., SIDDIQUE, R. M., UL HASSAN, M. J., & RIZWAN, H. M. (2018). Distribution and abundance of ticks infesting livestock population along Karakorum highway from Mansehra to Gilgit, Pakistan. Journal of the Hellenic Veterinary Medical Society, 68(1), 51–58. https://doi.org/10.12681/jhvms.15556
Section
Research Articles
This work is licensed under a Creative Commons Attribution-NonCommercial 4.0 International License.
Authors who publish with this journal agree to the following terms:
· Authors retain copyright and grant the journal right of first publication with the work simultaneously licensed under a Creative Commons Attribution Non-Commercial License that allows others to share the work with an acknowledgement of the work's authorship and initial publication in this journal.
· Authors are able to enter into separate, additional contractual arrangements for the non-exclusive distribution of the journal's published version of the work (e.g. post it to an institutional repository or publish it in a book), with an acknowledgement of its initial publication in this journal.
· Authors are permitted and encouraged to post their work online (preferably in institutional repositories or on their website) prior to and during the submission process, as it can lead to productive exchanges, as well as earlier and greater citation of published work.
Downloads
Download data is not yet available.
References
Agarwal P, Gupta AR (2010) Management of ectoparasites of livestock. Department of Medicine, QUAT- Bhubaneswar, Orissa, India.
Ali W F (1988) Incidence and chemotherapy of ectoparasites of cattle, sheep, goat and poultry in Northern Areas. M.Sc. Thesis, Department of Parasitology, College of Veterinary Sciences, Lahore, Pakistan.
Ali Z, Maqbool A, Muhammad K, Khan MS, Younis M (2013) Prevalence of Theileria annulata infected hard ticks of cattle and buffalo in Punjab, Pakistan. J Anim Plant Sci 23:20-26.
Alons DMA, López SBJ Leme de Magalhaes LAC, Rodríguez VRI (2007) Infestación natural de hembras de Boophilus microplus Canestrini, 1887 (Acari: Ixodidae) en dos genotipos de bovinos en el trópico húmedo de Veracruz, México. Veterinaria México 38:503-509.
Anbalagan S, Vimalanathan A P, Mani K, Muthukalingan K (2014) The midgut bacterial flora of the hard tick Hyalomma anatolicum (Acari: Ixodidae) from South India as determined by molecular analyses. Turkish J Vet Anim Sci 38:520-525.
Anonymous (2011) Pakistan Metrological Department, Lahore, Pakistan.
Arthur D R (1962) Ticks and disease. London Pergamon Press. pp 445.
Atif FA, Khan MS. Iqbal HJ, Ali Z, Ullah S (2012) Prevalence of cattle tick infestation
in three districts of the Punjab, Pakistan. Pak J Sci 64:49-53.
Bell-Sakyi L, Koney EB, Dogbey O, Walker AR (2004) Incidence and prevalence of tickborne haemoparasites in domestic ruminants in Ghana. Vet Parasitol 124:25- 42.
Bianchi MW, Barre N, Messad S (2003) Factors related to cattle infestation level and resistance to acaricides in Boophilus microplus tick populations in New Caledonia. Vet Parasitol 112:75-89.
Bilkis MF, Mondal MMH, Rony SA, Islam MA, Begum N (2011) Host determinant based prevalence of ticks and lice in cattle (Bos indicus) at Bogra district of Bangladesh. Progress Agric 22: 65-73.
Burks CS, Stewart RJ, Needham GR, Lee RE (1996) The role of direct chilling injury and inoculative freezing in cold tolerance of Amblyomma americanum, Dermacentor
variabilis and Ixodes scapularis. Physiol Entomol 21:44–50.
Burri C, Cadenas FM, Douet V, Moret J, Gern L (2007). Ixodes ricinus density and infection prevalence of Borrelia burgdorferi sensu lato along a north-facing altitudinal gradient in the Rhone valley Switzerland. Vector Borne Zoonotic Dis 7:50-58.
Cadenas FM, Rais O, Jouda F, Douet V, Humair, PF, Moret J, Gern L (2007) Phenology of Ixodes ricinus and infection with Borrelia burgdorferi sensu lato along and northand south-altitudinal gradient on Chaumont mountain, Switzerland. J Med Entomol. 44: 683-693.
Chinikar EMS, Saber E, Fahimeh BA, Amir MAT, Sahar K (2012) Seroepidemiological
survey of Crimean-Congo hemorrhagic fever among sheep in Mazandaran Province, Northern Iran. Vector Borne Zoonotic Disease 12:739-742.
Clark DD (1995) Lower temperature limits for activity of several Ixodid ticks (Acari: Ixodidae): effects of body size and rate of temperature change. J Med Entomol 32: 449-52.
Coulson SJ, Lorentzen E, Strøm H, Gabrielsen GW (2009) The parasitic tick Ixodes uriae (Acari: Ixodidae) on seabirds from Spitsbergen Svalbard. Polar Res 28:399-402.
Dale C, Moran NA (2006) Molecular interactions between bacterial symbionts and heir hosts. Cell 126:453–465.
Daniel M (1993) In Xuence of the microclimate on the vertical distribution of the tick
Ixodes ricinus (L.) in Central Europe. Acarologia 34:105–113
Danielova V, Schwarzova L, Materna J, Daniela M, Metelkad L, Holubovaa J, Kriz B (2008) Tick-borne encephalitis virus expansion to higher altitudes correlated with climate warming. Int J Med Microbiol 298:68-72.
Drummond RO (1983) Tick-borne livestock diseases and their vectors, chemical control of ticks. World Animal Review 36:28-33.
Durrani AZ, Shakoori AR, Kamal N (2008) Bionomics of Hyalomma ticks in three districts of Punjab, Pakistan. Anim Poul Sci 18:121-124.
Durrani HZ (1992) A study on the taxonomy and bionomics of genus Haemaphysalis in domestic animals. M.Sc. Thesis, College of Veterinary Sciences, Lahore, Pakistan.
Elghali AA, Hassan SM (2012) Ticks infesting animals in the Sudan and southern Sudan: Past and current status. Onderpost J Vet Res 79:1-6.
Estrada-Peña A (2003) The relationships between habitat topology, critical scales of
connectivity and tick abundance Ixodes ricinus in a heterogeneous landscape in northern Spain. Ecography 26:661-671.
Gaisuddin M, Haq M M, Sarkar N R, Rahman M L (1994) Seasonal incidence of Ixodid
ticks grown in pasture of Bangladesh. A J A S 7:197-200.
Garcia Z (2003) Integrated control of Boophilus microplus in cattle. In: Proc. 11th Int.
Congr. Int. Society for Animal Hygiene, Mexico City, Mexico.
Gosh S, Bansal, GC, Gupta SC, Ray D, Khan MQ, Irshad H, Shahiduzzaman M, Seitzer
U, Ahmed JS (2007) Status of tick distribution in Bangladesh, India and Pakistan. Parasitol Res101: 207-216.
Gray JS (2002) Biology of Ixodes species ticks in relation to tick-borne zoonoses. Wien. Klin. Wochenschr. 114: 473-478.
Greenfield BPJ (2011) Environmental parameters affecting tick (Ixodes ricinus) distribution during the summer season in Richmond Park, London. Bioscience Horizons 4: 140-148.
Guimaraes JH, Tucci EC, Barros-Batttesti, DM (2001) Ectoparasitos de importancia veterinaria. Editora Pleiade, Sao Paulo. 213.
Haque M, Jyoti J, Singh NK, Rath SS, Ghosh S (2011) Epidemiology and seasonal dynamics of ixodid ticks of dairy animals of Punjab state, India. Indian J Anim Sci 81: 661-664.
Harrow ID, Gration KAF, Evans N (1991) Neurobiology of arthropod parasites. Parasitol 102:559–569.
Hostis, LM, H Seegers (2002) Tick-borne parasitic diseases in cattle current knowledge and prospective risk analysis related to the ongoing evolution in French cattle farming systems. Vet Res 33:599–611.
Hussain IS, Gyanchandani AK (1991) Prevalence of ticks (Ixodidae) of cows at Umerkot and its adjoining areas, in the Province of Sindh. Pak J Zool 11: 225-229.
Iqbal A, Sajid MS, Khan MN, Khan MK (2013) Frequency distribution of hard ticks (Acari: Ixodidae) infesting bubaline population of district Toba Tek Singh, Punjab, Pakistan. Parasitol Res 112:535-541.
Iqbal A, Sohail MS, Khan MN, Muhammad G (2014) Epizootiology of ectoparasitic fauna infesting selected domestic cattle population of Punjab, Pakistan. Int J Agri & Biol. 16: 443-446.
Iqbal M (1971) Studies on ectoparasites of livestock with special emphasis on the incidence, economic losses and chemotherapy. M.Sc. Thesis, Department of Veterinary Parasitology, Faculty Veterinary Sciences, University of Agriculture Faisalabad, Pakistan.
Irshad N, Qayyum M, Hussain M, Qasim MK (2010) Prevalence of tick infestation and
theileriosis in sheep and goats. Pak Vet J 30:178-180.
Jongejan F, Uilenberg G (1994) Ticks and control methods. In: Ectoparasites of Animals and Control Methods. Blancou, J. (ed.), Scientific and Technical Review, Office Internationale des Epizooties (OIE), Paris, France, 13: 1201-1226.
Jongejan F, Uilenberg G (2004) The global importance of ticks. Parasitol 129: 3-14.
Jouda F, Perret J, Gern L (2004) Ixodes ricinus density, and distribution and prevalence of Borrelia burgdorferi sensulato infection along an altitudinal gradient. J Med Entomol 41:162-169.
Kabir MHB, Mondal MMH, Eliyas M, Mannan MA, Hashem MA, Debnath NC, Miazi OF, Mohiuddin C, Kashem MA, Islam MR, Elahi MF (2011) An epidemiological survey on investigation of tick infestation in cattle at Chittagong District, Bangladesh. African J Microbiol Res 5:346-352.
Kakar MN, Kakarsulemankhel JK (2008) Prevalence of endo (trematodes) and ectoparasites in cows and buffaloes of Quetta, Pakistan. Pak Vet J 28:34-36.
Kamau J, de Vos AJ, Playford M, Salim B, Kinyanjui B, Sugimoto C (2011) Emergence
of new types of Theileria orientalis in Australian cattle and possible cause of theileriosis outbreaks. Parasites & Vectors 4:1-10. Khan MH (1994) Infestation of ticks on cattle and buffaloes in Bareilly, Uttar Pradesh. J Vet Parasitol. 8:71-76.
Khan MH (1996) Studies on Hyalomma kumari Sharifi on goats. Vet. Parasitol 10:165-169.
Khan MI (1993) Taxonomical study of ticks of genus Rhipicephalus and their relation to the incidence of haemoparasites and comparative efficacy of different acaricides on ticks in sheep and goats in Kaghan valley. MSc Thesis. College of Veterinary Sciences, Lahore, Pakistan.
Khan MN, Hayat CS, Iqbal Z, Hayat B, Naseem A (1993) Prevalence of ticks on livestock in Faisalabad, Pakistan. Pak Vet J 13:182-184.
Kikuchi Y, Hosokawa T, Fukatsu T(2007) Insect-microbe mutualism without vertical transmission. a stinkbug acquires a beneficial gut symbiont from the environment every generation. Appl Environ Microbiol 73:4308–4316.
Kirby AD, Smith AA, Benton TG, Hudson PJ (2004) Rising burden of immature sheep ticks (Ixodes ricinus) on red grouse (Lagopus lagopus scoticus) chicks in the Scottish uplands. Med Vet Entomol 18:67-70.
Lee RE, Baust JG (1987) Cold-hardiness in the Antarctic tick, Ixodes uriae. Physiol Zool 60: 499-506.
Lees A D (1946) Water balance in Ixodes ricinus and certain other species of ticks. Parasitology 371:1-20.
Lohmeyer KH, Pound JM, May MA, Kammlah DM, Davey RB (2011) Distribution of Rhipicephalus (Boophilus) microplus and Rhipicephalus (Boophilus) annulatus (Acari: Ixodidae) infestations detected in the United States along the Texas/Mexico border. J Med Entomol 48:770-774.
MacLeod J (1934) Ixodes ricinus in relation to its physical environment, the influence of climate on development. Parasitology 26: 282 –305.
MacLeod J (1935) Ixodes ricinus in relation to its physical environment. Parasitology 27:489 –500.
Macleod J (1939) The seasonal and annual incidence of the sheep tick Ixodes ricinus in Britain. Bull Entomol Res 30:103-18.
Manan A, Khan Z, Ahmed B (2007) Prevalence and identification of Ixodid tick genera
in frontier region Peshawar. J Agri Bio Sci 2:19-61.
Mariana A, Zuraidawati Z, Ho TM, Kulaimi BM, Saleh I, Shukor MN (2008) Ticks (Ixodidae) and other ectoparasites in Ulu Muda Forest Reserve, Kedah, Malaysia. Southeast Asian J Trop Med Public Health 39:496-506.
McMichael AJ, Woodruff RE, Hales S (2006) Climate change and human health: present and future risks. Lancet 367: 859-869.
Milne A (1948) The ecology of the sheep tick, Ixodes ricinus microhabitat economy of
the adult tick. Parasitol 40:14-34.
Morzaria SP, Latif AA, Jongejan F, Walker AR (1986) Transmission of a Trypanosoma species to cattle by the tick Hyalomma anatolicum anatolicum. Vet Parasitol 19:13-21.
Mustafa I, Kamran RA, Marghoob S, Ahmed I, Aleem R, Sadaf J, Hira M, Shabbir RG,
Abdul G, Tahir M, Muhammad A, Mobushir RK, Saira A, Inayat UM, Abu BMR, Muhammad AA, Mazhar Q, Ayesha W, Haroon A (2014) Seasonal activity of tick infestation in goats and buffalo of Punjab Province (District Sargodha), Pakistan. Kafkas Univ Vet Fak Derg 20:655-662.
Niyonzema A, Kiltz HH (1986) Control of ticks and tick-borne diseases in Burundi. In
proceeding of Australian Centre for International Agriculture Research: pp16-24.
Otim CP (2000) Advance in disease control: ticks and tick borne diseases. Uganda. J
Pais R, Lohs C, Wu Y, Wang J, Aksoy S (2008) The obligate mutualist Wigglesworthia glossinidia influences reproduction, digestion, and immunity processes of its host, the tsetse fly. Appl Environ Microbiol. 74:5965-5974.
Papadopoulos B, Morel PC, Aeschlimann A (1996). Ticks of domestic animals in the Macedonia region of Greece. Vet Parasitol 63: 25-40.
Patz J A, Campbell-Lendrum D, Holloway T, Foley JA (2005) Impact of regional climate change on human health. Nature 438: 310-317.
Patz JA, Olson SH, Uejio CK, Gibbs HK (2008) Disease emergence from climate and land use change. Med Clin. North America 92:1473-1491.
Perret JL, Guigoz E, Rais O, Gern L (2000) Influence of saturation deficit and temperature on Ixodes ricinus tick questing activity in a Lyme borreliosis-endemic area (Switzerland). Parasitol Res 86:554-557.
Perveen F (2011) Distribution and identification of ixodid tick species on livestock in northern Pakistan. J Agric Sci Tech 1:73-80.
Peter RJ, Van DB, Penzhorn PBL, Sharp B (2005) Tick, fly, and mosquito control. Lessons from the past, solutions for the future. Vet Parasitol 132: 205-215.
Petney TN, Kolonin GV, Robbins RG (2007) Southeast Asian ticks (Acari: Ixodida): a historical perspective. Parasitol Res 101: 201-205.
Qviller L, Risnes-Olsen N, Bærum KM, Meisingset EL, Loe LE, Ytrehus B, Viljugrein H, Mysterud A (2013) Landscape level variation in tick abundance relative to seasonal migration in red deer. Plos One 8:71299-7205.
Ramzan M, Khan MS, Avais M, Khan JA, Pervez K, Shahzad W (2008) Prevalence of ectoparasites and comparative efficacy of different drugs against tic infestation in cattle. Pak J Anim Pl Sci 18:216-305.
Randolph, S.E., 2004. Tick ecology: processes and patterns behind the epidemiological risk posed by ixodid ticks as vectors. Parasitol 129:1-29.
Razmi GR, Ramoon M (2012) A study of tick fauna in Tando Ureh National Park Khorasan Razavi Province, Iran. Acarina 20:62–65.
Reye AL, Olatunbosun G (2012) Arinola, Judith M. Hübschen and Claude P. Muller Pathogen prevalence in ticks collected from the vegetation and livestock in Nigeria. Appl Environ Microbiol 78: 2562.
Rodríguez VRI, Domínguez AJL (1998) Grupos entomológicos de importancia veterinaria en Yucatán,México. Revista de Biomedicina. 9:26-37.
Rony SA, Mondal MMH, Begum N, Islam MA, Affroze S (2010) Epidemiology of ectoparasitic infestations in cattle at Bhawal forest area, Gazipur. Bangl JVet Med. 8: 27-33.
Sajid MS, Iqbal A, Khan MN, Muhammad G, Siddique RM., Iqbal, Z, Khan MK, Siddique F (2013) Descriptive epidemiology of insects infesting domestic sheep (Ovis aries) of district Toba Tek Singh, Punjab, Pakistan. Pak JAgri Sci 50:117-122.
Sajid MS, Iqbal Z, Khan MN, Muhammad G (2008) Point prevalence of hard ticks infesting domestic ruminants of lower Punjab, Pakistan. Intl J Agric Biol 10:349-351.
Sajid MS, Iqbal Z, Khan MN, Muhammad G(2009). In vitro and in vivo efficacies of ivermectin and cypermethrin against the cattle tick Hyalomma anatolicum anatolicum (Acari: Ixodidae). Parasitol Res. 105:1133–1138.
Sajid MS, Iqbal Z, Khan MN, Muhammad G, Iqbal MU (2007) Effect of Hyalomma ticks (Acari: Ixodidae) on milk production of dairy buffaloes (Bos bubalus bubalis) of Punjab Pakistan. Italian J Anim Sci. 6:939–941.
Sajid, M.S., Iqbal, Z., Khan, M.N., Muhammad, G., Needham, G., Khan, M.K., 2011. Prevalence, associated determinants, and in vivo chemotherapeutic control of hard ticks (Acari: Ixodidae) infesting domestic goats (Capra hircus) of lower Punjab, Pakistan. Parasitol Res 3:601–609.
SAS (2010) SAS/STAT User Guides version 6.12. SAS Inst Inc, Cary, NC, USA.
Scharlemann JPW, Johnson PJ, Smith AA, Macdonald DW, Randolph SE (2008) Trends
in ixodid tick abundance and distribution in Great Britain. Med Vet Entomol 22:238-247.
Schork MA, Remington RD (2010) Statistics with applications to the Biological and Health Sciences. 3rd edition Lexington KY: USA.
Schulze TL, Jordan RA, Hung RW (2001) Effects of selected meteorological factors on diurnal questing of Ixodes scapularis and Amblyomma americanum (Acari :Ixodidae). J Med Entomol. 38:318–324.
Siddiqi M N, Jan A H (1986) Ixodid ticks of N.W.F.P. Pakistan. Pakistan Vet J 6:124–6.
Singh AP, Singh A (1999) Seasonal dynamics of ixodid ticks infesting the crossbred cattle of Ludhiana district. Indian Vet J 76:167-168.
Singh H, Jyoti J, Haque M, Singh NK, Rath, SS (2012) Molecular detection of Anaplasma marginale infection in carrier cattle. Ticks Tick-Borne Dis 3:55–58.
Singh NK, Rath, SS (2013) Epidemiology of ixodid ticks in cattle population of various
agro-climatic zones of Punjab, India. Asian Pac JTrop Med 6:947-951.
Sonenshine DE (1993) Biology of Ticks, Vols I and II. Oxford University Press, UK.
Soulsby EJL (1982) Helminths, Arthropods and Protozoa of Domesticated Animals, 7th Ed, Elsevier, New Delhi, India.
Springell PH (1974) The cattle tick in relation to animal production in Australia. Wld Anim Rev 10:19–23.
Swai ES, Mbise AN, Kessy V, Kaaya E, Sanka P, Loomu PM (2005) Farm constraints, cattle disease perception and tick management practices in pastoral Maasai community-Ngorongoro, Tanzania. Livstock Res Rural Dev 17:17.
Teel PD, Marin SL, Grant WE (1996) Simulation of host parasite landscape interactions: influence of season and habitat on cattle fever tick (Boophilus sp.) population dynamics. Ecol Model 84:19-30.
Thrusfield M (2007) Veterinary Epidemiology, 3rd Ed, Blackwell Science, London, pp:
Tiki B, Addis M (2011) Distribution of ixodid ticks on cattle in and around Holeta town, Ethiopia. Global Vet 7:527-531.
Vandyk JK, Bartholomew DM, Rowley WA, Platt KB (1996) Survival of Ixodes scapularis (Acari: Ixodidae) exposed to cold. J Med Entomol 33: 6-10.
Vatsya S, Yadav CL, Kumar RR, Garg R (2008) Prevalence of ixodid ticks on bovines in foothills of Uttarkhand state: a preliminary report. Indian J Anim Sci78: 40-42.
Vesco U, Knap N, Labruna MB, Avsic-Zupanc T, Estrada-Pena A, Guglielmone AA, Bechara GH, Gueye A, Lakos A, Grindatto A, Conte V, De Meneghi D (2011) An integrated database on ticks and tick-borne zoonoses in the tropics and subtropics with special reference to developing and emerging countries. Exp Appl Acarol 54:65-83.
Wahid R, Iqbal A K, Ayaz H Q, H Shujaat (2004) Prevalence of different species of ixodidae (hard ticks) in Rawalpindi and Islamabad. Pak J Med Res 43: 22-34.
Walker A R, Koney E B M (1999) Distribution of ticks infesting domestic ruminants in Ghana. Bull Entomol Res 89:473–479.
Walker AR (2003) Ticks of domestic animals in Africa: a guide to identification of species. Bioscience Reports, Edinburgh, Scotland.
Walker AR, Bouattour A, Camicas JL, Estrada-Pena A, Horak IG, Latif AA, Pegram RG, Preston PM (2007) Ticks of domestic animals in Africa, Bioscience reports. Edinburgh, UK.
Walker JB. Keirans JE, Horak IG (2000) The Genus Rhipicephalus (Acari, Ixodidae). In: Fauna of the Ixodid ticks of the World (Acarie Ixodidae), Moscow 2009. G.V. Kolonin, (Ed.). A Guide to the Brown Ticks of the World, Cambridge Univ. Press, pp: 643.
Yacob HT, Ataklty H, Kumsa B (2008) Major ectoparasites of cattle in and around Mekelle, northern Ethiopia. Entomol Res 38:126-130.
Yang LP, Zhang TS, Yuan XP, Zi DY (1993) Two strain of Russian Spring-Summer Encephalitis virus isolated from Boophilus microplus and Hipposideros armiger in Yunan province. Chin J Zoonoses 9:22-3.
Yi-Lun TSAI, Jacky Peng-Wen C, Shu-Kai C, Jui-Chun HSIEH, Shih-Te C (2011) Survey of species of ticks infesting cattle in Taiwan. Taiwan Vet J 37:74-82.
Zahida T, Sumaira N, Mushtaq H L (2014) The prevalence of ixodid ticks on buffaloes at private animal farm Bibipur, Multan. Global Vet 12: 154-157.
Zaman AK (1997) Prevalence and chemotherapy of ticks among cattle in various refugee camps at Hangu area. MSc. Thesis, NWFP, Agri. Univ., Peshawar, Pakistan.