Epidemiology and therapeutic efficacy of a synthetic pyrethroid against Haematopinus tuberculatus (Phthiraptera: Haematopinidae) in Bubalus bubalis
---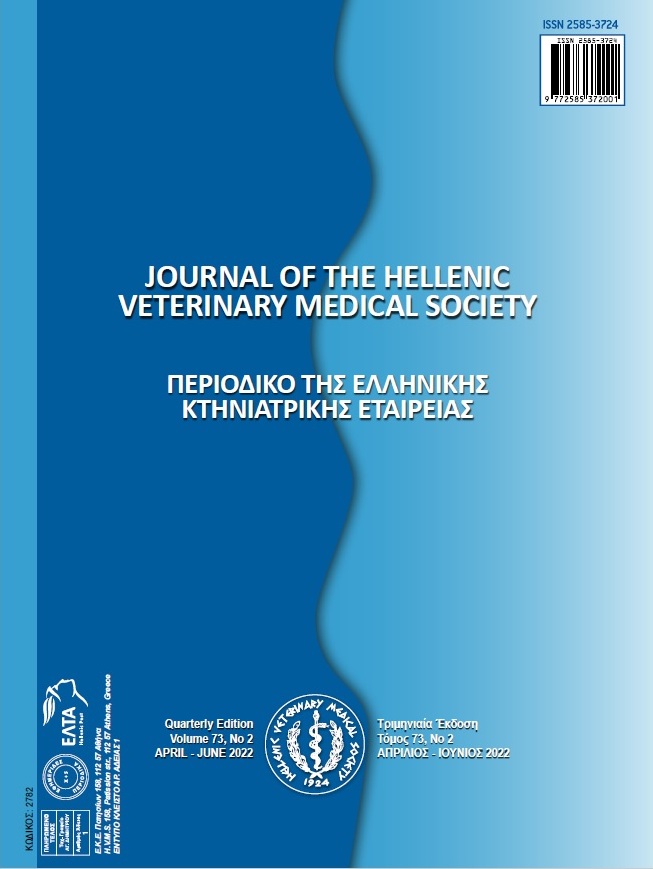 Published: Ιουλ 10, 2022
Keywords:
Buffalo Cypermethrin Efficacy Haematopinus tuberculatus Prevalence.
Abstract
Lice (Insecta: Pthiraptera) are common ectoparasite of buffalos (Bubalis bubalis) causing huge economic loss. An epidemiological survey was conducted in selected tehsils (administrative division) of Faisalabad district to determine the prevalence of lice infestation and the efficacy of cypermethrin (CYP) against lice infestation in buffalos. To determine the efficacy of CYP, 40 lice-infested buffaloes were divided into two groups i.e. drug-treated group and control group (each group contains 20 animals). Cypermethrin drug was used as pour-on at day 0 and lice counts were conducted on days 0, 7, 21, 35, 49, and 63 from predilection sites of each animal. Only one species of sucking louse Haematopinus tuberculatus was found in buffalo population of Faisalabad district. The overall prevalence of lice infestation was 37.76%. The variable like age and sex showed significant (P<0.05) variation of lice infestation while breed showed insignificant variation. Among extrinsic factors, seasons, floor pattern, and feeding system showed significant association (P<0.05) with lice infestation, while animal keeping as free or tethered and tehsils showed an insignificant association. On day 7, 100% effective results were obtained while 99.6% at day 21 and 100% from day 35 till day 63. No clinical adverse reaction was observed during this trial and cypermethrin was found efficacious. Based on these results it can be concluded that cypermethrin is an effective drug against lice infestation.
Article Details
How to Cite

Sajid, M. S., Iqbal, A., Rizwan, H. M., Naz, S., Maqbool, M., Malik, M. A., & Jawad-ul-Hassan, M. (2022). Epidemiology and therapeutic efficacy of a synthetic pyrethroid against Haematopinus tuberculatus (Phthiraptera: Haematopinidae) in Bubalus bubalis. Journal of the Hellenic Veterinary Medical Society, 73(2), 4219–4226. https://doi.org/10.12681/jhvms.27120
Section
Research Articles
This work is licensed under a Creative Commons Attribution-NonCommercial 4.0 International License.
Authors who publish with this journal agree to the following terms:
· Authors retain copyright and grant the journal right of first publication with the work simultaneously licensed under a Creative Commons Attribution Non-Commercial License that allows others to share the work with an acknowledgement of the work's authorship and initial publication in this journal.
· Authors are able to enter into separate, additional contractual arrangements for the non-exclusive distribution of the journal's published version of the work (e.g. post it to an institutional repository or publish it in a book), with an acknowledgement of its initial publication in this journal.
· Authors are permitted and encouraged to post their work online (preferably in institutional repositories or on their website) prior to and during the submission process, as it can lead to productive exchanges, as well as earlier and greater citation of published work.
Downloads
Download data is not yet available.
References
Adhikary CC, Ghosh AK (1994) Anopluran fauna of India. The sucking lice infesting domesticated and wild mammals. Rec Zool Surv India 64:1-213.
Ahmed WM, Habeeb SM, El Moghazy FM, Hanafi EM (2009) Observation on pediculosis in buffalo-cows with emphasis on its impact on ovarian activity and control by herbal remedies. World Appl Sci J 6:1128-1138.
AL-Lahaibi BY, AL-Taee AF (2019) Detection of some species of lice and ticks infestation on local buffalo in Mosul city. Iraqi J Vet Sci 32(2):43-50.
Al-Mayah SH, Hatem AN (2018) Species diversity, prevalences and some ecological aspects of Ectoparasites of buffalo Bubalus bubalis in Basrah Province, Iraq. J Entomol Zool Stud 6(2):390-394.
Arijo AG, Malhi AK, Akhter N, Laghari ZA, Malhi MC (2018) Prevalence of lice infestation in domestic pigeon Columba livia domestica in south-eastern Pakistan. Uni Sindh J Anim Sci 2(2):24-29.
Azam M, Siddiqui MM, Habib G (2002) Prevalence of parasitic infection in buffalo calves in Khadagzai, District Dir. Pak Vet J 22:87-90.
Bastianetto E, Leite RC (2005) Control of the louse (Haematopinus tuberculatus) in herds of water buffalo (Bubalus bubalis) raised for milk and meat. Rev Bras Reprod Ani 29:118-121.
Bastianetto E, Barbosa VM, Leite RC (2002) Evaluation of the different avermectin bases in the control of Haematopinus tuberculatus. In: Proceedings of 1st Buffalo Symposium of Americas, Brazil, pp. 357-359.
Batista HR, Sarturi C, Stelmachtchuk FN, Oliveira DR, Morini AC, Gennari SM, Marcili A, Bastos FAN, Barata LES, Minervino AHH (2018) Prevalence and risk factors associated with ectoparasite infestation of buffaloes in an Amazonian ecosystem. Parasites & Vectors 11:335.
Bosco A, Morgoglione ME, Amadesi A, Masiello I, Antenucci P, Cringoli G, Rinaldi L (2018) Efficacia Della Deltametrina Pour-On (Butox® 7,5 Pour-On) Per Il Controllo Di Haematopinus tuberculatus Nel Bufalo Di Razza Mediterranea Italiana (Bubalus bubalis). Large Anim Rev 24:73-79.
Cringoli G, Musella V, Maurelli MP, Morgoglione ME, Santaniello A, Condoleo R, Guariglia I, Rinaldi L (2009) Helminths and arthropoda in buffalo farms from the Lazio region (Italy). Vet Res Commun 33:129-31.
Da Silva AS, Lopes LS, Diaz JDS, Tonin AA, Stefani LM, Araujo DN (2013) Lice Outbreak in Buffaloes: Evidence of Anaplasma marginale Transmission by Sucking Lice Haematopinus tuberculatus. J Parasitol 99(3):546–547.
Das R, Sailo L, Verma N, Bharti P, Saikia J, Imtiwati, Kumar R (2016) Impact of heat stress on health and performance of dairy animals: A review. Vet World 9(3):260-268.
Emmanuel OI, Anyebe AA, Agbo OE, Odeh UP, Love O, Agogo IM (2017). A Preliminary Survey of Ectoparasites and their Predilection Sites on Some Livestock Sold in Wadata Market, Makurdi, Nigeria. Amer J Entomol 1(1):11-15.
Faraone N, Hillier NK, Cutler GC (2015) Plant essential oils synergize and antagonize toxicity of different conventional insecticides against Myzus persicae (Hemiptera: Aphididae). PLoS ONE 10(5):e0127774.
Fekete SG, Kellems RO (2007) Interrelationship of feeding with immunity and parasitic infection: a review. Vet Med 52(4):131-143.
Greive KA, Barnes TM (2018) The efficacy of Australian essential oils for the treatment of head lice infestation in children: a randomised controlled trial. Australasian J Dermatol 59(2):e99-105.
Holdsworth PA, Vercruysse J, Rehbein S, Peter RJ, Letonja T, Green P (2006) World Association for the Advancement of Veterinary Parasitology (WAAVP) guidelines for evaluating the efficacy of ectoparasiticides against biting lice, sucking lice and sheep keds on ruminants. Vet Parasitol 136:45-54.
Hornok S, Hofmann-Lehmann R, Mera IGF, Meli ML, Elek V, Hajtós I, Répási A, Gönczi E, Tánczos B, Farkas R, Lutz H, Fuente J (2010) Survey on blood-sucking lice (Phthiraptera: Anoplura) of ruminants and pigs with molecular detection of Anaplasma and Rickettsia spp. Vet Parasitol 174:355-358.
Hussain AM, Khan MN, Iqbal Z, Sajid MS (2005) Prevalence and Chemotherapy of Lice Infestation in Bovines -Review. Int J Agri Biol 7(4):694-697.
Hussain MA, Khan MN, Iqbal Z, Sajid MS, Arshad M (2006) Bovine pediculosis: prevalence and chemotherapeutic control in Pakistan. Livestock Res Rural Dev 18:10-17.
Kakar MN, Kakarsulemankhel JK (2009) Prevalence of lice species on cows and buffaloes of Quetta, Pakistan. Pak Vet J 29:49-50.
Kakar MN, Kakarsulemankhel JK (2008). Prevalence of endo (trematodes) and ecto-parasites in cows and buffaloes of Quetta, Pakistan. Pak Vet J 28(1):34-36.
Khan MS, Ahmad N, Khan MA (2007) Genetic resources and diversity in dairy buffaloes of Pakistan. Pak Vet J 27(4):201-207.
Khater HF, Ramadan MY, El-Madawy RS (2009) Lousicidal, ovicidal and repellent efficacy of some essential oils against lice and flies infesting water buffaloes in Egypt. Vet Parasitol 164:257-266.
Khater HF, El-Shorbagy MM, Seddiek SA (2014) Lousicidal efficacy of camphor oil, d-phenothrin, and deltamethrin against the slender pigeon louse, Columbicola columbae. Int J Vet Sci Med 2:7-13.
Khatoon N, Noureen S, Khan Z, Gul SU, Rehman HU, Ullah N, Hussain R, Rehman FU, Navid S, Khan A, Ullah A, Ahmad A, Ahmad W, Azizullah (2018). Domestic animals ectoparasite Fauna of district Karak, KP, Pakistan. Int J Biosci 13(5):384-388.
Lau HD, Singh NP (1985) Efficacy of ivermectin in control of louse (Haematopinus tuberculatus) in buffaloes. Proceedings of 11th WAAVP p. 47.
Lehane J (2005) The biology of blood sucking insects. 2nd edn. Cambridge University Press. The Edinburgh Building, Cambridge, U.K.
Madeira NG, Amarante AFT, Padovani CR (2000) Diversity of ectoparasites in sheep flocks in Sao Paulo, Brazil. Trop Anim Health Produc 32:225-232.
McFarland J, Coles GC (2002) Haematopinus tuberculatus on water buffalo in England. Vet Record 150:616.
Mennerat A, Nilsen F, Ebert D, Skorping A (2010) Intensive Farming: Evolutionary Implications for Parasites and Pathogens. Evol Biol 37:59-67
Milnes AS, O'Callaghan CJ, Green LE (2003) A longitudinal study of a natural lice infestation in growing cattle over two winter periods. Vet Parasitol 112:307-323.
Regasa TD, Tsegay AK, Waktole H (2015) Prevalence of major ectoparasites of calves and associated risk factors in and around Bishoftu town. African J Agric Res 10(10):1127-1135.
Sands B, Ellse L, Wall R (2016) Residual and ovicidal efficacy of essential oil-based formulations in vitro against the donkey chewing louse Bovicola ocellatus. Med Vet Entomol 30:78-84.
Shamim A, Mushtaq A, Hassan M (2015) No record of lice (Pthiraptera) distribution and abundance in traditionally managed Buffalo and Cattle in Rawalakot Azad Kashmir Pakistan. J Entomol Zool Stud 3(3):416-418.
Tasawar Z, Bano I, Hayat CS, Lashari MH (2009) Prevalence of lice on buffaloes at private cattle farm. Pak Vet J 28(3):147-149.
Veneziano V, Neglia G, Cimmino R, Balestrieri A, Rufrano D, Bastianetto E, Santoro M, Gokbulut C (2013) The efficacy and safety of alphacypermethrin as a pour-on treatment for water buffalo (Bubalus bubalis) infested with Haematopinus tuberculatus (Phthiraptera: Haematopinidae). Parasitol Res 112(8):2907-12.
Veneziano V, Neglia G, Galietti A, Rufrano D, Bassini A, Mariani U, Gokbulut C (2012) Efficacy of alphacypermetrin pour-on against natural Werneckiella equi infestation on donkeys (Equus asinus). Parasitol Res 111:967-973.
Veneziano V, Rinaldi L, Giannetto S, Cringoli G (2003) The first record of Haematopinus tuberculatus on Bubalus bubalis (water buffalo) in Italy. Bubalus bubalis 9:69-75.
Veneziano V, Rinaldi L, Grassi C, Neglia G, Campanile G, Cringoli G (2004) Efficacy of eprinomectin pour-on against Haematopinus tuberculatus infestation in Italian Mediterranean buffalo (Bubalus bubalis) and influence of the treatment on milk production. Bubalus bubalis 2:56-65.
Veneziano V, Santaniello M, Carbone S, Pennacchio S, Morgoglione ME, Schioppi M, Condoleo R, Cringoli G (2007) Lice (Haematopinus tuberculatus) in water buffalo farms from central Italy. Ital J Anim Sci 6:926-927.
Zicarelli L (2004) Buffalo milk: its properties, dairy yield and mozzarella production. Vet Res Commun 28:127-135.