Traumatic uterine rupture in a queen at early stage of pregnancy
---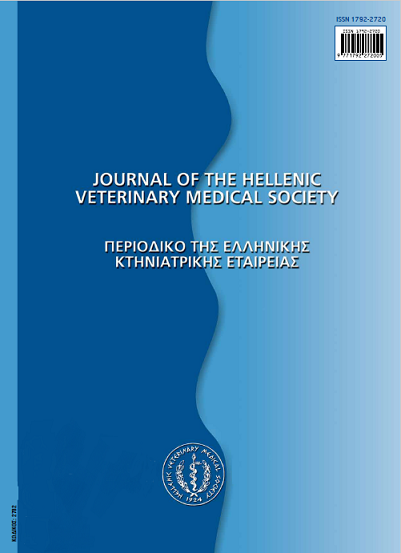 Published: Jan 29, 2018
Keywords:
Pregnancy queen trauma uterine rupture vaginal hemorrhage
Abstract
The rupture of a pregnant uterus is a rare complication of pregnancy, which can result in the death of the mother and the fetus. This life threating condition generally occurs during late pregnancy, it can be asymptomatic and scarred uteruses have been reported as incidental findings during abdominal surgery. This clinical case describes a queen with vulvar bleeding during the early stage of pregnancy. Wall laceration of a pregnant uterus was diagnosed by means of an ultrasound examination. During ovariohysterectomy two uterine ruptures, fragments of the great omentum were found sequestering embryonic tissue. Histopathology showed that the uterine wall was torn in the same place where two embryonic implantations were found and residues of embryonic tissue were observed. This clinical case shows that when a traumatic injury is reported, the mandatory abdomen investigations should evaluate the condition of the uterus and determine the early stage of a pregnancy.
Article Details
How to Cite

DE CESARIS, V., BRESCIANI, C., PARMIGIANI, E., RAVERA, M., VOLTA, A., CANTONI, A. M., & BIGLIARDI, E. (2018). Traumatic uterine rupture in a queen at early stage of pregnancy. Journal of the Hellenic Veterinary Medical Society, 67(4), 259–264. https://doi.org/10.12681/jhvms.15648
Authors who publish with this journal agree to the following terms:
· Authors retain copyright and grant the journal right of first publication with the work simultaneously licensed under a Creative Commons Attribution Non-Commercial License that allows others to share the work with an acknowledgement of the work's authorship and initial publication in this journal.
· Authors are able to enter into separate, additional contractual arrangements for the non-exclusive distribution of the journal's published version of the work (e.g. post it to an institutional repository or publish it in a book), with an acknowledgement of its initial publication in this journal.
· Authors are permitted and encouraged to post their work online (preferably in institutional repositories or on their website) prior to and during the submission process, as it can lead to productive exchanges, as well as earlier and greater citation of published work.
Downloads
Download data is not yet available.
References
Ayres AW, Johnson TRB, Hayashi R (2001) Characteristic of fetal heart rate tracings prior to uterine rupture. Int J Gynaecol Obstet 74: 235-240.
Bigliardi E, Di Ianni F, Parmigiani E, Cantoni AM, Bresciani C (2014) Complete uterine prolapse without uterine mucosal eversion in a queen. J Small Anim Pract 55: 235-237.
Chivers AW (1971) An unusual finding in a cat. Vet Rec 88: 560.
Davidson A (2013) Problems during and after parturition. In: England G, von Heimendahl A (eds), BSAVA Manual of canine and feline reproduction and neonatology. 2nd Edition: Gary England and Angelika von Heimendahl. p 132
DeGeer T (1987) Uterine rupture in a cat. Can Vet J 28: 489.
Fischer AT, Phillips TN (1986) Surgical repair of a ruptured uterus in five mare. Eq Vet J 18: 153-155.
Garnet JD (1964) Uterine rupture during pregnancy. An Analysis of 133 patients. Obst and Gynec 23: 898-905.
Godfrey DR (1997) A case of uterine rupture with complete division of the uterus and associated secondary ectopic fetus in a cat. Feline Pract 25:20-21.
Jackson PGG (1995) Postparturient problems in the dog and cat. In: PGG Jackson (Ed.) Handbook of Veterinary Obstetrics. Philadelphia, WB Saunders, pp. 197-200.
Johnson CA (1986) Disorders of pregnancy. Vet Clin North Am Small Anim Pract 16: 477-483.
Knospe C (2002) Periods and stages of the prenatal development of the domestic cat. Anat Histol Embryol 31: 37-51.
Kunstyr I, Naumann S (1980) Uterus rupture in guinea-pigs (in Deutsche). Deutsche Tierarztliche Wochenschrift 87: 231.
Lucas X, Agut A, Ramis G, Belda E, Soler M (2003) Uterine rupture in a cat. Vet Rec 152: 301-392.
Manokaran S (2012) Rupture of the uterus with dislocation of the fetus into the peritoneal cavity in a non-descript buffalo: a case report. Buffalo Bulletin 31: 65-66.
Plauchè WC, Von Almen W, Muller R (1984) Catastrophic uterine rupture. Obstetrics & Gynecology 64: 792-797.
Plesker R, Torner M, Coulibaly C (2003) Traumatic uterine rupture in an African Green Monkey (Chlorocebus aethiops). Erkrankungen der Zootiere: Verhandlungsbericht des 41. Internationalen Symposiums uber die Erkrankungen der Zoo- und Wildtiere, Rome, Italy, 28 May – 1 June. pp 241-243.
Root Kustritz MV (2006) Clinical management of pregnancy in cats. Theriogenology 66: 145-150.
Ryer KA, Ryer JT (1979) Extrauterine mummified fetus. Vet Med Small Anim Clin 74: 960-961.
Selk Ghaffari M, Massoudifar M, Abdi M, Khorami N, Hosseni F (2007) Uterine rupture in a cat associated with femoral hernia. Online J Vet Res 11: 50-54.
Singh A, Sandhi J (2000) Spontaneous rupture of unscarred uterus in early regnancy. Acta Obstet Gynecol Scand 79: 431-432.
Turner MJ (2002) Uterine rupture. Best Pract Res Clin Obstet Gynaecol 16: 69-79.
Zambelli D, Caneppele B, Bassi S, Paladini C (2002) Ultrasound aspects of fetal and extrafetal structures in pregnant cats, J Fel Med Surg 4:95-106.