Is rumenocentesis a safe technique to collect rumen fluid in dairy cows?
---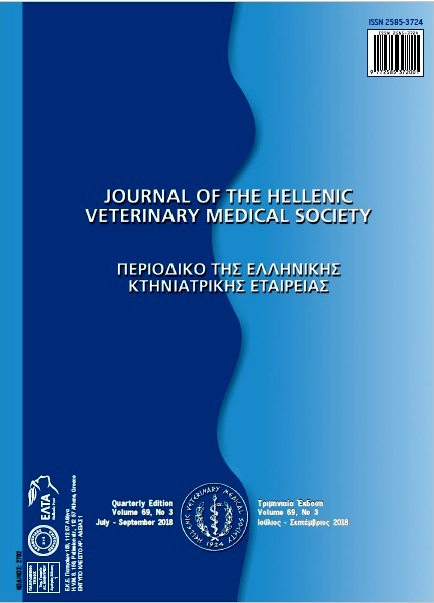 Keywords:
rumenocentesis safety complications ruminal fluid dairy cows
Abstract
Subacute ruminal acidosis is a major issue in dairy cattle and a definite diagnosis is only established by measuring the rumen fluid pH, most credibly collected by rumenocentesis. However, due to its invasive nature, there is still some debate whether it is a safe method or poses risks for cows' health and welfare. The aim of the study was to retrospectively evaluate the safety of rumenocentesis as a technique to obtain rumen fluid in dairy cows. Results were derived from 2 studies. In study 1, rumenocentesis was performed in 153 Holstein cows from 12 herds, once, between 10 and 90 days in milk (DIM). In study 2, 83 Holstein cows from a dairy farm were repeatedly subjected to rumenocentesisat 30, 90 and 150 DIM. From the 83 cows that were initially enrolled, 8 were culled before the end of the study for reasons irrelative to rumenocentesis; therefore, 236 rumenocenteses were actually performed in study 2 (3 times in 75 cows, twice in 3 cows and once in 5 cows). All cows were monitored for 10 days after rumenocentesis for presence of complications. In addition, daily milk yield was automatically recorded for each cow in study 2 to detect any possiblepost-rumenocentesis short-term reduction of milk yield. Minor only complications were recorded in 7 cases: in 4/153 (2.61%) and 3/236 (1.27%) rumenocenteses in studies 1 and 2, respectively. Small diameter abscesses in 6 cows (3 in study 1 and 3 in study 2) and a larger one in 1 cow in study 1 were observed. The 3 small abscesses in study 2 were all recorded after the 1st rumenocentesis, at DIM 30. All 7 cases were resolved spontaneously within two weeks. Moreover, short-term daily milk yield of study 2 cows was not affected by rumenocentesis. The conclusion is that rumenocentesis is a safe technique to collect small volume of rumen fluid for SARA diagnosis, which does not compromise cows' health and welfare when appropriately performed.
Article Details
How to Cite

PANOUSIS, N., KITKAS, G., & VALERGAKIS, G. E. (2018). Is rumenocentesis a safe technique to collect rumen fluid in dairy cows?. Journal of the Hellenic Veterinary Medical Society, 69(3), 1135–1140. https://doi.org/10.12681/jhvms.18886
Section
Research Articles
Authors who publish with this journal agree to the following terms:
· Authors retain copyright and grant the journal right of first publication with the work simultaneously licensed under a Creative Commons Attribution Non-Commercial License that allows others to share the work with an acknowledgement of the work's authorship and initial publication in this journal.
· Authors are able to enter into separate, additional contractual arrangements for the non-exclusive distribution of the journal's published version of the work (e.g. post it to an institutional repository or publish it in a book), with an acknowledgement of its initial publication in this journal.
· Authors are permitted and encouraged to post their work online (preferably in institutional repositories or on their website) prior to and during the submission process, as it can lead to productive exchanges, as well as earlier and greater citation of published work.
Downloads
Download data is not yet available.
References
Abdela N (2016) Sub-acute Ruminal Acidosis (SARA) and its Consequence in Dairy Cattle: A Review of Past and Recent Research at Global Prospective. Achiev Life Sci 10:187-196.
Dirksen GU, Smith MC (1987) Acquisition and analysis of bovine rumen fluid. Bovine Pract 22:108–116.
Duffield T, Plaizier JC, Fairfield A, Bagg R, Vessie G, Dick P, Wilson J, Aramini J, McBride B (2004) Comparison of techniques for measurement of rumen pH in lactating dairy cows. J Dairy Sci 87:59-66.
Enemark JMD (2008) The monitoring, prevention and treatment of subacute ruminal acidosis (SARA): A review. Vet J 176:32–43.
Gianesella M, Morgante M, Stelletta C, Ravarotto L, Giudice E, Van Saun RJ (2010) Evaluating the Effects of Rumenocentesis on Health and Performance in Dairy Cows. Acta Vet Brno 79:459–468.
Hollberg W (1984) Vergleichende Untersuchungen von mittels SCHAMBYE-SØRENSEN-Sonde oder durch Punktion des kaudoventralen Pansensacks gewonnenen Pansensaftproben. Dtsch Tierarztl Wochenschr 91:317–320.
Kitkas GC, Valergakis GE, Karatzias H, Panousis N (2013) Subacute ruminal acidosis: prevalence and risk G.E. factors in Greek dairy herds. Iran J Vet Res 14:183-189.
Kleen JL, Hooijer GA, Rehage J, Noordhuizen JPT (2003) Subacute ruminal acidosis (SARA): A review. J Vet Med A 50:406-414.
Kleen JL, Hooijer GA, Rehage J, Noordhuizen JP (2004) Rumenocentesis (rumen puncture): a viable instrument in herd health diagnosis. Dtsch Tierarztl Wochenschr 111:458-462.
Lusk JL, Norwood FB (2008) A survey to determine public opinion about the ethics and governance of farm animal welfare. J Am Vet Med Assoc 233:1121-1126.
Nocek JE (1997) Bovine acidosis: implications on laminitis. J Dairy Sci 80:1005–1028.
Nordlund KV (2007) Questions and answers regarding rumenocentesis and the diagnosis of herd-based subacute rumen acidosis. In: Preconference Seminar 7A: Dairy Herd Problem Investigation Strategies: Lameness, Cow Comfort, and Ruminal Acidosis. 40th Annual Conference of the American Association of Bovine Practitioners, Vancouver, BC, Canada.
Nordlund KV, Garrett EF (1994) Rumenocentesis: a technique for collecting rumen fluid for the diagnosis of subacute rumen acidosis in dairy herds. Bovine Pract 28:109–112.
Oetzel GR, Nordlund KV (1998) Methods of evaluating ruminal pH in dairy cattle. In: Proceedings of the 31st Annual Conference of the American Association of Bovine Practitioners, Rome, GA, USA, p. 203.
Strabel D, Ewy A, Kaufmann T, Steiner A, Kirchhofer M (2007) Rumenozentese: Eine geeignete Methode zur pH-Bestimmung im Pansensaft beim Rind? Schweiz Arch Tierheilkd 149:301-306.
Thompson PB (2005) Animal agriculture and the welfare of animals. J Am Vet Med Assoc 226: 1325–1327.