Bacteriological and histological examinations of endometrium from cows showing symptom free sterility
---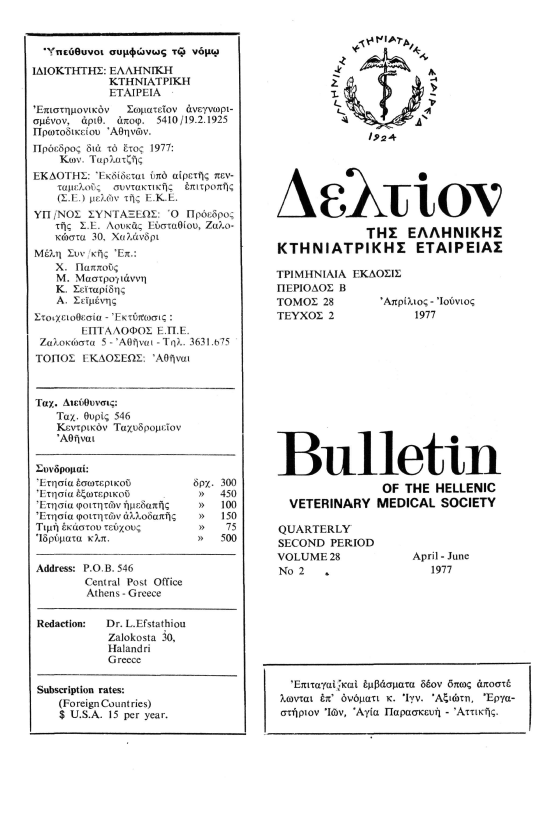 Abstract
45 uteri from cous were examined bacteriologically and histologically. These cous were slaughtered because of infertility 383 days after they bore for the last time. All the cows 3 - 7 years ofd and oi good or very good nutritional condition were submitted to 9.45 ± 2.08 unsuccessful artificial and natural insemination and did not show in the rectal examination any pathological symptons of the genital system (symptom free sterility). 8 out of these 45 cows that is 17.8% did show pathogen germs and 17 cows that is 37,7% had shown endometritis by histological examination.
Article Details
How to Cite

ΣΕΪΤΑΡΙΔΗΣ Κ., ΤΣΑΓΓΑΡΗΣ Θ., ΗΛΙΑΔΗΣ Ν., ΖΩΓΡΑΦΟΠΟΥΛΟΣ Θ., & ΠΑΠΑΔΟΠΟΥΛΟΣ X. (2019). Bacteriological and histological examinations of endometrium from cows showing symptom free sterility. Journal of the Hellenic Veterinary Medical Society, 28(2), 67–72. https://doi.org/10.12681/jhvms.21288
Authors who publish with this journal agree to the following terms:
· Authors retain copyright and grant the journal right of first publication with the work simultaneously licensed under a Creative Commons Attribution Non-Commercial License that allows others to share the work with an acknowledgement of the work's authorship and initial publication in this journal.
· Authors are able to enter into separate, additional contractual arrangements for the non-exclusive distribution of the journal's published version of the work (e.g. post it to an institutional repository or publish it in a book), with an acknowledgement of its initial publication in this journal.
· Authors are permitted and encouraged to post their work online (preferably in institutional repositories or on their website) prior to and during the submission process, as it can lead to productive exchanges, as well as earlier and greater citation of published work.
Downloads
Download data is not yet available.
References
Aehnelt E: In Kùst D. Und F. Schaetz: Fortpfianzungs Störungen bei den Haustieren, Veb. G. F cher Verlag, Jena, 1971.
Brus D.H.J. (1954): Biopsia uteri of cows, Thesis Utrecht.
De Bois C.H.W.en S. Van Den Akker (1957): Enkele opmerkingen over de Fertiliteitsprognose Bij Het Rind, Tijschr. Diergen, 82, 951.
De Bois D. H. J. (1961): Endometritis and Fertility of the cow, Thesis Utrecht.
Graden A. P., Olds D., Mochow C. R. and Mutter L. R (1968): Causes of Fertilization Failure in repeat breeding cattle, J. Dairy Sci. 51,778.
Hawk H. W., Kiddy C. Α., Wilson J. B., Esposito M. and Winder A. J. (1958): Bacteriological studies of uteri of clinically normal cows of low fertility, J. Dairy Sci, 41, 120.
Hewett C. D. (1968): A Survey of the incidence of the repeat breeder cow in Sweden with reference to herd size; season, age and milk yield, Brit. Vet. J. 124, 342.
Kampelmacher Ε. H. (1954): An Examination, using a biopsy apparatus, in order to obtain an opinion of the microbiology and histology of the uterus in sterile cattle, Thesis Utrecht.
Rieck G. W. (1962): Symptomlose Sterilität beim rind, Dtsch Tierärztl. Wochenschrift. 69, 52, 110 & 169.
Roberts S. J.: Veterinary obstetrics and genital diseases, Edwards brothers, Inc. Ann. Arbor, Michigan, 1971.
Simon S. and S. H. McNutt (1957): Histopathological alteration of the bovine uterus. II. Uterine tissue from cow of low fertility, Amer. J. Vet. Res. 18, 241.
Seitaridis K. ind Th. Tsangaris (1973): Histologische Untersuchungen des endometriums von Regelmässig Umrindernden Köhen Ohne klinisch Erkennbare Ursache. Tierärztl. Umschau. , 553.
Sagartz J. W. and H. J. Hardenbrook (1971): A. clinical, bactériologie, and histologic survey of infertile cows, J. Am. Vet. Med. Ass. 158,619.