Abrupt and gradual drying-off procedure and intramammary dry treatment: Impact on udder health status of Chios breed dairy sheep
---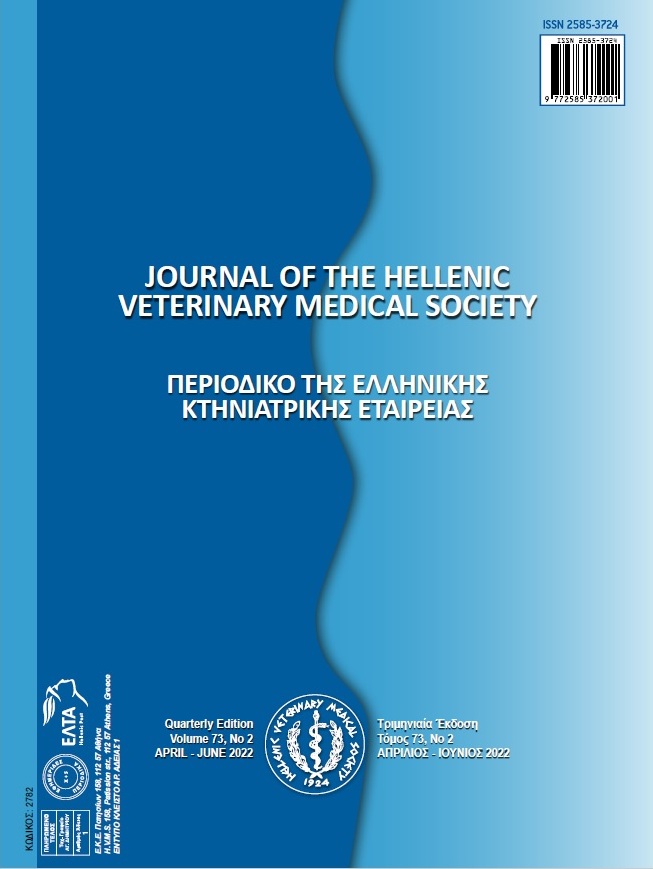 Published: Ιουλ 10, 2022
Keywords:
milk cessation method subclinical mastitis CNS dry ewes antibiotic sheep
Abstract
In order to evaluate the impact of drying-off procedure on udder health status and the effect of intramammary dry treatment on prevention of new intramammary infections and improving cure rate of mammary abnormalities, a randomized single blinded controlled trial was performed in which 80 Chios breed dairy ewes were randomly allocated into 2 groups. Ewes of Group A (n=40) dried off gradually during a 15-day period, whereas in ewes of Group B (n=40), udder drying-off took place abruptly. Half of the ewes of each group received intramammary infusion (1 syringe/teat) of benzathine cloxacilline (IDT subgroup, n=20). The rest of the ewes of each group received no treatment at all (control subgroup, n=20). Representative samples of teat duct material and milk were aseptically collected from each mammary half for cytological and microbiological examination. Samples were collected using both conventional and aseptic techniques at the time of enrollment until the final milking before dry off (7 to 14 days before the expected dry period), at dry period (approximately 65 days) and continued at lambing until the end of the ongoing milking period. 61.8% of bacterial isolates obtained from teat duct and milk were identified as coagulase-negative staphylococci (CNS). No significant differences were noticed between the two groups in the frequency of mammary gland infection peri-partum (p=0.466), in the risk of new mammary infections during dry period (p=0.750) and in the cure rate of any subsequent mammary infection (p=0.131). Drying-off procedure had no significant impact on somatic cell counts (p=0.760) or milk leucocyte subpopulations (p>0.05) but had a significant effect on milk production of the next lactation period (p<0.001). Ewes treated with antibiotic agent presented a significantly higher cure rate of subsequent mammary infections (p=0.036) and a significantly lower risk of new mammary infections (p=0.039) during dry period, compared to the control group. No statistically significant differences were noticed concerning the impact of treatment on cytological profiles (p>0.5), somatic cell counts (p=0.581) and milk production (p=0.705). The results strengthen the hypothesis that drying off procedure does not affect cure rate neither reduce the risk of new infections during dry period and has no effect on development of mastitis around dry period whereas the use of intramammary dry treatment provides a better bacteriological cure rate of the mammary gland and decreases the possibility of new intramammary infections during dry period.
Article Details
How to Cite

Sougaris, S., Brozos, C., Petridou, E., Papadopoulos, T., & Kiossis, E. (2022). Abrupt and gradual drying-off procedure and intramammary dry treatment: Impact on udder health status of Chios breed dairy sheep. Journal of the Hellenic Veterinary Medical Society, 73(2), 4031–4040. https://doi.org/10.12681/jhvms.26304
Section
Research Articles
This work is licensed under a Creative Commons Attribution-NonCommercial 4.0 International License.
Authors who publish with this journal agree to the following terms:
· Authors retain copyright and grant the journal right of first publication with the work simultaneously licensed under a Creative Commons Attribution Non-Commercial License that allows others to share the work with an acknowledgement of the work's authorship and initial publication in this journal.
· Authors are able to enter into separate, additional contractual arrangements for the non-exclusive distribution of the journal's published version of the work (e.g. post it to an institutional repository or publish it in a book), with an acknowledgement of its initial publication in this journal.
· Authors are permitted and encouraged to post their work online (preferably in institutional repositories or on their website) prior to and during the submission process, as it can lead to productive exchanges, as well as earlier and greater citation of published work.
Downloads
Download data is not yet available.