Automatic Milking in Greece: First Insight into Udder Health of Dairy Cows
---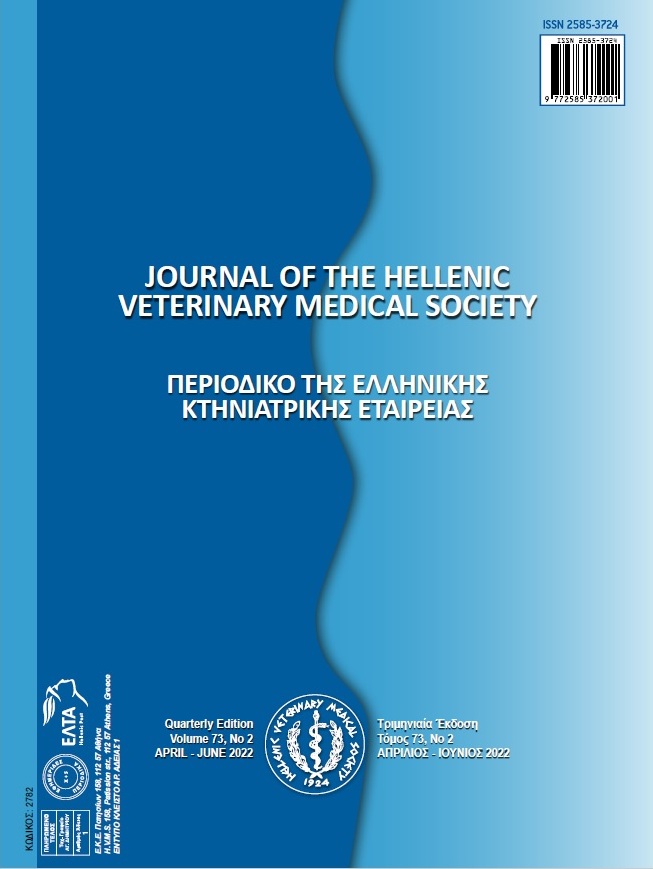 Published: Ιουλ 10, 2022
Keywords:
automatic milking robotic milking udder health somatic cell count dairy cows Greece
Abstract
Udder health is a key factor for dairy cows' productivity and welfare. This study presents the first insight into dairy cows' udder health after the introduction of automatic milking systems in Greece. Four farms with Holstein dairy cows and automatic milking systems enrolled in the study. Data from their milking records were utilized, from January 2020 to December 2021. Variables employed in the assessment were cow daily milk yield (DMY), number of daily milkings / cow, individual cow somatic cell count (SCC), proportion of cows with elevated somatic cell count (ELSCC) / month, proportion of cows with chronically ELSCC (ChrELSCC) / month and number of new ELSCC (NewELSCC) cases per 100 cows / month. Two years' mean milking frequency was 2.72 milkings / cow / day, ranged from 2.47 to 2.98, and decreased from 2020 to 2021. Mean cow SCC was 193,000 cells/mL, ranged from 70,000 to 260,000 cells/mL, and increased from 2020 to 2021. Mean cow DMY was 37.2 kg, ranged from 29.6 to 43.6 kg. Heifers had lower mean SCC than cows and mean SCC increased from early to late lactation stages. On a monthly basis, 37.06 % and 40.06 % of the cows were ELSCC in 2020 and 2021, respectively, and most of them were chronic. The highest ELSCC was observed in late lactation stage. Fresh cows presented the highest number of NewELSCC / 100 cows / month, both years of the study. Overall udder health in the four automatic milking farms of this study was better than conventional farms in Greece. Precision dairy farming should utilize daily milking data for data-driven management, monitoring of chronically ELSCC, and early detection, treatment and prevention of new infections.
Article Details
How to Cite

Themistokleous, K., Sakellariou, N., Kougioumtzis, A., & Kiossis, E. (2022). Automatic Milking in Greece: First Insight into Udder Health of Dairy Cows. Journal of the Hellenic Veterinary Medical Society, 73(2), 4253–4260. https://doi.org/10.12681/jhvms.29782
Section
Research Articles
This work is licensed under a Creative Commons Attribution-NonCommercial 4.0 International License.
Authors who publish with this journal agree to the following terms:
· Authors retain copyright and grant the journal right of first publication with the work simultaneously licensed under a Creative Commons Attribution Non-Commercial License that allows others to share the work with an acknowledgement of the work's authorship and initial publication in this journal.
· Authors are able to enter into separate, additional contractual arrangements for the non-exclusive distribution of the journal's published version of the work (e.g. post it to an institutional repository or publish it in a book), with an acknowledgement of its initial publication in this journal.
· Authors are permitted and encouraged to post their work online (preferably in institutional repositories or on their website) prior to and during the submission process, as it can lead to productive exchanges, as well as earlier and greater citation of published work.
Downloads
Download data is not yet available.