Rebalancing the extra-judicial scales: Documentary aesthetics and the legacy of the Central Park Five
---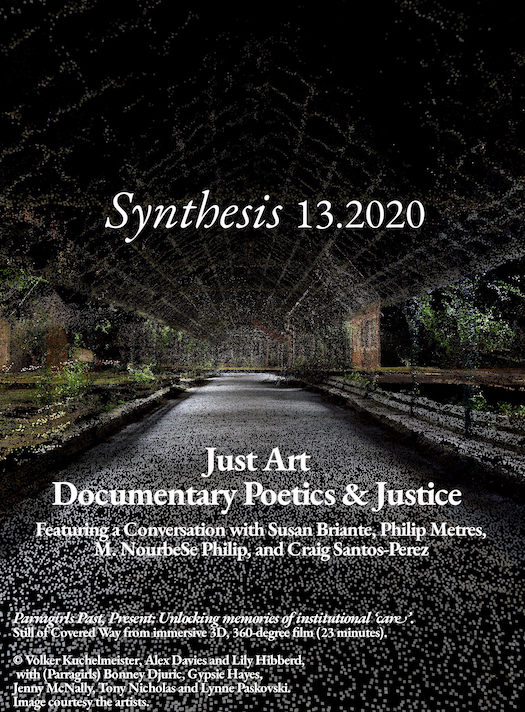 Published: Jul 19, 2021
Keywords:
just art documentary poetics justice Central Park jogger Central Park Five Ava DuVernay Joan Didion Judith Butler Louis Althusser Theodor Adorno
Abstract
The Central Park jogger case has returned to news headlines with the 2019 Netflix mini-series When They See Us, a dramatised account of the original trials. It has reignited debate over the injustices faced by the Black community in the United States, and led to lawsuits and job resignations on the part of former police investigators and prosecutors. Since the case's inception, issues of race, media reporting, economics, and the identity of New York City have influenced the trial and its aftermath and have inspired documentaries, books, and the landmark 1990 essay "Sentimental Journeys" by Joan Didion. In this article, I argue that the creators of two of these works, by testing the boundaries of narrative, demonstrate that the case was inexorably tainted by a pervasive feeling of social precarity and racial prejudice which cost five young men several years of their lives, and offer a productive line of enquiry for acknowledging such factors and their influence, if not resolving them.
Article Details
How to Cite

Baliño Rios, S. (2021). Rebalancing the extra-judicial scales: Documentary aesthetics and the legacy of the Central Park Five. Synthesis: An Anglophone Journal of Comparative Literary Studies, (13), 70–92. https://doi.org/10.12681/syn.27562
The copyright for articles in this journal is retained by the author(s), with first publication rights granted to the journal. By virtue of their appearance in this open access journal, articles are free to use with proper attribution. Synthesis retains the worldwide right to reproduce, display, distribute, and use published articles in all formats and media, either separately or as part of collective works for the full term of copyright. This includes but is not limited to the right to publish articles in an issue of the Journal, copy and distribute individual reprints of the articles, authorize reproduction of articles in their entirety, and authorize reproduction and distribution of articles or abstracts thereof by means of computerized retrieval systems.
Downloads
Download data is not yet available.
References
Adorno, Theodor. "The Essay as Form." Notes to Literature. Trans. Shierry Weber Nicholsen. New York: Columbia UP, 2019.
Althusser, Louis. "Ideology and Ideological State Apparatuses: Notes towards an investigation." Lenin and Philosophy and other essays. Trans. Ben Brewster. New York: Monthly Review Press, 2001.
Anderson, Benedict. Imagined Communities: Reflections on the Origin and Spread of Nationalism. London: Verso, 2016.
Burns, Ken, and Sarah Burns, David McMahon, dir. The Central Park Five. 2012. WETA. Film.
Butler, Judith. Precarious Life: The Powers of Mourning and Violence. London: Verso, 2004.
—. Excitable Speech: A Politics of the Performative. New York and London: Routledge, 1997.
Cavarero, Adriana. Relating Narratives: Storytelling and selfhood. Trans. Paul A. Kottman. Abingdon: Routledge, 2000.
Cobb, Jelani. "The Central Park Five, Criminal Justice, and Donald Trump." The New Yorker. April 19, 2019.
https://www.newyorker.com/news/daily-
comment/the-central-park-five-criminal-justice-and-donald-trump. Web. 3 August 2020.
Dentons Law Firm. "Defendant Netflix Inc.'s motion to dismiss for failure to state a claim, and incorporated memorandum of law, and joinder in motion of defendants Duvernay and Locke to dismiss for improper venue or to transfer venue." Deadline. 18 May 2020.
https://deadline.com/wp-
content/uploads/2020/05/028-netflix-motion-to-dismiss-with- exhibits-a-and-b-wm.pdf. Web. 20 May 2020.
Didion, Joan. "Joan Didion: The Art of Nonfiction No. 1." Interviewed by Hilton Als. The Paris Review,
—. "Sentimental Journeys." 1992. After Henry. New York: Vintage Books, 1993. 3⁄4. "The White Album." The White Album. New York: Farrar, Strauss and Giroux,
—. 2003. Where I Was From. London: Harper Perennial, 2004. DuVernay, Ava, dir. When They See Us. 2019. Netflix. Film.
Kaplow, Louis. "Burden of Proof." January 2012. The Yale Law Journal. 121.4: 738-859.
Loxley, James. Performativity. New York: Routledge, 2007.
Ristroph, Alice. "The Thin Blue Line from Crime to Punishment." The Journal of Criminal Law and Criminology. 108.2: 305-334.
https://www.jstor.org/stable/48572849
. Web. 14 February 2021.
Ritchie, Mark, dir. Oprah Winfrey Presents: When They See Us Now. 2019. Netflix. Film.
Stratton, Greg. "Transforming the Central Park jogger into the Central Park Five: Shifting narratives of innocence and changing media discourse in the attack on the Central Park jogger, 1989-2014." Crime Media Culture: An International Journal. 11.30: 281-297.
https://journals.sagepub.com/doi/abs/10.1177/1741659015592794
. Accessed 15 May 2020.
Supreme Court of the State of New York, County of New York, Part 58. "The People of the State of New York against Kharey Wise, Kevin
Worden, Daniel. Neoliberal Nonfictions: The Documentary Aesthetic from Joan Didion to Jay-Z. Charlottesville: U of Virginia P, 2020.