Poetics/Documents/Justice A conversation featuring Susan Briante, Philip Metres, M. NourbeSe Philip, and Craig Santos-Perez
---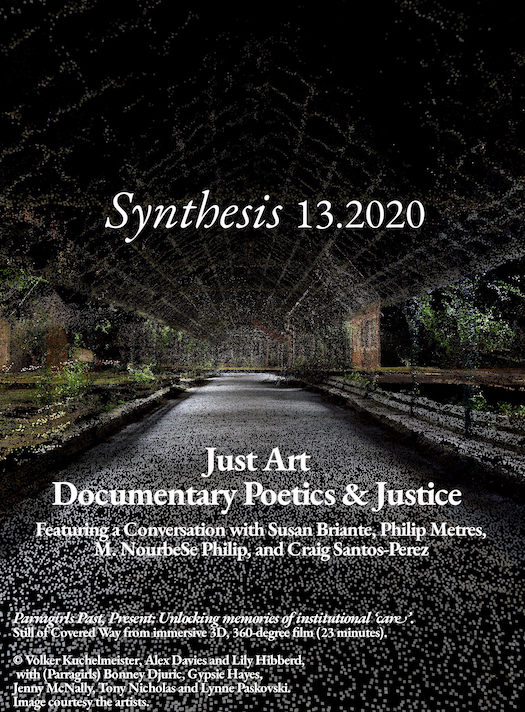 Published: Jul 19, 2021
Keywords:
just art documentary poetics justice Susan Briante Philip Metres M. NourbeSe Philip Craig Santos-Perez from unincorporated territory Defacing the Monument Sand Opera Shrapnel Maps
Article Details
How to Cite

Metres, P., Philip, M. N., Briante, S., & Santos-Perez, C. (2021). Poetics/Documents/Justice A conversation featuring Susan Briante, Philip Metres, M. NourbeSe Philip, and Craig Santos-Perez. Synthesis: An Anglophone Journal of Comparative Literary Studies, (13), 114–129. https://doi.org/10.12681/syn.27564
The copyright for articles in this journal is retained by the author(s), with first publication rights granted to the journal. By virtue of their appearance in this open access journal, articles are free to use with proper attribution. Synthesis retains the worldwide right to reproduce, display, distribute, and use published articles in all formats and media, either separately or as part of collective works for the full term of copyright. This includes but is not limited to the right to publish articles in an issue of the Journal, copy and distribute individual reprints of the articles, authorize reproduction of articles in their entirety, and authorize reproduction and distribution of articles or abstracts thereof by means of computerized retrieval systems.
Downloads
Download data is not yet available.
References
Agee, James, and Walker Evans(1936). Let Us Now Praise Famous Men. Boston and New York: Houghton and Mifflen, 2001.
Briante, Susan. Defacing the Monument. Blacksburg, Virginia: Noemi Press, 2020.
Derrida, Jacques. Spectres de Mar. Paris: Galillée, 1994.
Dos Santos-Perez, Craig. from unincorporated territory, vols I-IV. Oakland:
Omnidawn Press, 2008-ongoing.
Friedman, Thomas. From Beirut to Jerusalem. New York: Anchor Books, 1990.
Gordon, Avery. Ghostly Matters: Haunting and the Sociological Imagination. Minneapolis: U of Minnesota P, 2008.
Lorde, Audre. "The Uses of Anger." Women's Studies Quarterly 9.3 (1981): 7-10.
Merton, Thomas (1965). Conjenctures of a Guilty Bystander. New York: Image Books/Doubleday Religion, 2009.
Metres, Philip. Sand Opera. Farmington: Alice James Books, 2015.