An Autotheory of Intertextual Kinship: Ambivalent Bodies in the Work of Maggie Nelson and Paul B. Preciado
---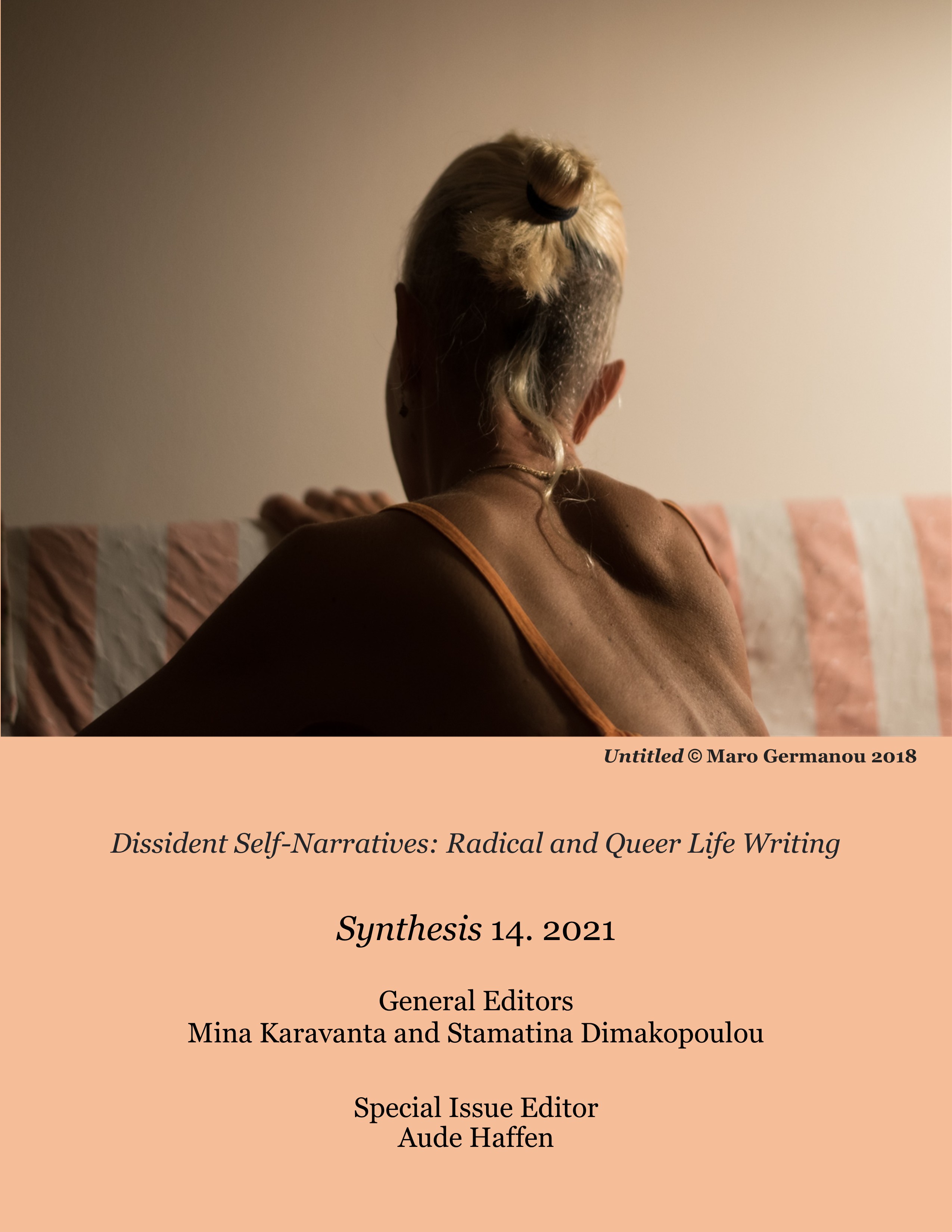 Published: Δεκ 20, 2022
Keywords:
synthesis journal comparative literature comparative literary studies autotheory intertextuality kinship queer theory citation Paul B. Preciado Maggie Nelson
Abstract
Diverging from understandings of "autotheory" as a mere merger of theory and autobiography, in this inquiry, I attend to practices of citation that transfigure the "auto" in "autotheory." Combining intellectual and disciplinary history with close readings of Paul Preciado's Testo Yonqui (2008) and Maggie Nelson's The Argonauts (2015), I compare the historically and culturally specific ways in which these works of queer and trans life writing lay claim to autotheory's dissident potential. I argue that citation, at once typographic and embodied, need not be reducible to conflicts of authority and influence. On the contrary, the life- sustaining social acts that characterise kinship as a practice enable us to re-envision formal practices of intertextuality as a queer mode of kin- fostering. By extending citational gestures across time, sex, and text, "intertextual kinship," as I call it, performs a mode of queer belonging that contests the conceit of a single self. Preciado and Nelson proffer an autotheory that is neither a theory of a single self nor a single theory of the self. Rather, radical interdependency is what this corpus both thematises and formalises through its intertextual praxis. In reading intertextual kinship as a part of broader social struggles, I argue that autotheory challenges paradigms of self-knowledge production, opening up more inclusive methods of writing relationally and rewriting relationality.
Article Details
This work is licensed under a Creative Commons Attribution 4.0 International License.
The copyright for articles in this journal is retained by the author(s), with first publication rights granted to the journal. By virtue of their appearance in this open access journal, articles are free to use with proper attribution. Synthesis retains the worldwide right to reproduce, display, distribute, and use published articles in all formats and media, either separately or as part of collective works for the full term of copyright. This includes but is not limited to the right to publish articles in an issue of the Journal, copy and distribute individual reprints of the articles, authorize reproduction of articles in their entirety, and authorize reproduction and distribution of articles or abstracts thereof by means of computerized retrieval systems.
Downloads
Download data is not yet available.
References
Barthes, Roland. The Neutral: Lecture Course at the College de France (1977- 1978). Ed. Thomas Clerc. Columbia UP, 2007.
Bradway, Tyler. "Queer Narrative Theory and the Relationality of Form." PMLA/Publications of the Modern Language Association of America 136, 5 (2021): 711–727. doi:10.1632/S0030812921000407.
Brooks, Nora. "The Personal is Always Political: Maggie Nelson's The Argonauts." Flux Weekly. 15 November 2015. Web.
Butler, Judith. Bodies that Matter: On the Discursive Limits of "Sex." New York: Routledge, 1993.
—. "Is Kinship Always Already Heterosexual?" differences 13.1 (2002): 14-44, doi:10.1215/10407391-13 1-14.
—. Precarious Life: the Powers of Mourning and Violence. Verso, 2006.
Cooppan, Vilashini. "Skin, Kin, Kind, I/you/we: Autotheory's Compositional Grammar." ASAP/Journal 6. 3 (2021): 583-605. Project MUSE, doi:10.1353/asa.2021.0032.
Derrida. "Signature Event Context." Limited Inc. Evanston, IL: Northwestern UP, 1988.
Derrida, Jacques, and Ronell Avital. "The Law of Genre." Critical Inquiry 7.1 (1980): 55-81. Web.
Donegan, Moira. "Gay as in Happy." Rev. of The Argonauts. n+1 23: As If (Fall 2015). Web.
Freeman, Elizabeth. "Queer Belongings: Kinship Theory and Queer Theory." A Companion to Lesbian, Gay, Bisexual, Transgender, and Queer Studies. Eds. Haggerty, George E., and Molly McGarry.Malden, MA: Blackwell, 2007.
Laubender, Carolyn. "Speak for Your Self: Psychoanalysis, Autotheory, and The Plural Self."Arizona Quarterly: A Journal of American Literature, Culture, and Theory 76, 1 (2020): 39,64. Project MUSE, doi:10.1353/arq.2020.0001.
Levi-Strauss, Claude. "The Principles of Kinship." Elementary Structures of Kinship. Boston, MA: Beacon Press, 1969.
Muñoz, José Esteban. Cruising Utopia: The Then and There of Queer Futurity. New York: New York UP, 2009.
Nelson, Maggie. The Argonauts. Minneapolis. Minnesota: Graywolf Press, 2015. —. "'A Sort of Leaning Against': Writing With, From, and For Others." Tin House. 30 October 2012.
Preciado, Beatriz. Testo Junkie: Sex, Drugs, and Biopolitics in the Pharmacopornographic Era. Trans. Bruce Benderson. The Feminist Press, 2013.
Preciado, Paul. Testo yonqui. Espasa forum. Pozuelo de Alarcón (Madrid): Espasa Calpe, 2008.
Ribeiro, Kira. "Paul B. Preciado et Guillaume Dustan: deuil, amour et politiques queer." "Mutante/Vampire autour des oeuvres de Virginie Despentes et Paul Beatriz Preciado," Colloque de l'Université de Paris VIII. 15 December 2016. Unpublished conference paper.
Rubin, Gayle. "The Traffic in Women: Notes on the 'Political Economy' of Sex." Deviations: A Gayle Rubin Reader. Durham, NC: Duke UP, 2011.
Sedgwick, Eve Kosofsky. Tendencies. Durham: Duke UP, 1993.
Szalai, Jennifer. Rev. of The Argonauts. The New York Times Sunday Book Review. 7 May 2015. Web.
Turner, Jenny. "Like a Manta Ray." Rev. of The Argonauts. The London Review of Books 37.20 (22 October 2015): 11-14. Web.
Wiegman, Robyn. "Introduction: Autotheory Theory." Arizona Quarterly: A Journal of American Literature, Culture, and Theory 76, 1 (2020): 1- 14. Project MUSE,doi:10.1353/arq.2020.0009.