The use of POCT in community health care
---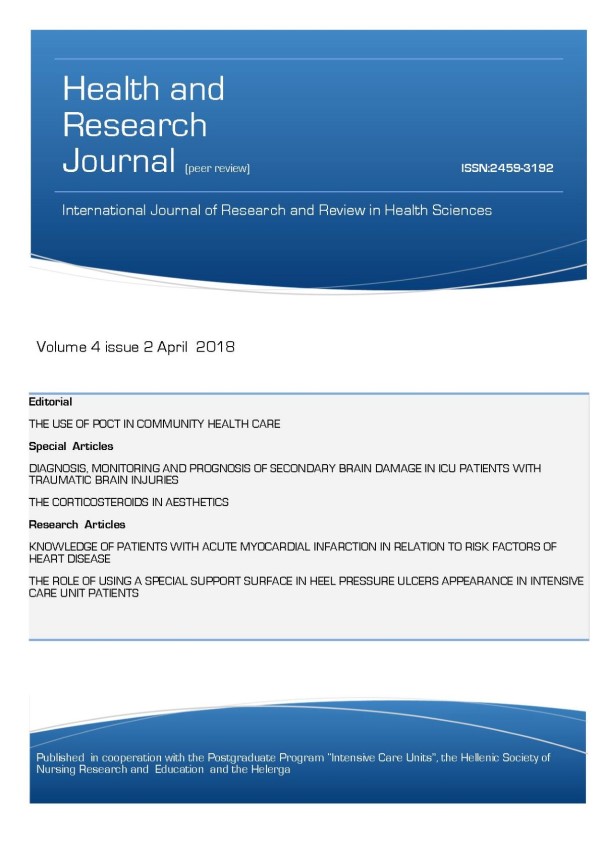 Published: Δεκ 2, 2018
Keywords:
community health care poct
Abstract
No abstract available
Article Details
How to Cite

Stergiannis, P. (2018). The use of POCT in community health care. Health & Research Journal, 4(2), 60–62. https://doi.org/10.12681/healthresj.19230
Copyright notice:
The journal "Health and Research Journal" reserves the rights for copyright of the content of the website and also the copyright of the articles published.
By virtue of their appearance in this journal, the articles are free to be used for non-commercial purposes. However, the articles cannot and must not be used in anyway, published elsewhere or modified without any reference to the author and the first publication of the article.
Downloads
Download data is not yet available.
References
Directive 98/79/EC of the European Parliament and of the Council of 27 October 1998 on in vitro diagnostic medical devices.
Howick, J., Cals, J., Jones, C., Price, C., Pluddemann, A., & Heneghan, C. et al. (2014). Current and future use of point-of-care tests in primary care: an international survey in Australia, Belgium, The Netherlands, the UK and the USA. BMJ Open, 4(8), e005611-e005611.
ISO 22870: 2006 Point-of-care testing (POCT) – Requirements of quality and competence.
Kost, G. J. (2002). "1. Goals, guidelines and principles for point-of-care testing". Principles & practice of point-of-care testing. Hagerstwon, MD: Lippincott Williams & Wilkins. pp. 3–12.
Tran, N., & Kost, G. (2006). Worldwide Point-of-Care Testing. Point Of Care: The Journal Of Near-Patient Testing & Technology, 5(2), 84-92.
World Health Organisation Guidelines