Leadership styles and job satisfaction of nursing staff in a peripheral general hospital in Greece: a survey
---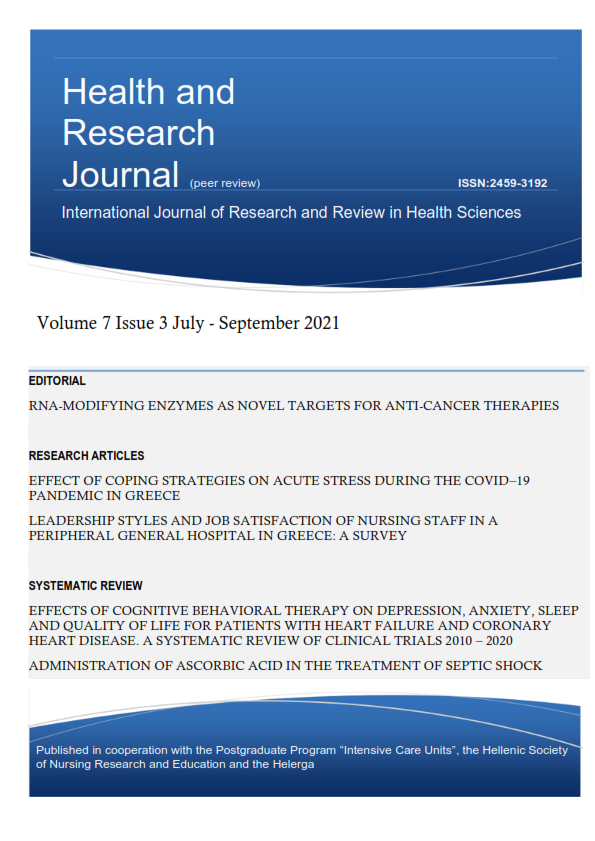 Keywords:
Hospital job satisfaction leadership style nursing staff
Abstract
Background: Over time, the working conditions in hospitals are becoming more and more demanding and the nursing staff is every day called to cope with them. In this context, the effective administration by the leading executives of the Nursing Directorate plays an important role in both guiding and motivating the staff to achieve the goals as well as to improve job satisfaction in general. The aim of the present study was to explore the prevailing leadership style applied in a General Hospital, from the perspective of the nursing staff, as well as the level of job satisfaction of the nurses who serve in the organisation.
Method and Material: In the period January 2020-February 2020, a survey was conducted at the General Hospital of Corfu using a questionnaire (Multifactor Leadership Questionnaire and Job Satisfaction Survey) in a random sample of 180 nurses from which 138 fully completed the questionnaire (76% response rate). Data analysis was performed by using the statistical package SPSS ver. 21.0.
Results: The average value of the Transformational and Transactional leadership styles is 3.4 while that of the Passive leadership is significantly lower (2.3 average value). Moreover, the nursing staff expressed a high level of satisfaction with the supervision and the chief nurse, with its relations with the colleagues and with the nature of the work, while its dissatisfaction was mainly expressed when it comes to "Working Conditions", "Promotion", "Privileges-Benefits" and "Salary". The Transformational and Transactional leadership styles were positively related to satisfaction with the promotion (r = 0.22), with the supervision by the chief nurse (r = 0.63 and r = 0, 40 respectively) and with the nature of the work (r = 0.25 and r = 0.18 respectively). Transformational style was also positively related to the potential rewards (r = 0.18) and the relationship with colleagues (r = 0.22). Finally, the Passive leadership style was positively related to the satisfaction with the salary (r = 0.32), with the promotion (r = 0.27) and with the privileges-benefits (r = 0.41).
Conclusions: The nursing staff considered that the current leadership style involves a combination of elements of the Transformational and Transactional leadership styles. As for the job satisfaction of the staff, it ranged at moderate levels. There is an urgent need for further research related to job satisfaction which can be boosted by the implementation of incentive policies and training programmes for the nurse administrators in the new forms of administration by the Nursing Directorate.
Article Details
How to Cite

Moumouri, S., Intas, G., Sarafis, P., Nikoletzos, A., Triantafilloudis, I., Bourantonis, D., & Stergiannis, P. (2021). Leadership styles and job satisfaction of nursing staff in a peripheral general hospital in Greece: a survey. Health & Research Journal, 7(3), 109–122. https://doi.org/10.12681/healthresj.27566
Section
Original Articles
Copyright notice:
The journal "Health and Research Journal" reserves the rights for copyright of the content of the website and also the copyright of the articles published.
By virtue of their appearance in this journal, the articles are free to be used for non-commercial purposes. However, the articles cannot and must not be used in anyway, published elsewhere or modified without any reference to the author and the first publication of the article.
Downloads
Download data is not yet available.
References
Nakakis Κ. The Emergence of Leadership Figures as an Urgent Priority in Nursing, Hellenic Journal of Nursing 2012; 51(2):127–128.
Krepia V. Investigating the correlation between transforma-tional nursing leadership and job satisfaction of nursing staff working for the Greek national health system. Doctoral thesis. University of Peloponnese, 2018.
Neratzi Ε, Tziallas D, Bellou Χ, Kastanioti C, Anagnostopou-los F. The leadership profile of nurse managers in Greek NHS hospitals, Arch Hellen Med 2018;35(5): 642-648.
Prevyzi Ε., Κollia T. Leadership and motivation: Important concepts in nursing, Rostrum of Asclepius 2012;11(1):473-483.
Borkowski N, Deckard G, Weber M, Padron LA, Luongo S. Leadership development initiatives underlie individual and system performance in a US public healthcare delivery sys-tem, Leadership in Health Servise 2011;24(4): 268-280.
Choi SL, Goh CF, Adam MB, Tan OK. Transformational lead-ership, empowerment, and job satisfaction: the mediating role of employee empowerment, Hum Resour for Health 2016;14(1):73.
Suarez M, Asenjo M, Sanchez M. Job satisfaction among emergency department staff, Australas Emerg Nurs J 2017;20(1):31-36.
Borou A, Vosniak G, Iphantis A, Tiniakou J, Machairas N, Tsiklitiara A, Papadimitriou V, Sapountzi- Crepia D, Mouzas O. Occupational satisfaction of health care professionals, Iatrika Chronika North-Western Greece 2010;6(1):40-46.
Duffy RD, Richard GV. Physician job satisfaction across Six Major Specialties, Journal of Vocational Behavior 2006; 68(3):548-559.
Ahmad AR, Adi M, Noor HM, Ghafar A, Rahman A, Yushuang T. The Influence of Leadership Style on Job Satis-faction among Nurses, Asian Social Science 2013;9(9):172-178.
Alloubani A, Abdelhafiz IM, Abughalyun Y, Edris EEM, Al-mukhtar MM. Impact of Leadership Styles on Leadership outcome (Effectiveness, Satisfaction and Extra Effort) in the Private Healthcare Sector in Jordan, European Scientific Journal 2015;11(10):286-98.
Waterman H. Principles of "servant leadership" and how they can enchance practice, Nurs Manag (Harrow) 2011;17 (9):24-26.
Lin PY, Maclenna, S, Hunt N, Cox T. The influences of nurs-ing transformational leadership style on the quality of nurs-es' working lives in Taiwan: a cross-sectional quantitative study, BMC Nurs 2015;14:33.
Boamah SA, Spence Laschinger HK., Wong C, Clarke S. Effect of transformational leadership on job satisfaction and patient safety outcomes, Nurs Outlook 2017;66(2): 180-189.
Davelou D. The role of leadership with work stress and in improving the performance of employees in nursing units. Case study for Argos and Nafplio Generals Hospitals. Mas-ter thesis. Hellenic Open University 2018.
Αpidopoulou Α. Effective leadership in the area of health. Case study for general hospital of Thessaloniki «Saint Di-mitrios». Master thesis. University of Makedonia 2019.
Abualrub RF, Alghamdi MG. The impact of leadership styles on nurses' satisfaction and intention to stay among Saudi nurses, J Nurs Manag 2012;20(5):668-78.
Κanellopoulou Ε. The role of leadership amongst the nurs-ing staff as far as job satisfaction is concerned. Master the-sis. Hellenic Open University 2019.
Chaitoglou S. Investigation of leadership style and the degree of job satisfaction of employees at a Public Hospi-tal. Master thesis. Hellenic Open University 2017.
Gogos ΒC, Petsetaki Ε. Investigation of the job satisfaction of nurses in hospitals. The case of General hospital of Naoussa, Hellenic journal of Nursing Science 2011;4 (4):14-28.
Κarvouniari Α, Diplou Α. Parameters that affect nurse's job satisfaction in a military and a civilian hospital in Athens. Searching for the causes of differentiation. Leukosia. Open University of Cyprus 2013.
Delobelle P, Rawlinson JL, Ntuli S, Malatsi I, Decock R, De-poorter AM. Job satisfaction and turnover intent of primary healthcare nurses in rural South Africa: a questionnaire sur-vey, J. Adv. Nurse 2011;67(2):371-383.
Μasum AKM, Azad AK, Hoque KE, Beh LS, Wanke P, Arslan O. Job Satisfaction and intention to quit: An empirical anal-ysis of nurses in Turkey 2016, Peer J 2016, 4:e1896.
Bormann L, Abrahamson K. Do staff nurse perceptions of nurse leadership behaviors influence staff nurse job satis-faction? The case of a hospital applying for Magnet(R) des-ignation, J Nurs Adm 2014;44(4):219-25.
Abdelhafiz IM, Alloubani AM, Almatari M. Impact of leader-ship styles adopted by head nurses on job satisfaction: a comparative study between governmental and private hos-pitals in Jordan, J Nurs Manag 2016;24(3):384-92.
Alshahrani FM, Baig LA. Effect of Leadership Styles on Job Satisfaction Among Critical Care Nurses in Aseer, Saudi Arabia, J Coll Physicians Surg Pak 2016;26(5):366-70.