The efficacy of conservative treatment methods in pressure ulcers
---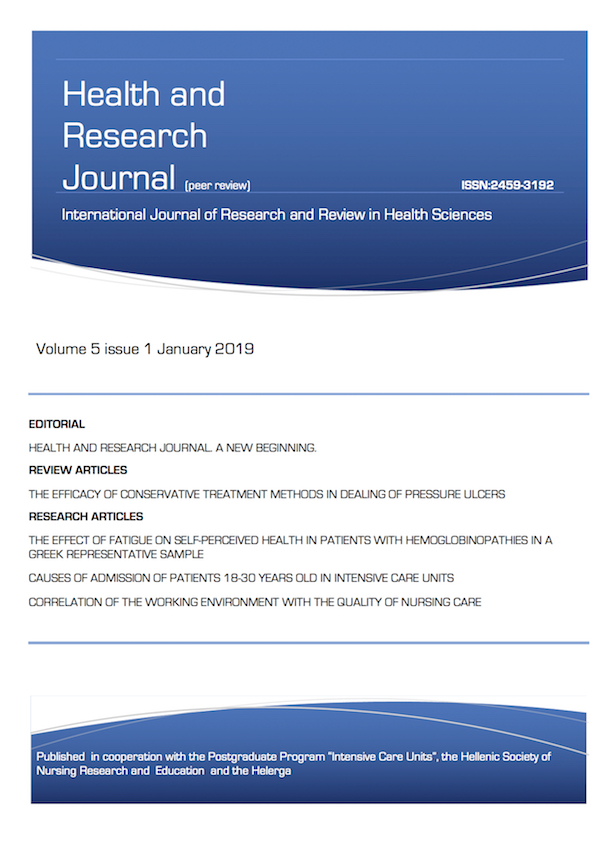 Published: Jan 1, 2019
Keywords:
Pressure ulcer conservative therapy treatment results conservative treatment of ulcers
Abstract
Background: Pressure ulcer is defined as the localised destruction of skin and the underlying tissues, caused by a combination of prolonged pressure, friction and shear forces, resulting in tissue ischemia and necrosis. In addition to prevention, treatment of ulcers has an important role. This study analyses, the effectiveness of conservative treatment methods.
Aim: The aim of the present study was to investigate the efficacy of conservative treatment methods in patients with ulcers and to evaluate these methods.
Material and Methods: The present study is a systematic review. The search was conducted in Greek and international bibliography on electronic databases: Pubmed, Cinahl, Sciverse Scopus Proquest, as well as in translations of major international scientific organisations such as EPUAP and NPUAP. The date of writing the articles ranges from 2010 to 2017. Articles were selected based on the title, summary, and content.
Results: The results of the present study revealed the efficacy of various conservative methods of dealing with pressure ulcers based on the publication of studies in medical data bases. The treatment is multifactorial and requires special knowledge from healthcare professionals, attention and assessment of a sprawl. The ineffective treatment of ulcers can lead to death, especially if not treated on time and in the right way.
Conclusions: The findings show that the treatment depends on the severity of the pressure ulcer in relation to the general condition of the patient (condition, age, diet, weight, immobility, personal hygiene). Nonetheless, it can be addressed by proper prognosis, timely assessment, and appropriate countermeasures. These require sufficient knowledge of doctors and nurses over the existing conservative therapies and what / when they should be applied.
Article Details
How to Cite

Impis, O., Vasilopoulos, G., Kalemikerakis, I., & Argyriou, G. (2019). The efficacy of conservative treatment methods in pressure ulcers. Health & Research Journal, 5(1), 2–9. https://doi.org/10.12681/healthresj.19509
Copyright notice:
The journal "Health and Research Journal" reserves the rights for copyright of the content of the website and also the copyright of the articles published.
By virtue of their appearance in this journal, the articles are free to be used for non-commercial purposes. However, the articles cannot and must not be used in anyway, published elsewhere or modified without any reference to the author and the first publication of the article.
Downloads
Download data is not yet available.
References
Coleman S, Nixon J, Keen J, Wilson L, McGinnis E, Dealey C, et al, A new pressure ulcer conceptual framework, J Adv Nurs 2014;70(10):2222-34.
The cost of pressure ulcer prevention and treatment in hospitals and nursing homes in Flanders: A cost-of-illness study.Int J Nurs Stud 2015;52(7):1166-79.
Young M, Medical device-related pressure ulcers: a clear case of iatrogenic harm. Br J Nurs 2018;27(15):S6-S13.
Rae KE, Isbel S, Upton D Support surfaces for the treatment and prevention of pressure ulcers: a systematic literature review.J Wound Care 2018;27(8):467-474.
Courvoisier DS, Righi L, Béné N, Rae AC, Chopard P, Varia-tion in pressure ulcer prevalence and prevention in nursing homes: A multicenter study.Appl Nurs Res 2018;42(8):45-50.
Haran E. A community based approach to reduce the inci-dence of preventable pressure ulcers.Br J Community Nurs 2018;23(6):S14-S19.
Barateau M, Gautier Y.[Mobilising the team and the patient to prevent pressure ulcers]. Rev Infirm 2018;67(239):38-39.
Shi C, Dumville JC, Cullum N.Support surfaces for pressure ulcer prevention: A network meta-analysis.PLoS One 2018;13(2):192-207.
Boyko TV, Longaker MT, Yang GP.Review of the Current Management of Pressure Ulcers.Adv Wound Care (New Rochelle) 2018;7(2):57-67.
Atkinson RA, Cullum NA Interventions for pressure ulcers: a summary of evidence for prevention and treat-ment.Spinal Cord 2018;56(3):186-198.
Llaurado-Serra M, Afonso E. Pressure injuries in intensive care: What is new? Intensive Crit Care Nurs 2018;45:3-5.
Jocelyn Chew HS, Thiara E, Lopez V, Shorey S.Turning fre-quency in adult bedridden patients to prevent hospital-acquired pressure ulcer: A scoping review. Int Wound J 2018;15(2):225-236.
Kaya AZ1, Turani N, Akyüz M. The effectiveness of a hy-drogel dressing compared with standard management of pressure ulcers. J Wound Care 2005;14(1):42-4.
Ozkaya H, Bahat G, Tufan A, Dogan H, Bilicen Z, Karan MA. Successful treatment of non-healing pressure ulcers with topical n-acetyl cysteine. J Wound Care 2015;24(12), p.606, 608-611.
Gilligan AM, Waycaster CR, Bizier R, Chu BC, Carter MJ, Fife CE. Comparative Effectiveness of Clostridial Collagenase Ointment to Medicinal Honey for Treatment of Pressure Ulcers. Adv Wound Care (New Rochelle) 2017;6(4) p. 125-134.
Saidkhani V, Asadizaker M, Khodayar MJ, Latifi SM. The effect of nitric oxide releasing cream on healing pressure ulcers. Iran J Nurs Midwifery Res 2016;21(3) p. 322-330.
Li W, Ma Y, Yang Q, Pan Y, Meng Q. Moist exposed burn ointment for treating pressure ulcers: A multicenter ran-domized controlled trial. Medicine (Baltimore) 2017;96(29):e7582.
Azimian J, Dehghan Nayeri N, Pourkhaleghi E, Ansari M. Transdermal Wound Oxygen Therapy on Pressure Ulcer Healing: A Single-Blind Multi-Center Randomized Con-trolled Trial. Iran Red Crescent Med J 2015;17(11):202-21.
Shahrokhi A, Ghorbani A, Aminianfar A. Impact of interfe-rential current on recovery of pressure ulcers grade 1 and 2. Iran J Nurs Midwifery Res 2014;19(7):S91-96.
Biglari B, vd Linden PH, Simon A, Aytac S, Gerner HJ, Moghaddam A. Use of Medihoney as a non-surgical ther-apy for chronic pressure ulcers in patients with spinal cord injury. Spinal Cord 2012;50(2):165-169.
Polak A, Taradaj J, Nawrat-Szoltysik A, Stania M, Dolibog P, Blaszczak E, Zarzeczny R, Juras G, Franek A, Kucio C. Re-duction of pressure ulcer size with high-voltage pulsed current and high-frequency ultrasound: a randomised trial. J Wound Care 2016;25(12):742-754.
Farsaei S, Khalili H, Farboud ES, Karimzadeh I, Beigmo-hammadi MT. Efficacy of topical atorvastatin for the treat-ment of pressure ulcers: a randomized clinical trial. Phar-macotherapy 2014;34(1):19-27.