Interprofessional collaboration and organizational culture in healthcare organizations
---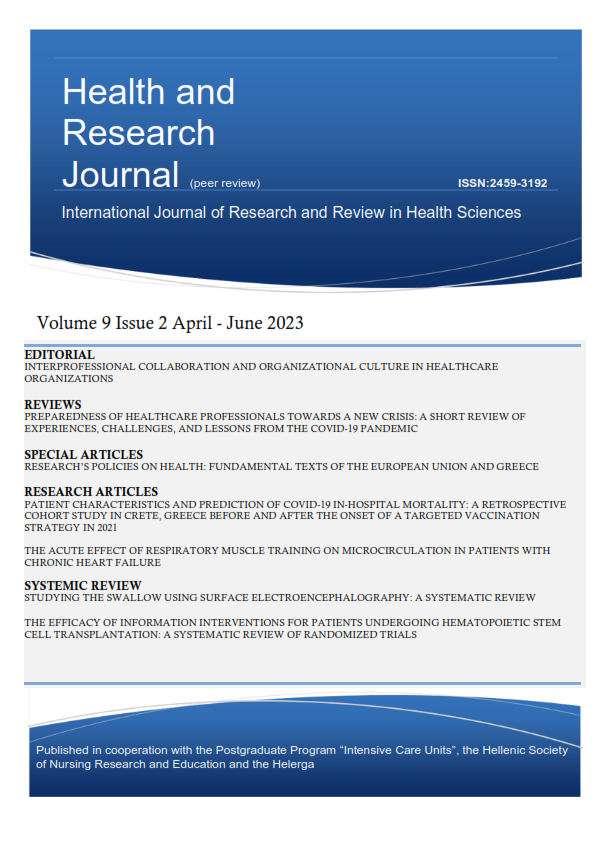 Published: Apr 11, 2023
Keywords:
organizational culture healthcare organizations interprofessional collaboration
Article Details
How to Cite

Rovithis, M. (2023). Interprofessional collaboration and organizational culture in healthcare organizations. Health & Research Journal, 9(2), 58–60. https://doi.org/10.12681/healthresj.34191
Copyright notice:
The journal "Health and Research Journal" reserves the rights for copyright of the content of the website and also the copyright of the articles published.
By virtue of their appearance in this journal, the articles are free to be used for non-commercial purposes. However, the articles cannot and must not be used in anyway, published elsewhere or modified without any reference to the author and the first publication of the article.
Downloads
Download data is not yet available.
References
Hughes AM. Gregory ME. Joseph, DL. Sonesh SC. et al. (2016). Saving lives: A meta-analysis of team training in healthcare. J Appl Psychol 2016; 101(9): 1266.
Interprofessional Education Collaborative. (2016). Core competencies for interprofessional collaborative practice: 2016 update. Washington, DC: Author.
Margalit R. Thompson S. Visovsky C. et al. From professional silos to interprofessional education: campuswide fo-cus on quality of care. QMHC 2009; 18(3): 165-173.
Michalsen A. Long AC. DeKeyser Ganz F. et al. Interprofessional shared decision-making in the ICU: A systematic review and recommendations from an expert panel. Crit. Care Med. 2019; 47(9): 1258–1266.
Rosen, M. A., DiazGranados, D. Dietz AS. et al. Teamwork in healthcare: Key discoveries enabling safer, high-quality care. Am Psychol 2018; 73(4): 433.
Runtu TM. Novieastari E. Handayani H. How does organizational culture influence care coordination in hospitals? A systematic review. Enferm. Clin. 2019; 29:785-802.
Schein EH. Organizational culture. Am Psychol. 1990; 45:109–19.
Wei H. Horns P. Sears SF. et al. A systematic meta-review of systematic reviews about interprofessional collabora-tion: facilitators, barriers, and outcomes. J Interprof Care 2022: 36(5): 735-749.
World Health Organization. (2010). Framework for action on interprofessional education and collaborative practice (No. WHO/HRH/HPN/10.3). World Health Organization.
Wranik WD. Price S. Haydt SM. Edwards J. Implications of interprofessional primary care team characteristics for health services and patient health outcomes: A systematic review with narrative synthesis. Health Policy 2019; 123(6): 550–563.