TOC and CaCO3 content in Oligocene shelf deposits on Lemnos Island and their relation with depositional conditions
---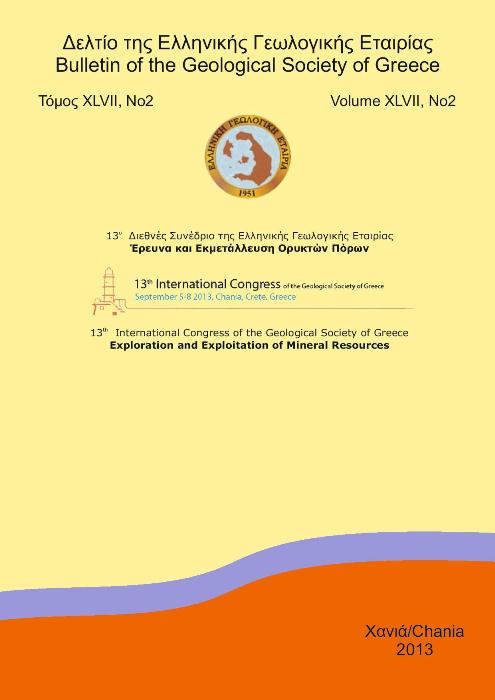 Published: Jan 24, 2013
Keywords:
Lemnos island source rock CaCO3 TOC
Abstract
A series of seventy seven samples from outcrops of mudstones were analyzed in order to evaluate their total organic carbon (TOC) and calcium carbonate (CaCO3) concentrations. Results showed that TOC ranges between 0% to 1.15% (with a mean value of 0.34%) introducing that Oligocene shelf deposits on Lemnos island have fair to good conditions to be potential source rocks. Analysis of CaCO3 presented a range between 1.37% to 42.52% (with a mean value of 16.95%). The comparison of TOC and CaCO3 suggests that the two parameters are either inversely or positively related. The inversely related contents, high TOC and low CaCO3, may indicate anoxic conditions, whereas low TOC and high CaCO3 occur in oxic conditions due to the decomposition of TOC. The CO2 produced by decomposition of organic carbon and production of organic acids reduces the pH in pore water enough to dissolve any CaCO3 that reaches the sediment water interface. On the other hand, a positive relation, with both high TOC-CaCO3 contents, could be related with oxic conditions and high sedimentation rate or incidents of abrupt death and bury of great amounts of benthic organisms (TOC) increasing the maintenance of organic material in the sediment.
Article Details
How to Cite

Nioti, D., Maravelis, A., Tserolas, P., & Zelilidis, A. (2013). TOC and CaCO3 content in Oligocene shelf deposits on Lemnos Island and their relation with depositional conditions. Bulletin of the Geological Society of Greece, 47(2), 852–861. https://doi.org/10.12681/bgsg.11124
Section
Geochemistry and Biogeochemistry
Authors who publish with this journal agree to the following terms:
Authors retain copyright and grant the journal right of first publication with the work simultaneously licensed under a Creative Commons Attribution Non-Commercial License that allows others to share the work with an acknowledgement of the work's authorship and initial publication in this journal.
Authors are able to enter into separate, additional contractual arrangements for the non-exclusive distribution of the journal's published version of the work (e.g. post it to an institutional repository or publish it in a book), with an acknowledgement of its initial publication in this journal. Authors are permitted and encouraged to post their work online (preferably in institutional repositories or on their website) prior to and during the submission process, as it can lead to productive exchanges, as well as earlier and greater citation of published work.
Downloads
Download data is not yet available.