Public Administration and Local Government in coronavirus crisis
---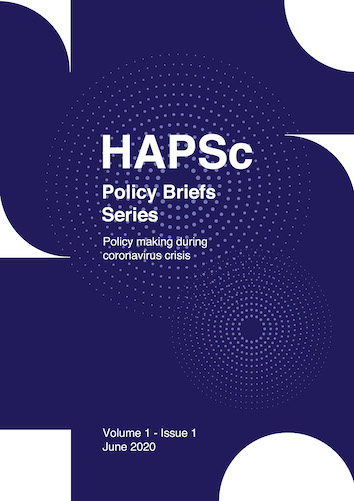 Abstract
This policy brief presents the necessary measures taken by the government in cooperation with other state bodies to deal with the health crisis in the field of public and local administration. The policy brief highlights some of the major changes that have been attempted for the digital state and the integration of new technologies into our daily lives as well as their usefulness in a range of activities utilized across the spectrum of public administration, from the narrow public sector to the first and second degree administration.
Article Details
How to Cite

Mouroutsos, I. (2020). Public Administration and Local Government in coronavirus crisis. HAPSc Policy Briefs Series, 1(1), 107–113. https://doi.org/10.12681/hapscpbs.24955
Authors retain copyright and grant the journal right of first publication with the work simultaneously licensed under a Creative Commons Attribution License that allows others to share the work with an acknowledgement of the work's authorship and initial publication in this journal.
Downloads
Download data is not yet available.
References
Gao, X. and Yu, J. (2020). "Public governance mechanism in the prevention and control of the COVID-19: information, decision-making and execution". Journal of Chinese Governance, 5(2): 178-197.
Weible, C.M., Nohrstedt, D., Cairney, P. et al. (2020). "COVID-19 and the policy sciences: initial reactions and perspectives", Policy Science 53: 225–241.
ΦΕΚ 84/ Α'/13.04.2020 (2020). ΠΝΠ Μέτρα για την αντιμετώπιση των συνεχιζόμενων συνεπειών της πανδημίας του κορωνοϊού COVID-19 και άλλες κατεπείγουσες διατάξεις. Ανακτήθηκε από: www.et.gr (Πρόσβαση 23 Αυγούστου 2020).
ΦΕΚ 55 Α'/11.03.2020 (2020). ΠΝΠ Κατεπείγοντα μέτρα… περιορισμού της διάδοσής του. Ανακτήθηκε από: www.et.gr (Πρόσβαση 23 Αυγούστου 2020).
ΦΕΚ 64/Α'/14.03.2020 (2020). ΠΝΠ Κατεπείγοντα μέτρα αντιμετώπισης της ανάγκης περιορισμού της διασποράς του κορωνοϊού COVID-19. Ανακτήθηκε από: www.et.gr (Πρόσβαση 20 Αυγούστου 2020).
ΦΕΚ 161/Α'/22-08-2020 (2020). ΠΝΠ Έκτακτα μέτρα…του κορωνοϊού COVID-19, καθώς και τη στήριξη των πλημμυροπαθών της Εύβοιας που επλήγησαν κατά τις πλημμύρες της 8ης και 9ης Αυγούστου 2020. Ανακτήθηκε από: www.et.gr (Πρόσβαση 23 Αυγούστου 2020).