Immigration in the Covid-19 Era: The role of Greece and Turkey, the necessity for a common European immigration and foreign policy
---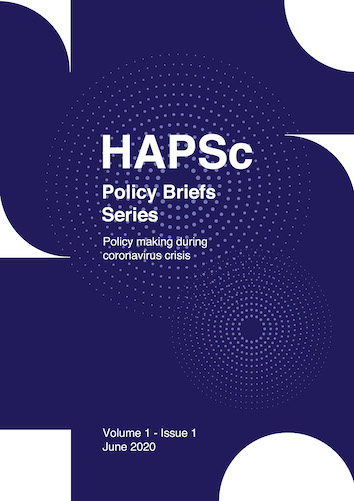 Abstract
Immigration and refugee flows in the Eastern Mediterranean migration path have been increased the last two decades, a fact that created the need for coordinated political reaction from the EU, which now faces new challenges because of the Covid-19 pandemic. This article analyses the new challenges Covid-19 creates by focusing on the "lesson learned" of previous pandemics and their effect on mankind and also on the necessity of a common European policy both in the fields of immigration policy and foreign policy towards the stabilization in the Eastern Mediterranean, mainly by focusing on the role of Greece and Turkey.
Article Details
How to Cite

Papadakis, K., & Zafeiris, K. (2020). Immigration in the Covid-19 Era: The role of Greece and Turkey, the necessity for a common European immigration and foreign policy. HAPSc Policy Briefs Series, 1(1), 149–154. https://doi.org/10.12681/hapscpbs.24960
This work is licensed under a Creative Commons Attribution 4.0 International License.
Authors retain copyright and grant the journal right of first publication with the work simultaneously licensed under a Creative Commons Attribution License that allows others to share the work with an acknowledgement of the work's authorship and initial publication in this journal.
Downloads
Download data is not yet available.
References
Borjas, G. J. (1994). The Economics of Immigration. Journal of Economic Literature, 32 (4): 1667-1717.
Lazaridis, G. and Amitsis, G. (2001). Legal and socio-political dimensions of immigration in Greece. Athens: Papazisi [in Greek].
Papadakis, K. (2018). The Greece - Turkey Dispute in the Aegean and the ICJ Sea Border Delimitation Case of Ukraine – Romania. Similarities and Differences in a Comparative Perspective.
European Quarterly of Political Attitudes and Mentalities, EQPAM, 7 (3): 36-46.
Taylor, A. M. and Williamson, J. G. (1994). Convergence in the Age of Mass Migration. NBER Working Paper No. 4711.
Ullman, R. H. (1983). Redefining Security. International Security, 8 (1): 129-153.
United Nations (1982). United Nations Convention on the Law of the Sea. Available at: www.un.org/depts/los/convention_agreements/texts/unclos/unclos_e.pdf (Accessed: April 24, 2020).
Vermeulen, H. (1997). Immigrant Policy for a Multicultural Society: A Comparative Study of Integration, Language and Religious Policy in Five Western European Countries. Brussels: Migration Policy Group/IMES.