The Influence and Implications of the Ukrainian Crisis on European Regional Security
---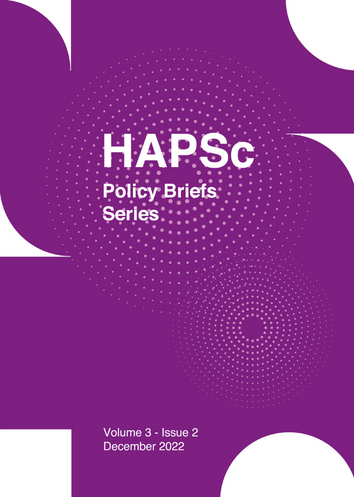 Published: Δεκ 29, 2022
Keywords:
Russian invasion Ukrainian crisis European Union Exclusive Economic Zone Common Foreign Policy European Defence Policy
Abstract
In this analysis, the theoretical framework is examined based on primary and secondary sources of research concerning the foundation of Russian-Ukrainian relations. Subsequently, the existing security environment is extensively analysed, at the international and regional level, while a critical overview of the political-military framework of security at the European level is also examined. Furthermore, an overview of the relations between Russia and Ukraine is attempted in two dimensions, regarding to the geopolitical role of Greece and its role in the European interaction, and the analysis of influence and the effects of the Ukrainian crisis in the field of Energy Policy of the European Union (EU) within its effect on the European defence policy. In this context, the key role of Greece and Cyprus and both mediation for energy sufficiency and Europe's autonomy is thoroughly examined, as a consequence of the geopolitical and geographical factor that may affect the existing dependencies on Russian natural gas based on of the East Med area, hence the potential influence of forming a new field of interdependence at the energy level.
Article Details
How to Cite

Papadakis, K., & Spyrakou, V. (2022). The Influence and Implications of the Ukrainian Crisis on European Regional Security. HAPSc Policy Briefs Series, 3(2), 166–174. https://doi.org/10.12681/hapscpbs.33798
This work is licensed under a Creative Commons Attribution 4.0 International License.
Authors retain copyright and grant the journal right of first publication with the work simultaneously licensed under a Creative Commons Attribution License that allows others to share the work with an acknowledgement of the work's authorship and initial publication in this journal.
Downloads
Download data is not yet available.
References
European Parliament (2017). Defence: MEPs urge member states to show political will and join forces. March 16. Available at:
https://www.europarl.Europe.eu
/news/el/press-room (Accessed: 03/12/2022).
Freedman, L. (2009). Framing strategic deterrence: old certainties, new ambiguities. The RUSI Journal 154 (4): 46-50.
Freedman, L. (2022). Why War Fails: Russia's Invasion of Ukraine and the Limits of Military Power. Foreign Aff. 101: 10.
von Hauff, L. [2019] (2020). Lawrence Freedman: Ukraine and the Art of Strategy, Oxford: Oxford University Press. 233 Seiten. SIRIUS–Zeitschrift für Strategische Analysen 4, (3): 375-377.
Kathimerini (2022a). J. Borrell: The real story starts now. March 23, 2022 [in Greek]. Available at: www.kathimerini.gr/world/561775426/z-mporel-i-pragmatiki-istoria-xekina-tora/ (Accessed: 03/12/2022).
Kathimerini (2022c). War in Ukraine: The irrational Putin and the tolerance of the West. Available at: https:/www.kathimerini.gr/world/561790381/polemos-stin-oykrania-o-anorthologikos-poytin-kai-i-anochi-tis-dysis/ (Accessed: 03/12/2022).
Kuzio, T. (2018). Russia–Ukraine crisis: The blame game, geopolitics and national identity. Europe-Asia Studies 70, (3): 462-473.
Mikelis, K. & Troulis, M. (2015). States, Their Aggression, and J. Mearsheimer: A Supplementary Reading. The Step of Social Sciences 17, (15) [in Greek].
Plokhy, S. (2008). Ukraine and Russia: Representations of the past. University of Toronto Press.
Rywkin, M. (2014). Ukraine: between Russia and the West. American Foreign Policy Interests 36, (2): 119-126.
Syrigos, A. (2016). Greek-Turkish Relations. Athens: Patakis Publishers [in Greek].
Syrigos, A. & Dokos, Th. (2018). Greek-Turkish Relations: Athens: Daily Publications [in Greek].
Tzagkarakis, S., Papadakis, K. & Kritas, D. (2021). Immigration in the Eastern Mediterranean as a European Challenge: The Role of Greece and the Necessity for a Common European Immigration and Foreign Policy. Annales Universitatis Mariae Curie-Skłodowska, Sectio K - Politologia, 28(2): 27-33.