Immigration as a Common European Challenge: The Crucial Role of the Greek and Turkish Case
---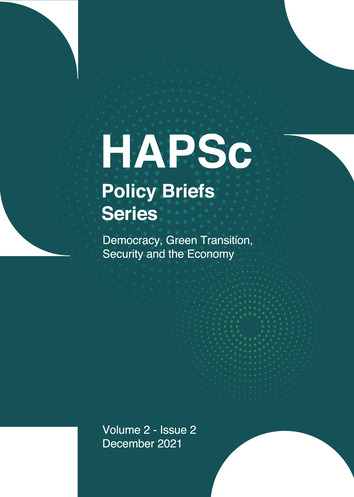 Δημοσιευμένα: Dec 29, 2021
Περίληψη
European immigration policy as a multilevel and polymorphic process, by definition, constitutes a complex phenomenon defined as a transcendent set of socio-economic and political processes that are considered to transform the present transnational treaty into a construct of multiple policies to be found between member states. Recently, it is accounted as a complex network of supranational interconnection in both economic and sociological terms to combat various refugee crises. This paper aims to address the inner dialogue regarding the Dublin contribution among others updated immigration policies, especially regarding the Greek and Turkish case, within the updated political turmoil to deal with. Therefore, it is crucial not to overlook the multicultural dimension as one of the most critical factors in understanding the political structure within developing the indicative path of socio-political relationship between member states, thus of variable factors to deal with, such as immigration, extremism etc.  The consequences and extensions of this complex structure have already outlined a historical moment on a global or even humanistic scale. Member states are called to renegotiate their understanding of space, time, human rights either in an international or supranational environment; however, by confronting the vulnerability of modern democracies in a world of risks caused by democratic deficit; the lack of challenging with the dilemmas and responsibilities on a pan-European political perspective on immigration issues, indeed with respect on democratic terms. This paper will emphasize (on) which of existing policies and initiatives should be implemented to achieve common ground to overcome the multiple crises and will examine the particular role of Greece and Turkey on immigration and refugee issues, thus is of significance in developing an interdisciplinary dialogue that may contribute to the re-examination of the member states role within the contribution of the institutional and legal framework, in a new world of potential risks by rethinking the EU policies and why the "know how" should work.
Λεπτομέρειες άρθρου
Πώς να δημιουργήσετε Αναφορές

Papadakis, K., & Spyrakou, V. (2021). Immigration as a Common European Challenge: The Crucial Role of the Greek and Turkish Case. HAPSc Policy Briefs Series, 2(2), 260–266. https://doi.org/10.12681/hapscpbs.29513
Οι συγγραφείς των άρθρων που δημοσιεύονται στο περιοδικό διατηρούν τα δικαιώματα πνευματικής ιδιοκτησίας επί των άρθρων τους, δίνοντας στο περιοδικό το δικαίωμα της πρώτης δημοσίευσης. Άρθρα που δημοσιεύονται στο περιοδικό διατίθενται με άδεια Creative Commons 4.0 και σύμφωνα με την άδεια μπορούν να χρησιμοποιούνται ελεύθερα, με αναφορά στο/στη συγγραφέα και στην πρώτη δημοσίευση με δικαίωμα τροποποίησης μόνον με παρόμοια διανομή (αν αναμείξετε, τροποποιήσετε, ή δημιουργήσετε πάνω στο υλικό, πρέπει να διανείμετε τις δικές σας συνεισφορές υπό την ίδια άδεια όπως και το πρωτότυπο).
Λήψεις
Τα δεδομένα λήψης δεν είναι ακόμη διαθέσιμα.
Αναφορές
Bauer S. (2020). Citizens' Support for the European Union During the Euro Crisis: Between Scylla and Charybdis. In: Citizens' Support for the European Union. Contributions to Political Science. Cham: Springer, pp. 275-287.
Crespy, A., Parks, L., & Costa, O. (2018). The European Parliament and Civil Society. In: Costa O. (ed). The European Parliament in Times of EU Crisis. European Administrative Governance. Cham: Palgrave Macmillan.
Lavenex, S. (2006). Shifting up and out: The foreign policy of European immigration control. West European Politics, 29(2), 329-350.
Papadakis, K. (2018). The Greece - Turkey Dispute in the Aegean and the ICJ Sea Border Delimitation Case of Ukraine – Romania. Similarities and Differences in a Comparative Perspective. European Quarterly of Political Attitudes and Mentalities, EQPAM, 7(3), 36-46.
United Nations (1982). United Nations Convention on the Law of the Sea. Available at: www.un.org/depts/los/convention_agreements/texts/unclos/unclos_e.pdf (Accessed: 12/112021).
Vink, M. P. (2002). Negative and Positive Integration in European Immigration Policies. European Integration online Papers (EIoP), 6(13), 1-19