Employment and Social Protection: Lessons from the Portuguese Response to the Pandemic
---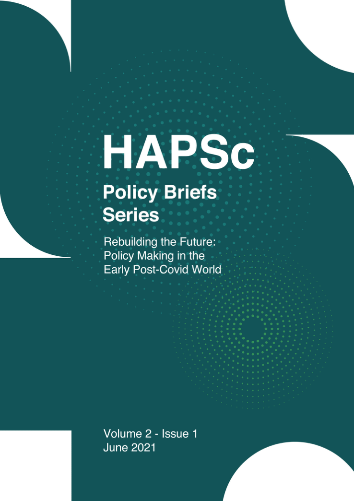 Published: Jun 30, 2021
Keywords:
Portugal Employment Social Protection Emergency Measures Pandemic Crisis
Abstract
This policy brief examines the emergency measures enacted by the Portuguese government as a response to the COVID-19 pandemic crisis in the fields of employment and social protection. During the pandemic several changes were introduced to the existing policies and new emergency programmes were created to prevent job loss and support families. While these emergency measures were essential to contain the negative effects of the crisis, they are also insufficient in what concerns their coverage and their scope. This study points to the need of a different approach in the design of future employment and social protection measures.
Article Details
How to Cite

Oliveira, M. C., & da Silva, A. A. (2021). Employment and Social Protection: Lessons from the Portuguese Response to the Pandemic. HAPSc Policy Briefs Series, 2(1), 50–55. https://doi.org/10.12681/hapscpbs.27657
This work is licensed under a Creative Commons Attribution 4.0 International License.
Authors retain copyright and grant the journal right of first publication with the work simultaneously licensed under a Creative Commons Attribution License that allows others to share the work with an acknowledgement of the work's authorship and initial publication in this journal.
Downloads
Download data is not yet available.
References
Caldas, J. C., Silva, A. A. & Cantante, F. (2020). As consequências socioeconómicas da COVID-19 e a sua desigual distribuição. Lisboa: CoLABOR.
Manso, L. et al. (2021). Apoio Extraordinário ao rendimento dos trabalhadores. WP 5 - Políticas em Análise. Lisboa: CoLABOR.